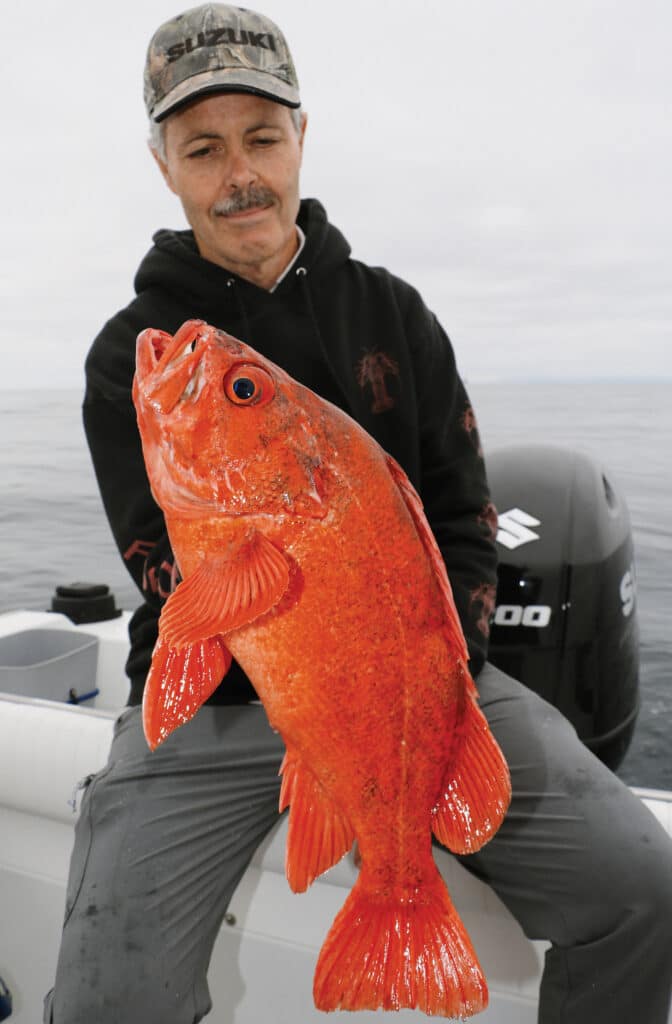 Jim Hendricks
The 2023 rockfish season heralds big changes for California ocean anglers. A variety of new regulations are set to kick in for these popular and tasty bottomfish. Most of the changes, but not all, are more restrictive than in years past. 
For example, anglers in Southern California—arguably the largest and most populous coastal area for rockfishing in the Golden State—will face a dramatically shorter season. It starts on April 1, a month later than in recent years, and much of the traditional bottomfishing waters will close September 15. That's three and a half months earlier than normal. 
On the other hand, you can now target rockfish at greater depths. While anglers were previously restricted to waters less than 600 feet, no maximum depth limit will exist through December 31 for about 40 deepwater species. After September 15, however, SoCal anglers will be prohibited from bottomfishing in depths of less than 600 feet or targeting the 13 species of nearshore rockfish.
The new regs bring both challenges and opportunities, and at least one SoCal angler is already adjusting to this New World order. Cesar Chavez, a lifelong West Coast angler, has adapted and refined slow-pitch jigging techniques to catch big rockfish in deep water.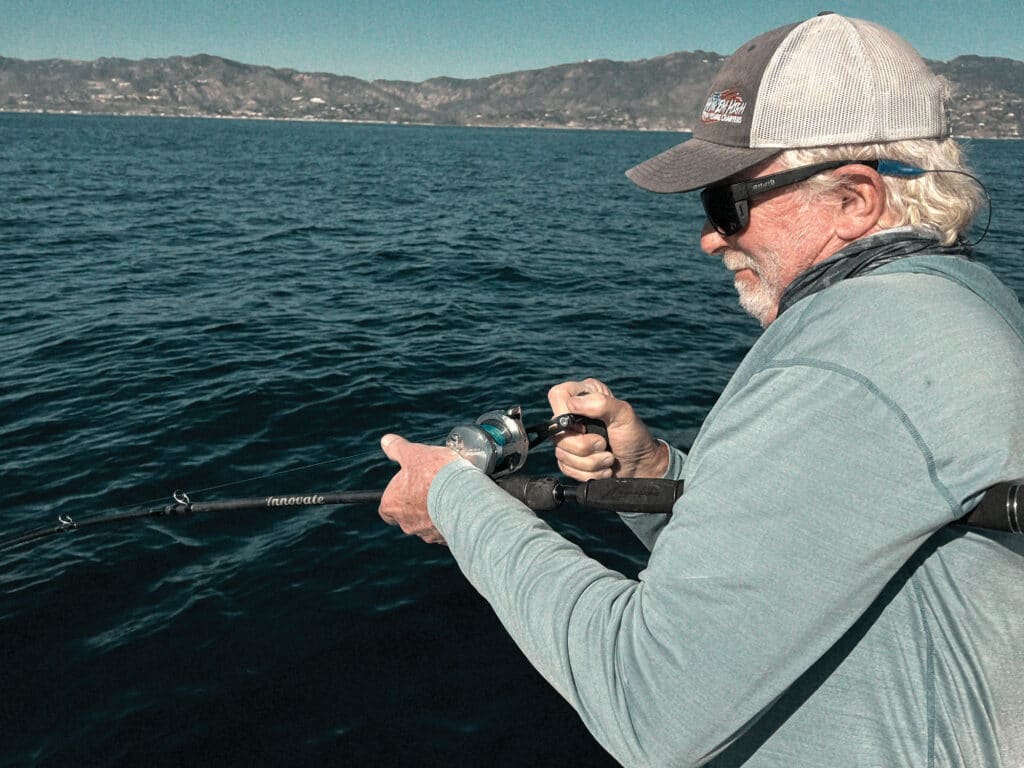 SWS File
Big and Fun
"I've always loved bottomfishing, but I wanted to make it more fun. I came across some videos of Benny Ortiz bottomfishing deep with some very light gear," Chavez told me. A pro staffer for Shimano, Ortiz has pioneered slow-pitch fishing in the waters off Florida and elsewhere for snapper, grouper and other species.
"I tried to mimic his techniques out on the West Coast, but initially, I was not successful," Chavez says. "So, I reached out to Benny directly. 
"He showed me the gear and how to rig everything. Once I bought the correct tackle and put it to practice, I began to experience success."
Chavez points out that slow-pitch jigging is perfect for targeting large rockfish ranging from 6 to 8 pounds, as well as lingcod up to 30 pounds, particularly on 200- to 400-foot spots and areas that receive a lot of fishing pressure. To find out more, Chavez and I headed out of Marina del Rey on an autumn day last year to fish for rockfish in Santa Monica Bay, which spans 25 miles of the Los Angeles County coast.
Structure Strategy
Rockfishing requires a keen focus on bottom structure. Chavez encourages anglers to use fish finders to look for signs of rockfish along the ledges and canyons of the continental shelf, which is often close to shore on the West Coast.
"Species like vermillion and canary rockfish don't always stay directly on high-relief structure spots," Chavez points out. "Low-relief areas with scattered rubble often attract these fish."
Chavez emphasizes that boating anglers should look with sonar all around likely structure spots and drop-offs because rockfish might gather a good distance away. "We often find schools holding well up-current from prime structure areas," he says.
Calm Conditions
Successful slow-pitch jigging hinges on sea conditions. "More than any other fishing method, slow-pitch jigging requires a vertical presentation, and that means fishing when winds are light," Chavez explains. 
The timing of our trip was carefully selected to take advantage of a high-pressure system that had settled over the Los Angeles area for a few days, resulting in calm winds. We drift-fished over spots ranging from 325 to 400 feet. Once the afternoon wind began to blow, our lines scoped out too far.  
An increasing number of SoCal saltwater anglers are turning to GPS-guided trolling motors to help hold their boats over spots, using features such as Minn Kota's Spot-Lock, which can extend the time available to slow-pitch for rockfish in deep water.
SWS File
Slow-Pitch Jigs
Jigs for slow-pitching come in different weights and sizes. "The depth you are fishing, [and the] current and drift speed will determine the best jig size and shape to use," Chavez says.  
The more wind and current, the heavier and slimmer the jig you will need. Calm wind and light current enable anglers to use lighter and fatter jigs. Some of the slow-pitch jigs for SoCal rockfish range in weight between 100 and 600 grams (about 3.5 to 21 ounces), with lighter jigs descending more slowly but offering more fluttering action. Heavier jigs get down more quickly but don't flutter as much.
Available from brands such as Daiwa, Hyabusa, Nomad, Shimano and Williamson, the jigs come in an amazing array of color patterns. But Chavez contends that color is of minimal value. "It doesn't matter much, but I do well with reds, yellows and pinks," he says.
Special Rods
The rod represents one of the most critical components. Slow-pitch rods from brands such as Daiwa, Penn and Shimano are typically 6 to 6½ feet in length with thin, lightweight and sensitive blanks; small-diameter guides to enhance sensitivity; and slow tapers that impart a lot of recoil. Rods up to 8 feet in length are also available for anglers on party boats with high freeboard.
"Lightweight slow-pitch rods are primarily for jigging, and the recoil is not engineered to fight or pump fish," Chavez points out. "So, once you hook a big fish, point the rod tip downward at a 45-degree angle and turn the reel handle to winch the fish in."
Get Reel
"You want the lightest and smallest reel with the most inches per crank that can hold just enough line to reach the depths," Chavez explains.  
Slow-pitch reels from companies like Accurate, Daiwa, Okuma and Shimano feature higher retrieve ratios to help you work the jig with the reel and quickly pick up line when a fish bites. "These reels are ­typically small, compact lever-drag models that weigh 10 to 18 ounces," Chavez says. "They have narrow spools and pick up 3 to 4 feet of line per crank."
Using light braided line is critical because it does not stretch and provides supreme sensitivity to control the jig at any depth. Chavez prefers 15- to 30-pound-test braid because the thinner line creates less water resistance and results in greater line capacity. A 3-foot top shot of 40- to 50-pound-test fluorocarbon leader material, connected to the braid with a uni-knot, helps keep a lingcod or sharp rocks from breaking the line. 
Read Next: New Frontiers for Rockfish
SWS File
Slow-Pitch Rigging
Slow-pitch fishing calls for tying on a small ball-bearing swivel to the bitter end of the top shot, then using a triple split ring on the other end of the swivel. In California, only two hooks can be used for bottomfishing, and Chavez likes to have one single assist hook on top and another assist hook on the bottom. However, the top assist hook should not be on the jig itself, but rather on the split ring at the end of the swivel that attaches to the lure. Chavez uses split-ring pliers to switch jigs.
Working the Jig
The key to slow-pitch jigging is bringing the metal jig to life using the rod and reel. "It is almost the opposite of speed jigging, in which the lure is retrieved violently fast to entice bites," Chavez says. For rockfish, it consists of dropping the jig to the bottom, then slowly lifting the rod to sweep the jig upward, known as pitching, and letting it free-fall back into the zone. 
"The falling action is crucial, as that's what triggers most strikes," Chavez says. "You can create different fluttering actions by changing the direction or length you pitch. Left to right, short to long, slow to fast, or any combination of these."
When fishing on a private boat, it's important to work the jig while carefully watching the fish finder to ensure it's over structure or fish, Chavez says. "If you don't get any bites, reposition the boat up-current and drift again," he adds. "As the current or wind increases and the line angles out, switch to a more slender, heavier jig to fish as vertical as possible. Continue to increase the weight of the jig until it's just too windy to fish."
For the latest on California's bottomfishing season and regulations, visit the California Department of Fish and Wildlife at wildlife.ca.gov.