We hit the gold mine! Dave Nyitray, Jim Hanrahan and I were anchored up-current of a wreck some 50 miles offshore of Fort Myers, Florida, and had shoals of hungry mangrove (gray) snappers high in the chum slick. Much like yellowtails in the Bahamas, there must have been hundreds of them behind the MARC VI — plump, lit up and aggressive.
With 20 feet of 12- and 15-pound-test fluorocarbon leaders connected via Bristol knots to our 20-pound-test braided lines, and using 1/0, in-line circle hooks baited with tiny slivers of bonito, we hooked snappers within seconds. In no time flat, 15 fish were in the box — a respectable and self-imposed limit of five fish per person — and we pulled anchor and headed back to Fish Tale Marina.
Bottomfishing off Fort Myers, and other southwest and west central Florida destinations, can be fast-paced — if you know what to look for and use the right techniques.
Lay of the Land
Certainly close-to-shore wrecks, ledges, rock piles and other bottom structure produce, but for bigger fish and more-consistent action, farther is often better. Mark Combs, who manages the Fish Tale Marina, has 35 years of bottomfishing experience off Fort Myers. You can run out 30 miles, be in 60 to 70 feet of water, and catch fish off ledges and over live bottom, he says. In winter and spring, some nice-size gag grouper move in shallow. Yet, if you run 80 to 85 miles out, you'll be in 190 to 210 feet of water, which is where the big grouper and trophy genuine red snapper are.
A few days prior to my trip in October, Combs put Missy Gervais onto a 70-pound black grouper. "We were at one of my snapper spots, but there were small ones around that day," says Combs. "We were catching some decent gag grouper, and had lost a few nice blacks before Missy landed the big one. Those big groupers were looking for the same thing we were: red snappers to eat."
Any hard structure that interrupts the ­relatively flat sand and mud ­bottom of the Gulf is a ­potential ­habitat; the larger and more ­prominent the structure — be it a ledge, wreck or even a freshwater spring — the more the ecosystem thrives. Many spots are published on marine charts but, as Combs points out, dialing in your fish finder and studying it as you travel is still a prime means of uncovering new spots.
Equally important, Combs seeks out bait on this structure. Grouper, snapper, almaco, amberjack, and even cobia hang with the bait, as do dolphin, blackfin tuna, wahoo, and the occasional sailfish beyond 80 feet.
Sarasota-based bottom-pro Darren Blum often stops a mile shy of his deeper bottom spots and trolls lures, particularly a pair of Rapala X-Rap Magnums off flat lines, rigged with 5 to 10 feet of 80- to 100-pound-test fluorocarbon leader. He does this for the pelagics roaming these zones, particularly wahoo and tuna. After a few laps, Blum will either drop anchor or drift over the spots. Trolling deep-diving plugs is also a great way to uncover grouper concentrations over live bottom and along ledges. Locating these areas also gives you new spots to bottomfish. It is particularly effective in shallower waters, between 20 and 50 feet.
Out Deep
When it comes to anchoring, Combs drops the hook right on his bottom spots, reasoning that most aren't very big and it's essential to be right on them — the likes of pot holes, ledges and drops, which might range from just a few feet upwards of 10 feet. It's a game of precision: If you lay out the anchor
nd miss your mark, keep repositioning until you can drop a bait into the sweet spot. It's that critical.
Combs drops pilchards, grunts, pinfish and various other small fish, along with fresh squid. He's a ­meat-and-potatoes guy in that it's all heavy tackle: two-speed Penn ­International 50 reels filled with either ­50- or 80-pound-test braid or 125-pound-test monofilament, and bent-butt rods that are either hand-cranked from the gunwale or fished stand-up style with a rod belt. Leaders are 8 to 10 feet of 125- to 150-pound-test monofilament with 12/0 to 13/0 circle hooks. How much weight he uses depends on the current, but 10 to 12 ounces is usually the norm out deep.
If you opt not to anchor and the current is mild, make ­repeated drifts over these structures; if there's a solid current, remain above them by power-drifting. The same terminal-tackle setups and baits work. Plus there's also the option of flutter-jigging (see saltwatersportsman.com/flutternews), which will produce both bottomfish and pelagics. An experienced flutter-jigger can easily adapt to fishing this way from a ­drifting boat.
Anglers along the lower and middle part of Florida's left coast might have a moderate to far haul for bottom fun, but the trade-off of light-angling pressure (compared with South Florida) and hungry fish is often well worth the effort and fuel spent. For me, such an incentive knows no boundaries.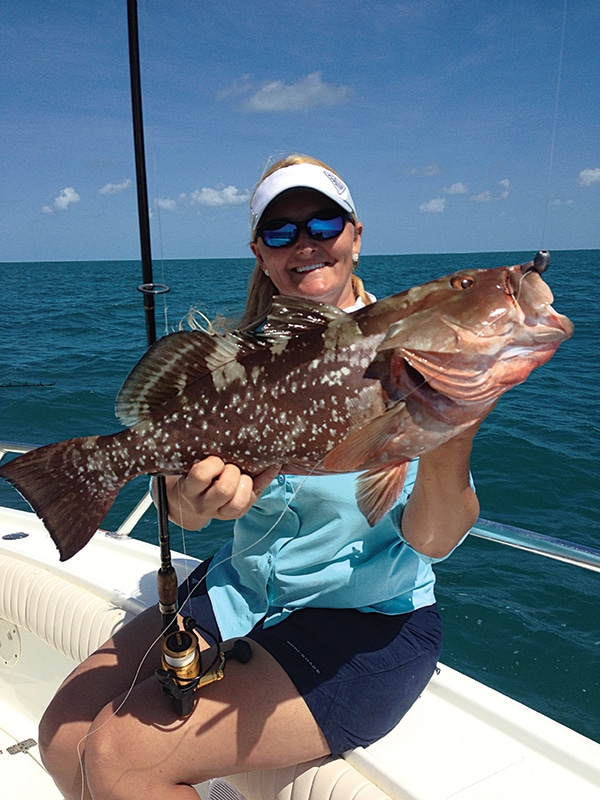 George Poveromo
George Poveromo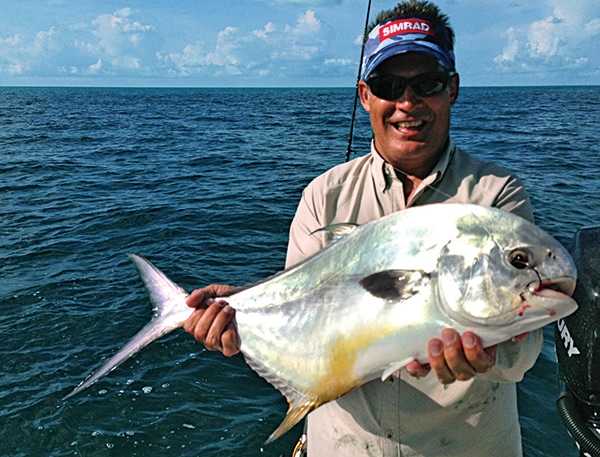 George Poveromo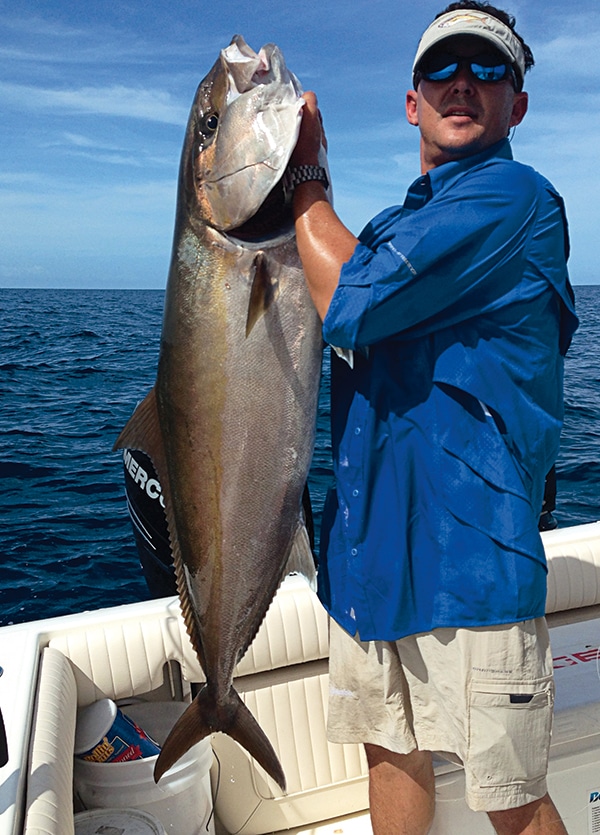 George Poveromo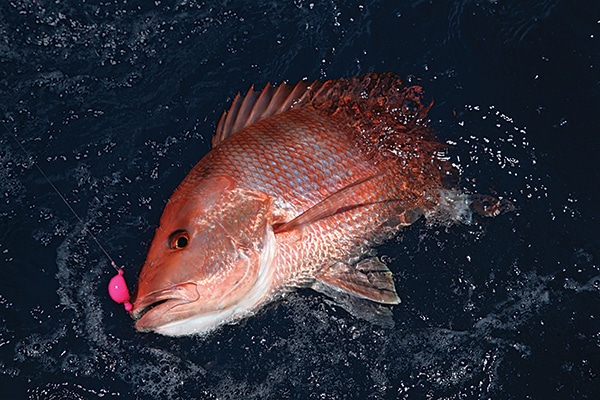 George Poveromo