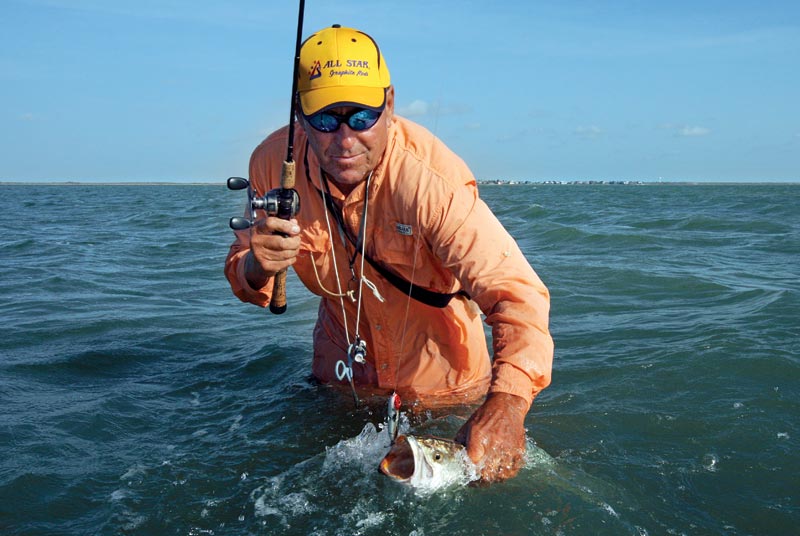 Bink Grimes
It was the bronze-skinned, blue-eyed blondes hanging from the roll bars of Jeeps that first brought my buddies and me to Crystal Beach, Texas, on the Bolivar Peninsula in the late '80s, but it was the big, hungry speckled trout riding the tides that kept us coming back long after our adolescence faded into memory.
Armed with pearl and red-tailed tandem-rigged Creme Lit'l Fishies from Granny's Bait Camp, we'd shoulder next to a dozen other anglers wading the edge of the pass. We'd toss the lures up-current into the deep channel of Rollover Pass and allow the tide do its magic. Thump — we'd set the hook and watch an angry speck bound to the surface, lashing its head from side to side. When the fishing was good, two or three of us would have one on at the same time — when it was great, a half-dozen of us would be bowed up simultaneously.
Behold, a wader was born.
The Best Tide for Wade Fishing
Water temperatures, tides, moon phases and baitfish activity, among other variables, determine when and where to wade. Fish swim from passes to channels to bars to spoil islands to grass, mud, shell and sand flats, but not necessarily in that order. Am I making sense yet?
The point is: Keep it simple. Read the tides and water levels, and adjust your game plan.
When tides are bloated, speckled trout scatter along flats in knee- to waist-deep water, often as tight as they can maneuver against the shoreline. Why? That's probably where the Snickers-size mullet are.
Great spots are back lakes and extended bayous that run to secluded marsh ponds. I like working undulating sand and grass flats on an incoming tide, tossing to sandy pockets while trout dart from the grass in ambush.
When tides are below normal, fish fall off the shorelines or stage in deeper guts. You might have to shuffle to chest-deep water and cast to deeper drop-offs to find them.
In my home waters of Matagorda, I walk down the edge of a reef in the middle of East Bay and fan-cast on top of, along the drop-off next to, and in the deep water surrounding the shell bar. All three depths hold potential, depending on the tide. When you find the sweet spot, most often determined by baitfish, work it thoroughly.
Another solid low-water locale is the edge of the Intracoastal Waterway. The ICW extends from Sabine to South Padre Island and parallels some of the most prolific speckled trout estuaries in the Lone Star State.
I have caught some heart-pounders on the edge of East Matagorda Bay, and the number of trophy trout that have been duped by waders around the ICW spoil islands near Baffin Bay, Port Mansfield and the rest of the Lower Laguna Madre is well documented.
Wade Fishing Excels Over Boat Fishing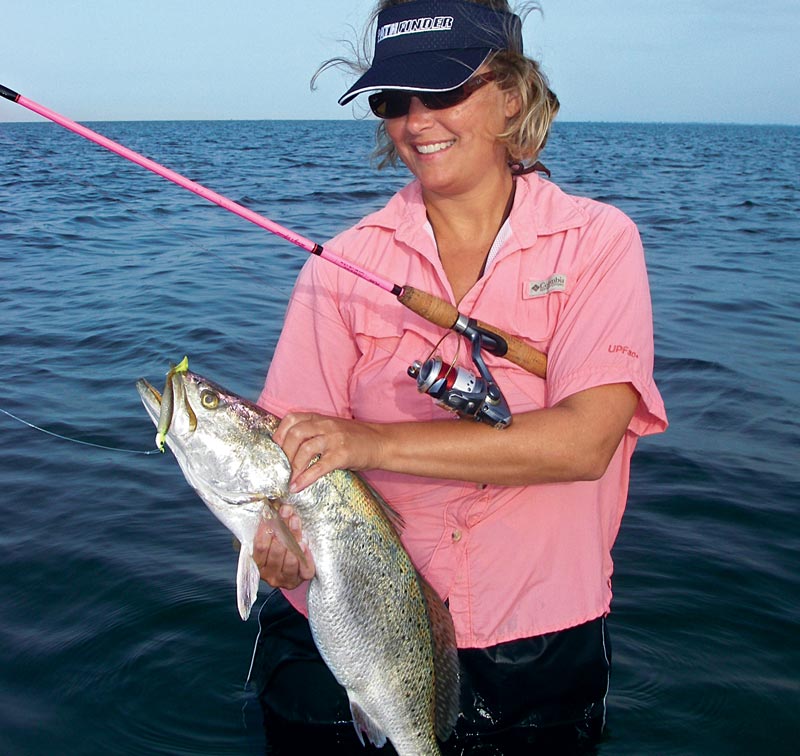 Bink Grimes
Waders negotiate terrain a boat could never reach without flushing every fish in the area. I might walk five steps and make five casts and catch a fish. Then I might shuffle for another first down and methodically cast to the point where sand and grass meet. My first, second, third and 10th casts may be met with a thump, and the fish will never know I am there, something I could never pull off from a boat.
And few things trump my bottlenose dolphin buddy swimming by to say good morning. We have waded together for a decade now, and it quickly identifies me as the guy who feeds it sand trout, probably by the creaking sound of arthritis in my knees and the agitating topwater I habitually throw.
I show my appreciation by feeding it, and it counters by keeping sharks off my stringer. Many people spend hundreds of dollars to swim with a dolphin; I guess they do the same on a charter with me.
Resting against a South Texas mesquite and rattling two old, brazen white-tailed bucks from the brush is the land version of a sunrise wade for long lavender-backed specks. There is a matchlessness of being eye to eye with wildlife in their own domain, and the first time you see a school of two-foot trout swim past your legs, you'll know why we Texans like to get wet.
Cast Topwater Lures When Wade Fishing
To say I enjoy fishing a topwater plug is like saying my retriever enjoys a fresh rib-eye, but not everyone was made to throw a topwater.
Walking-the-dog takes practice, patience and pragmatism. I have been accused of force-feeding MirrOlure She Pups or Heddon Super Spook Jr. lures to stubborn specks, but trout sometimes don't want my candy bar.
I stuff a pack or two of soft plastics in my front pocket these days, in case the fish are avoiding the surface. Some of my most impressive stringers have come while jigging and bumping the bottom.
That leaves the middle of the water column. You've heard of suspending lures, haven't you? Rest assured, these baits still catch plenty of specks.
Texas Wade Fishing Tackle
Rods: 6-footer, rated for 14- to 34-ounce lures; 8- to 14-pound line.
Reels: Shimano baitcaster or equivalent casting reel.
Lines: 20- or 30-pound braided line.
Leaders: 25-pound fluorocarbon.
Lures: MirrOlure She Pup, Heddon Super Spook Jr., and Bass Assassin Chicken on a Chain 5-inch Saltwater Shad and 4-inch Sea Shad.