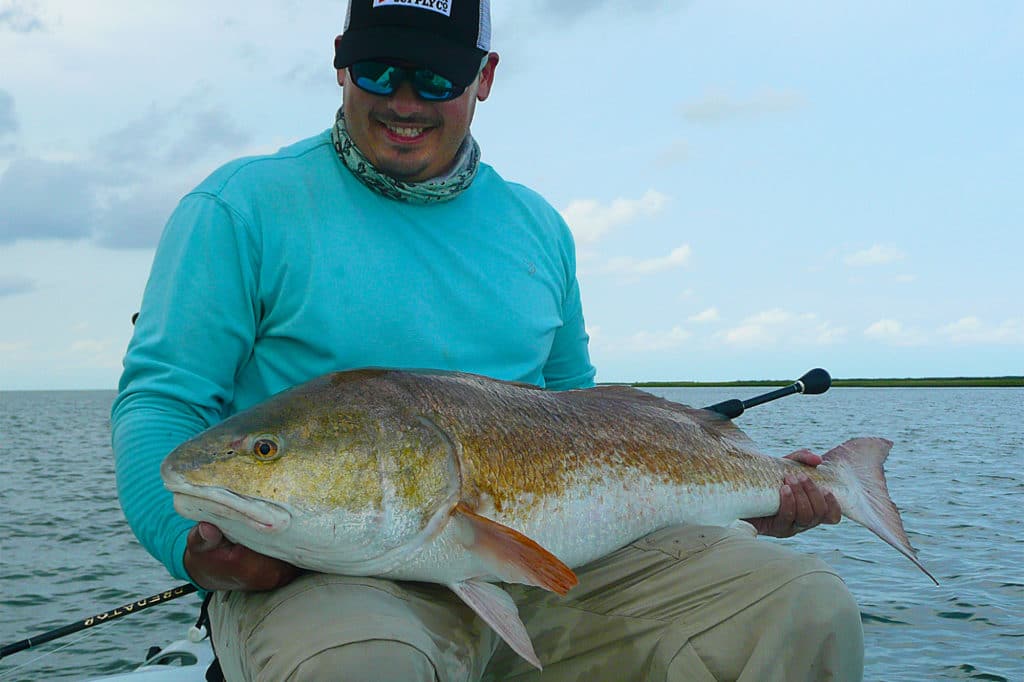 Alex Suescun
It had been a while since I last went fishing for redfish in Louisiana. I competed in the Redfish Cup tour for seven years, and like most of my rivals, I made the run to Cajun waters during tourneys from as far as Mobile, Alabama for the reliable action and the chance to tangle with some real heavyweights. Even on a fast boat, the 200- to 300-mile round trip left a scant couple of hours to fish, but everyone knew the winning limits would come from Louisiana's fertile marshes.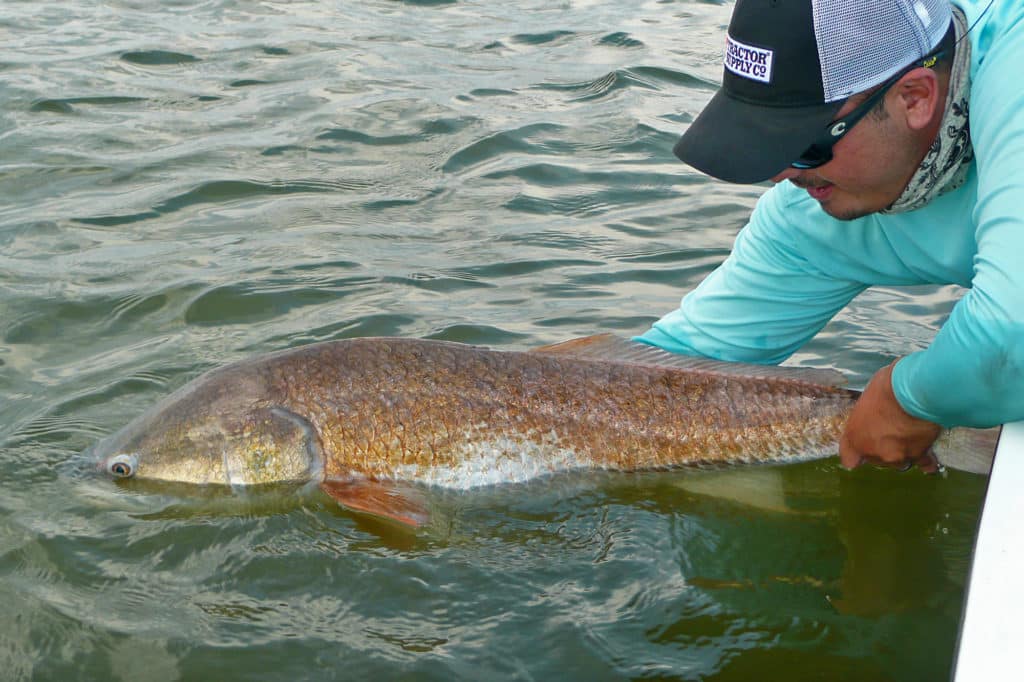 Alex Suescun
To my delight, three or four events brought me to Louisiana every year. I really looked forward to those — not only to the actual tournaments, but also to the scouting prior. Searching for spots that held the portliest 27-inchers (Louisiana's upper slot size limit), my partner and I often caught and release two or three dozen redfish daily, many of them oversized. So when a high school buddy mentioned he was planning a trip to the Redfish Capital of the world, I immediately volunteered to trailer my flats boat down.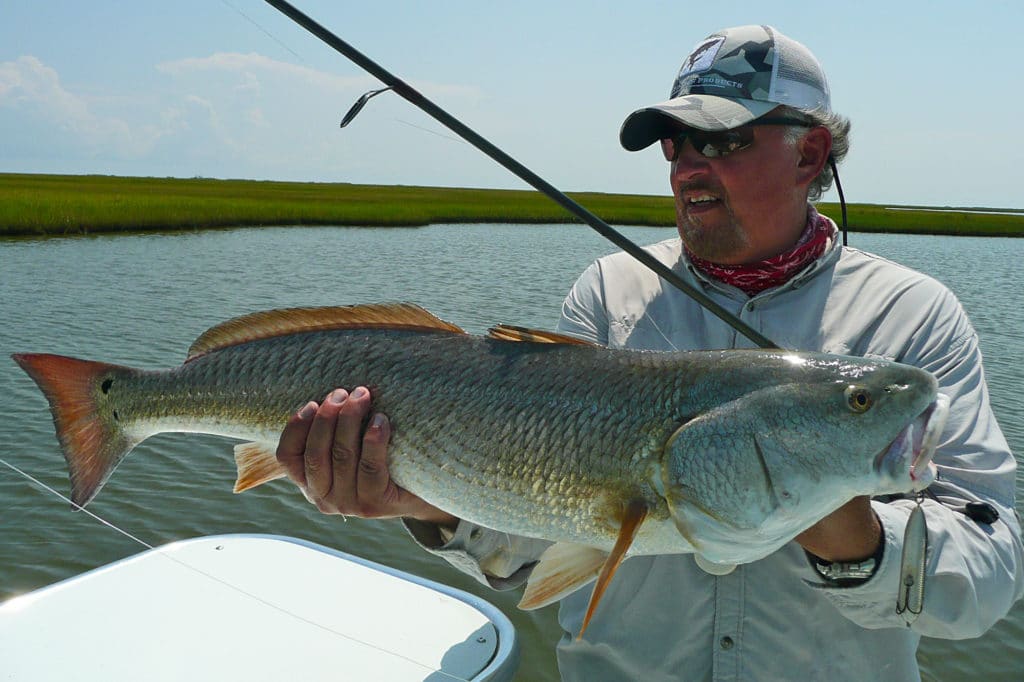 Fabian Guerrero
Redfish Fishing in Hopedale, Louisiana
One of the best destinations for redfish is Hopedale, Louisiana, some 40 miles southeast of New Orleans. Upon our arrival we were met with aggressive redfish that made the 10-hour drive from Orlando, Florida well worth it.
Alex Suescun
An array of wading birds, like herons, egrets and these colorful roseate spoonbills (not very common in southeast Louisiana), offered welcome additions to the area's many sights and sounds, and helped us identify very shallow areas from a distance.
Alex Suescun
My nephew, Fabian Guerrero, came along to get his first taste of redfish fishing in Louisiana. It didn't take him long to understand why everyone who comes to Louisiana looking for redfish can't wait to return again and again. Plus he got to try some of his preferred lures and tactics, and hone a few light-tackle techniques with help from some bruiser reds.
Alex Suescun
Using Spinnerbaits for Redfish
We began our search for reds in some of the outer ponds, closer to Biloxi Marsh than to Hopedale. The water was high and a bit stained, so I tied on a gold Fin-tech Redfish Spin and did some blind casting in key areas to help our recon, and the strategy soon paid dividends.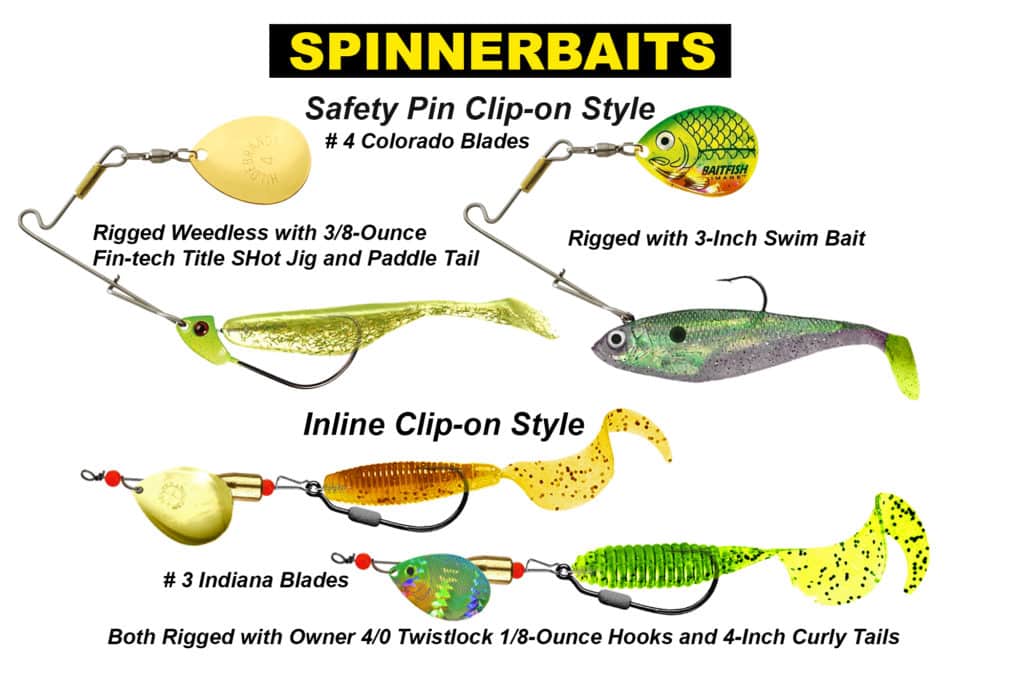 Alex Suescun
Spinnerbaits are excellent search lures. They allow you to cover water quickly, and the flash and vibration they produce draw strikes when other lures would go unnoticed. Clip-on types, which allow for customizing to match the situation and the local forage, are best. The safety-pin style lets you combine a spinner blade with a weighted swim bait for a more realistic look, but the inline style is better in areas with heavy hydrilla or other dense vegetation, as it goes through the grass with minimal fouling.
Alex Suescun
The Chatterbait, a variation of the spinnerbait that uses a blade ahead of a jig head, causing the entire lure to shimmy and vibrate, is another favorite of mine. It has lots of action even when retrieved slowly, and redfish just can't resist it.
Alex Suescun
Fin-tech's Jitt-R is similar to the Chatterbait, but it's designed to be rigged weedless. I like to add a spinner blade trailer on the bend of the hook with a swivel for even greater flash and vibration.
Alex Suescun
Baitcasting vs. Spinning
Although the choice between spinning and baitcasting gear comes down to personal preference, when using spinnerbaits or Chatterbaits I find the latter is more conducive to accurate casting and affords better feel to detect a bite when retrieving the lure. By the way, braided line also helps tremendously in that regard, and baitcasting reels enable the use of heavier braid without sacrificing casting distance.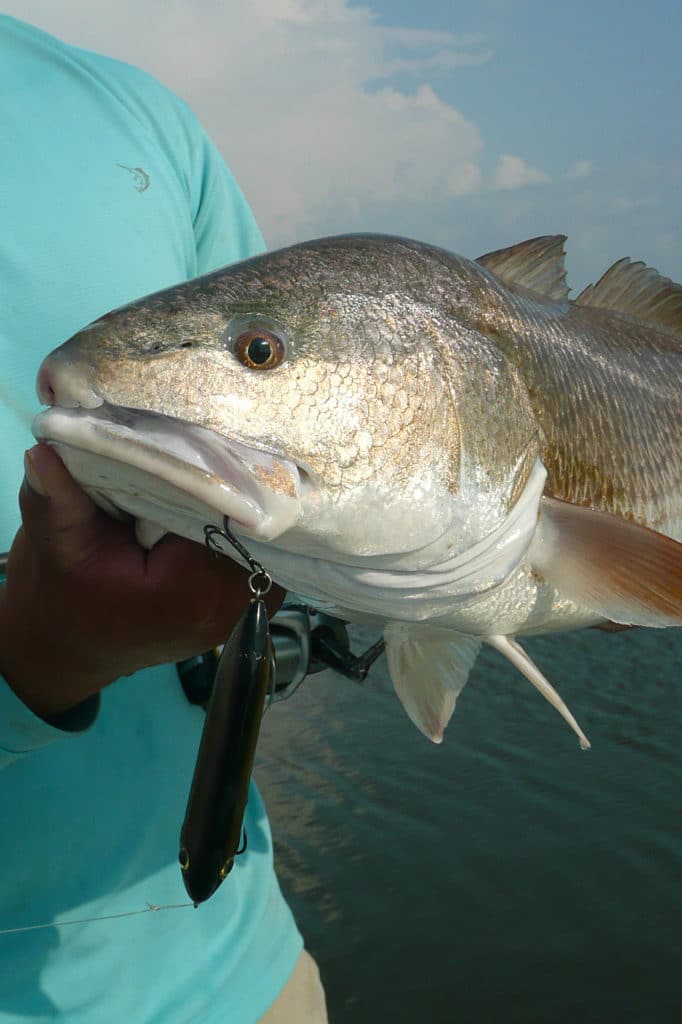 Alex Suescun
Topwater Lures for Louisiana Redfish
Working topwaters along grass shorelines and bayou edges is also great fun. There's finger mullet all over the marshes, a forage easily imitated walking the dog with a topwater. And Louisiana's aggressive redfish explode on the lures, adding an exciting visual element to the experience.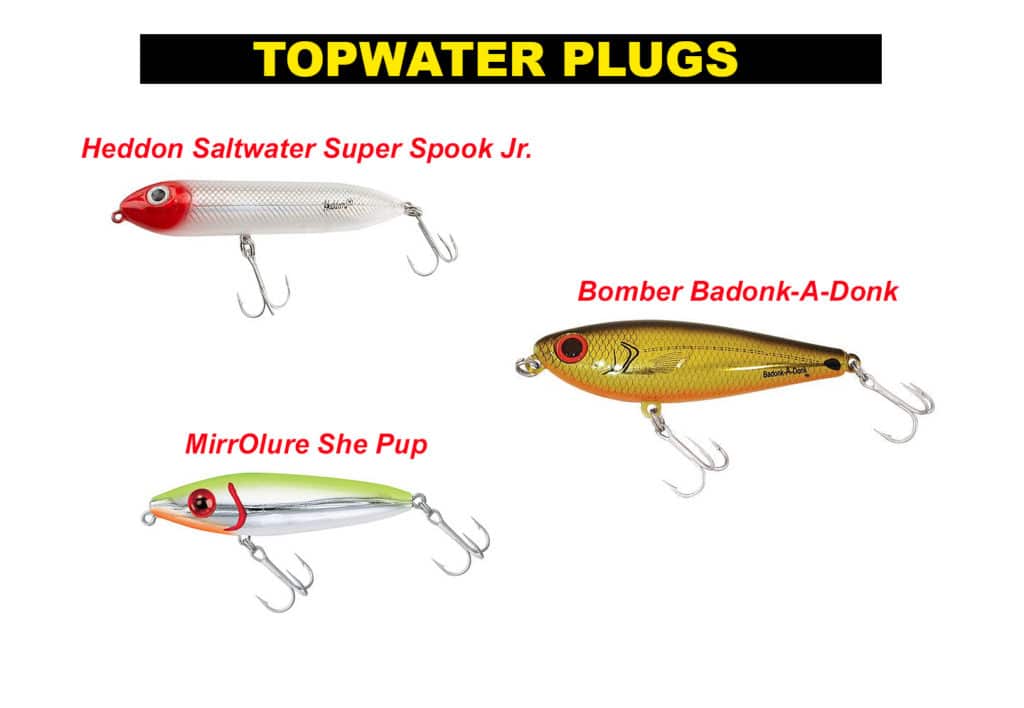 Alex Suescun
I prefer medium-size topwaters with only two treble hooks. They make it less strenuous to cast long distances and walk the dog for extended periods, redfish have little trouble fitting them in their mouths, and they are easier to dislodge safely from a hooked fish or from the mesh of a landing net.
Alex Suescun
Shallow Water Redfish in Louisiana
While outer islands and the deeper outside shorelines tend to hold bigger redfish, sight-fishing in shallow ponds and the narrow bayous that connect them yields plenty of upper-slot and oversized fish. But it all happens up-close there, and stealth is of the essence.
Alex Suescun
In those skinny, protected waters, I often opt for soft plastic jerk baits. They land softly, mimic the finger mullet and mud minnows (aka cocahoes) that reds target in shallow marshes, plus they can be rigged weedless and worked tight against the grass, where small baitfish usually hang out.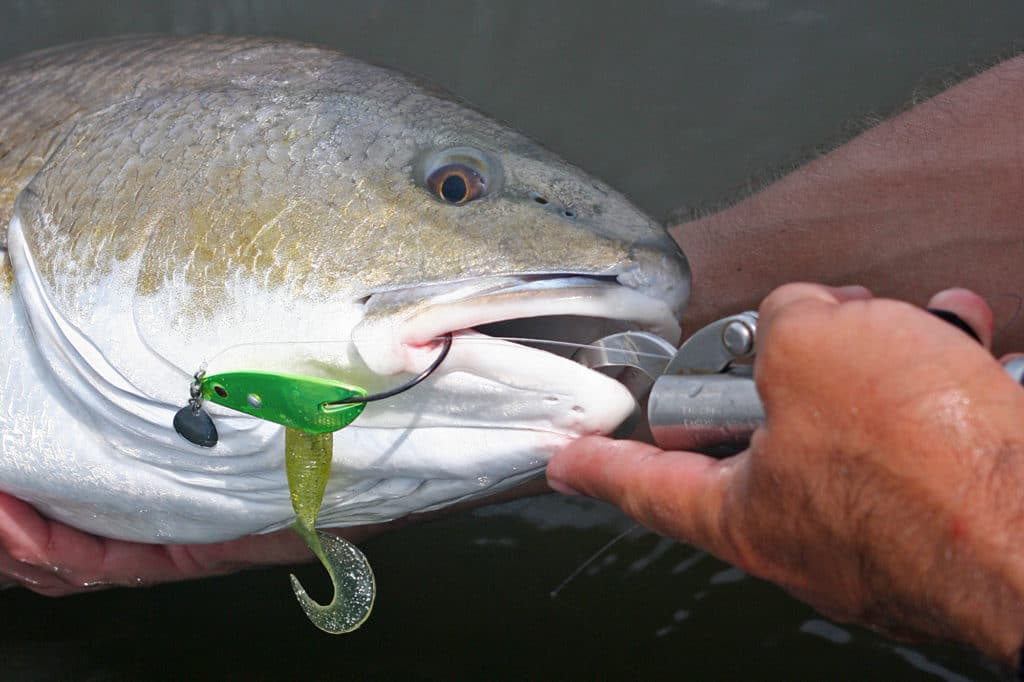 Alex Suescun
Spoon Feeding
Of course, weedless spoons should be part of every redfish angler's arsenal. They are great search lures, particularly during windy conditions when casting bulkier artificials accurately and far is a challenge. Plus they can be crawled slowly over oysters and through the grass for wary fish, or burned at a fast clip to draw strikes from more aggressive reds.
Alex Suescun
But not all weedless spoons are created equal. Aside from obvious differences in color, size and weight, their shapes, weed guards and their hooks can vary greatly. For those big Louisiana reds, strong hooks and hardware are critical, and adding a swivel with a split ring to minimize line twist is always a good idea.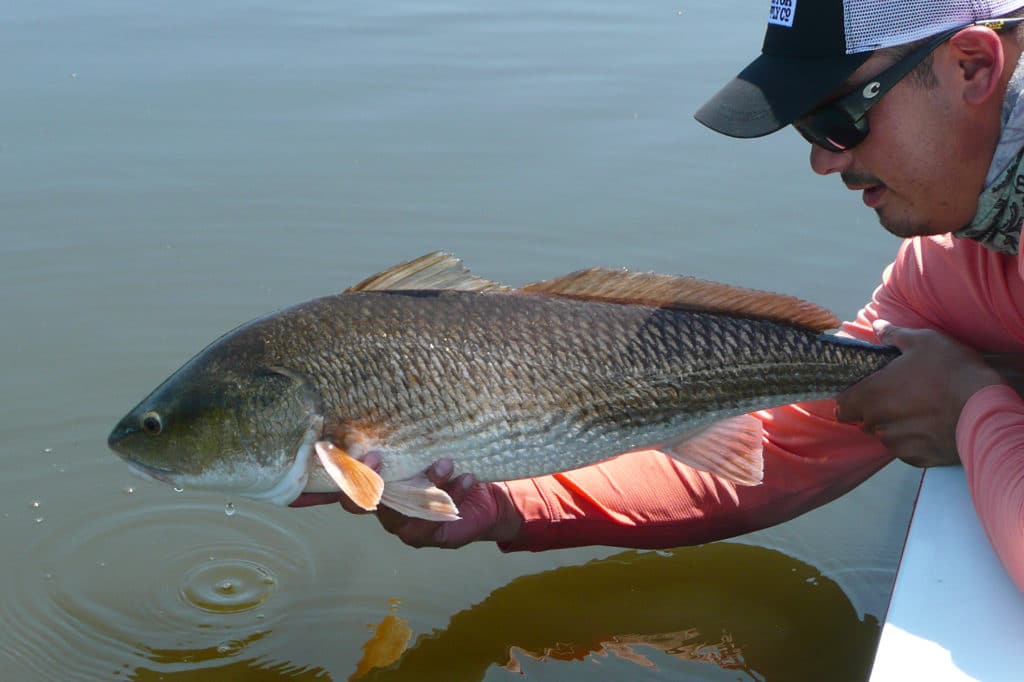 Alex Suescun
Preserve the Resource
Whatever lure you choose when fishing for redfish in Louisiana, chances are you'll have a fruitful trip. And, while a few snap shots will help you relive the great memories, please be mindful of the fish, they're a precious resource. Return them to the water quickly and perform CPR as needed to ensure a successful release every time.
Alex Suescun
If you've never gone redfishing in Louisiana, do yourself a favor and plan a trip soon. Fishing pressure is low, the productive fishing areas are as extensive as the marshes, and the resident reds are plentiful, big and hungry.
If you are coming from the east, Hopedale is closer than more famous Louisiana fishing destinations, like Venice, which requires an extra hour of driving, and the fishing can be every bit as spectacular.
There's not much to Hopedale, just a two-lane road with a handful of lodges (called fishing camps locally) and a couple of boat ramps, including the one at Breton Sound Marina, where they sell ice, live shrimp, beer and soft drinks, and a limited assortment of tackle. So you'll need to get provisions and boat fuel on your way in.
But once you leave dry land behind and reach the marshes, where you rarely see another boat, the welcoming committee will soon swim up and make sure you enjoy your time in Cajun country. So as they say in Louisiana: Let the good times roll!