Courtesy Colleen Enright and Richard Perkins
Colleen Enright was feeling good. She had just watched a certified scale at Ifish Marina Pez Vela in Quepos, Costa Rica, display the number "23.06" — a weight that smashed the IGFA all-tackle world record for Pacific tripletail by more than 4 pounds. Then she saw another angler making his way toward the weigh station. It was Richard Perkins, and he had a monster tripletail, too.
"We saw Richard coming up the gangway, and I thought, 'What is this guy up to?'" Enright said, managing a little laugh. "His fish was big, but it didn't look any bigger than mine."
Well, it was. Perkins' fish registered 26.76 pounds, capping a remarkable, two-record-fish day at this modest fishing village located roughly at the midpoint of Costa Rica's Pacific shoreline. The existing all-tackle record Pacific tripletail weighed 19 pounds and was caught by Michael Hughes Jr. in Boca Parrita, Costa Rica, in December of 2019.
Freshwater Anglers Gone Salty
Both Perkins and Enright are lifelong anglers with roots fishing freshwater. Perkins, a 70-year-old retired bank inspector with the FDIC, grew up in Louisville, Ky. He now lives in Clarksville, Tenn., not far from Barkley and Kentucky Lakes, where he fishes often from his 20-foot-long Lund.
A native Texan, Enright lives on Galveston Bay. When she's not busy working as the president of KIES Solutions, a valve and instrumentation supplier for the gas and marine industry, the 45-year-old is often on the water.
In addition to their place in Texas, Enright and her husband, fishing guide Steve Hoyland, Jr., have a vacation home in Costa Rica near Quepos. They keep two boats, a large offshore Bertram and a 25-foot Boston Whaler, at Ifish Marina Pez Vela.
Colleen Enright's Potential Record Tripletail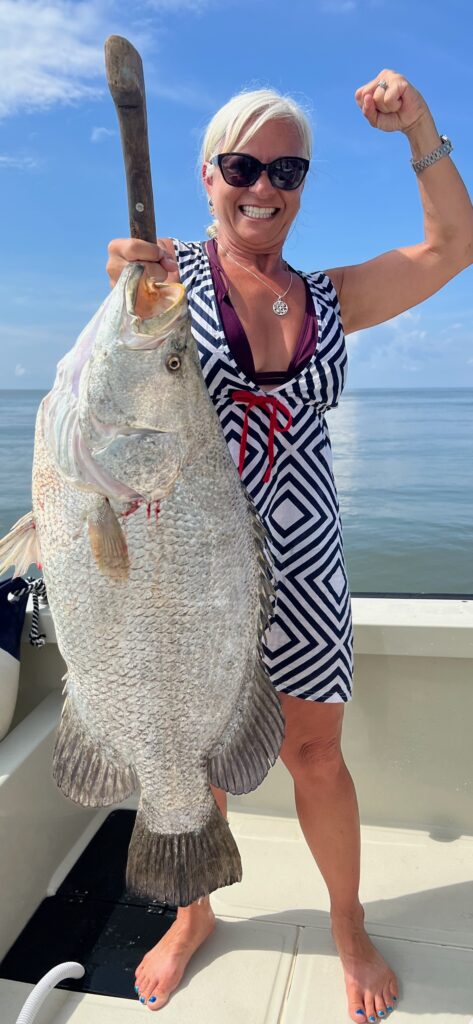 Courtesy Colleen Enright
"We were leaving the next day and said, 'Let's get out on the water,'" said Enright, adding that it was not a surprising decision. "We fish every day." The plan was to work inshore waters near a river mouth. In addition to her husband, Ruddy Zapata was on the Whaler as a mate. "We knew about tripletail but that's not what we were after," said Enright, who said their primary target was snook.
They were fishing with live bait, casting and drifting in the waves. Enright's Shimano spinning reel was spooled with 20-pound-test Berkley ProSpec Chrome mono with a 60-pound Diamond Presentation fluorocarbon leader. Action was good.
"We had already caught a couple of really nice snook and were ready to head in," Enright said. "But Ruddy said, 'Let's make one more pass.'" As so often happens, that final shot paid off and Enright was soon hooked up. The fish didn't feel like another snook. As Enright fought the strong foe, which the trio figured was probably a jack crevalle, she was smiling.
"There were probably five or six other boats out there and I was the only girl," she said. Fifteen minutes into the battle they got a look at the fish, which they could tell was a large tripletail. "My husband and Ruddy got really excited," said Enright, who in turn got serious. "I said, 'Let's get this thing in the boat.'"
As soon as they did, they packed up quickly and rushed to the marina. Serendipitously, the marina was hosting the Costa Offshore World Championship tournament and had certified scales at the ready. "It worked out perfectly that the appropriate professionals were there," Enright said. "I'm not a boaster, but it was pretty cool [to break the record]."
Richard Perkins' Potential Record Tripletail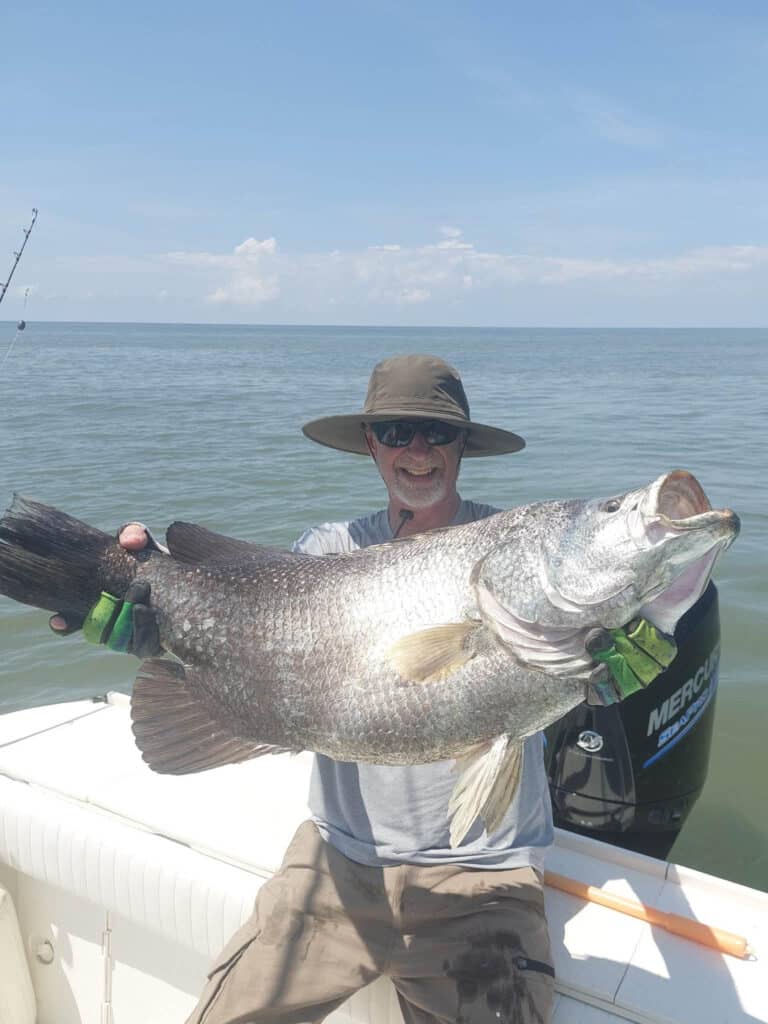 Courtesy Richard Perkins
Still out on the water, Perkins was fishing with guide Riccardo Puliti aboard Puluti's 27-foot center console. It was the first day of his fourth trip to Costa Rica.
"We try to fish every time we go," Perkins said. "A friend who lives down there had been catching a lot of snook so that's what we were going for." Fishing the same area as Enright, and using a live sardine as bait, Perkins was soon tight to a strong fish. "When I hooked it, Riccardo said, 'That's not a snook,'" Perkins recalled.
It turned out to be a 20-plus-pound red snapper, which went into the fish box for dinner. The next pass produced another strong fish, a good-sized jack crevalle that Perkins released. Perkins then hooked what the men assumed was another snapper.
"It pulled more like a snapper," Perkins said. "I would get it halfway to the boat and then it would take off and peel off a bunch of line." Using a Shimano reel spooled with 50-pound-test line with a 40-pound leader, Perkins eventually got the fish close enough to see that it wasn't a snapper.
"I had no idea," Perkins said. "Riccardo told me, 'It's a tripletail,' and I said 'Great.' I'd heard about tripletail but never caught one or even seen one live." After boating the fish, Perkins lifted it. "I told Riccardo it was well over 20 pounds," Perkins said.
Puliti, who has been guiding in the area for about a decade, said April is a good month for tripletail in the area. "A few boats had been catching them," he said. "I was surprised by the size."
Shortly thereafter the scales at the marina verified the weight and Perkins learned that his fish not only topped the existing all-tackle record, but also Enright's record-breaker. "I wasn't prepared for that," he said. "It took a while for it to fully register."
Two New Records Pending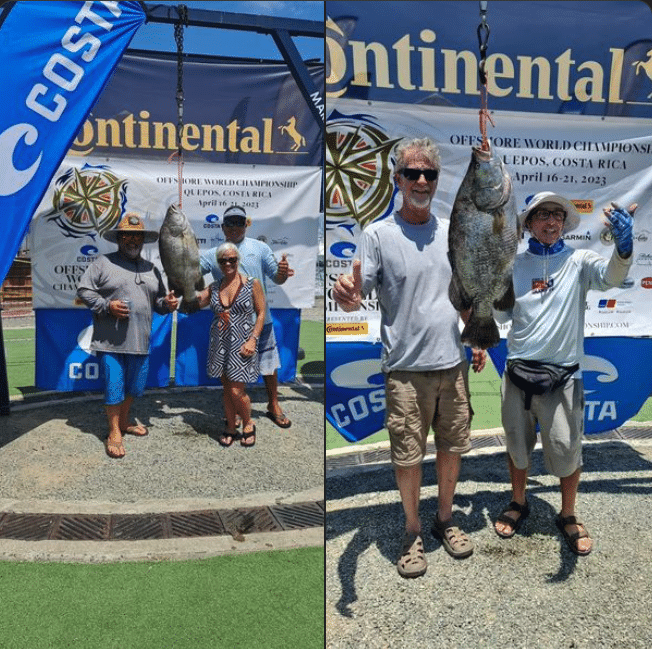 Courtesy Ifish Marina Pez Villa
Perkins said he was ambivalent about applying for the record, but decided to go through with it to help bring attention to both the marina and Puliti. Enright has her ducks in a row for an application, too, and almost assuredly will be approved for the women's all-tackle record.