Click through the images in the gallery above.
We knew the big kings were around, but Capt. Skip Dana and I were surprised by one monster that didn't play by the rules.
We were so tight to the beach as we procured Spanish mackerel for bait that I stayed at the wheel to keep the swell from washing us ashore. It was here, in eight feet of water, where it happened.
Dana landed a Spanish mackerel, impaled it on a three-hook wire rig, and tossed it overboard. Within seconds the reel screamed: A big king had crashed the bait right next to the boat.
In that shallow water, the kingfish had no option but to charge straight offshore. I gave chase, and Dana, positioned in the bow, reclaimed line. We needed to stay on top of the fish so it couldn't part the line by dragging it across the descending reefs. After a spirited fight, I gaffed and boated the fish, which later scaled 42 pounds.
While we targeted those Florida kingfish out of Pompano Beach in November, this fishery remains ­productive into March, ­providing there's cold weather to keep the ­Spanish mackerel around.
Dana is no stranger to catching big kingfish, having taken them to 53 pounds. He operates the fabled Helen S and Fish City Pride drift boats from Hillsboro Inlet, and spends considerable time fishing tournaments and ­chartering for sailfish, kingfish, and bottom fish aboard his 27-foot center console, Pop-A-Top. And he knows of what he speaks when he says kingfishing here can be world class.
Spanish 101
Big kingfish stalk schools of migrating Spanish mackerel. Therefore, the Spanish must be present to attract and hold trophy-class kings. Dana says this starts when the first strong cold fronts roll through. "The mullet migrate down the beaches first, followed by the bluefish, then the Spanish," says Dana. "Once we get really cold weather and Northeast swells — which stir up the bottom and dirty the water — the Spanish will be here, along with big kings. It usually happens mid- to late November."
Dana prefers running the beaches for Spanish mackerel baits. They can be right in the surf, foraging on glass minnows, mullet, shrimp and juvenile runners. We found a huge school tight to the beach in cloudy water. We seemingly could have caught them all day casting Sea Striker GOT-CHA and Williamson Gomame jigs.
If other boats or birds don't tip off the whereabouts of Spanish, Dana says to look for slicks, bait breaking the ­surface, mackerel sky-rocketing bait and, of course, fish on the fishfinder. But one thing is certain: They are either there or not, so don't spend too much time in one spot.
Feed the King
It's essential to immediately get live Spanish mackerel baits back in the water, right by that school. We had two lever-drag reels spooled with 20-pound-test smoke-blue monofilament, and a 20-foot-long wind-on ­leader of 30-pound-test fluorocarbon. From there, a small barrel swivel joined the fluorocarbon to the three-hook wire leader.
We'd catch a Spanish, remove it from the jig, and run the lead hook of the rig either through the fish's collar or upper lip, then lightly impale the two stinger hooks down its side. With either one or a pair of rigged mackerel, we'd slow-troll from the beach out over the shallow patch reefs in 25 to 35 feet of water.
The strike settings on our drags were light; just enough to keep the line from backlashing, and we activated the reels' clickers. Once we hooked a king on 20-pound outfits, we advanced the drag to around five pounds.
Show Time
When a big king begins eyeing your baits, they'll suddenly become nervous and start darting about, and even swim, panic-stricken, to the surface. This sets up some incredible visual strikes, such as a king launching itself from the water with a severed Spanish in its jaws.
As in most live-bait fishing, the strongest, friskiest baits deliver the best results. If you've been strikeless, and your baits don't appear as energetic as they once were, get rid of them. Run back to the beach, catch a couple of new Spanish mackerel, and repeat the drill. "When the big kings are biting good, your baits won't make it out to the patch reefs," says Dana.
Although bluefish and blue runners are also usually abundant, Dana believes big kings get so focused on Spanish mackerel that they're hard to catch on other live baits.
Early morning is prime time to score the big kings, but if the Spanish are solid, they'll be there all day. "The last big king I caught around the Spanish schools came almost at dark," says Dana.
Should South Florida see a late winter and some cool temperatures leading into March, there's a good chance the ­Spanish and big kings might still be around, at least somewhere along the coast. If not, the big kings head to the deeper reefs, so try to catch Spanish mackerel along the patch reefs, and then slow-troll them out deeper.
There are no shortages of fishing options out of ­Hillsboro Inlet. It's all here, from snook to swordfish. Add in the ­Spanish and big kingfish, and you can experience some of the fastest and most impressive fishing around, and it's literally right off the beach.
Florida Kingfish Tackle Box
The trick to this fishery is getting on the Spanish mackerel, rigging them quickly and getting them back in the water as you troll seaward to entice a king mackerel.
Rods: Any of the newer, strong and light composite rods (such as Penn Bluewater Carnage, 5'8″ model ­CARJ80130C58) rated for 80- to 130-pound lines
Reels: 30- and 40-size lever-drag reels, to match rods
Lines: 20-pound-test nylon monofilament, smoke blue
Leaders: Several feet of 30-pound-test fluorocarbon
Terminal Gear: 36-inch main leader of 40-pound-test Terminator Titanium braided leader, or equivalent, and 6/0 VMC Live Bait Hook; two stinger hooks fabricated with No. 6 single-strand wire and 4/0 VMC Live Bait Hooks, or equivalent; small barrel swivel to cap off the rig
Baits: Live Spanish mackerel
Chasing Bait
Dana prefers running the beaches for Spanish mackerel. Be on the lookout for birds, other anglers or kingfish crashing the schools of Spanish. They can be right in the surf at times, foraging on glass minnows, mullet, shrimp or juvenile runners. We caught them by casting Sea Striker GOT-CHA and Willamson Gomame jigs.
When the Spanish are difficult to find, troll the beaches. We tied Rapala X-Rap 10 (XR10) swimming plugs onto a pair of light spinners, one with a ­40-pound-test (No. 4) wire leader, the other tied to a 30-pound-test fluorocarbon leader. We cast and free-spooled the lures, engaged the reel drags, placed the rods in gunwale holders, and trolled tight to the beach. This in itself was fun, as we stayed busy catching bluefish, blue runners, jack crevalles and mackerel.
Florida Kingfish Planner
What: Big king mackerel
When: November through March
Where: Pompano Beach, Florida
How: Good public access at the 14th Street Boat Ramp, 2815 NE 14th Street Causeway, Pompano Beach, which offers three two-lane boat ramps, finger piers and courtesy docking. It has plenty of parking spots for vehicles with trailers. It's about a mile south of Hillsboro Inlet.
Who: Capt. Skip Dana, 954-650-6908, [email protected]
Hillsboro Inlet Fishing Center, 954-943-8222, www.hillsboroinletfishcenter.com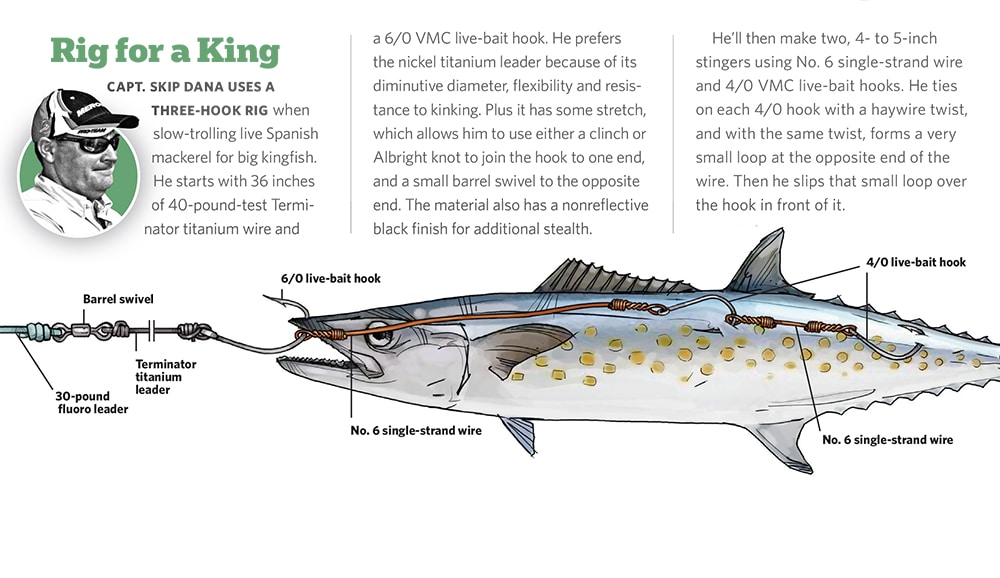 Joe Mahler