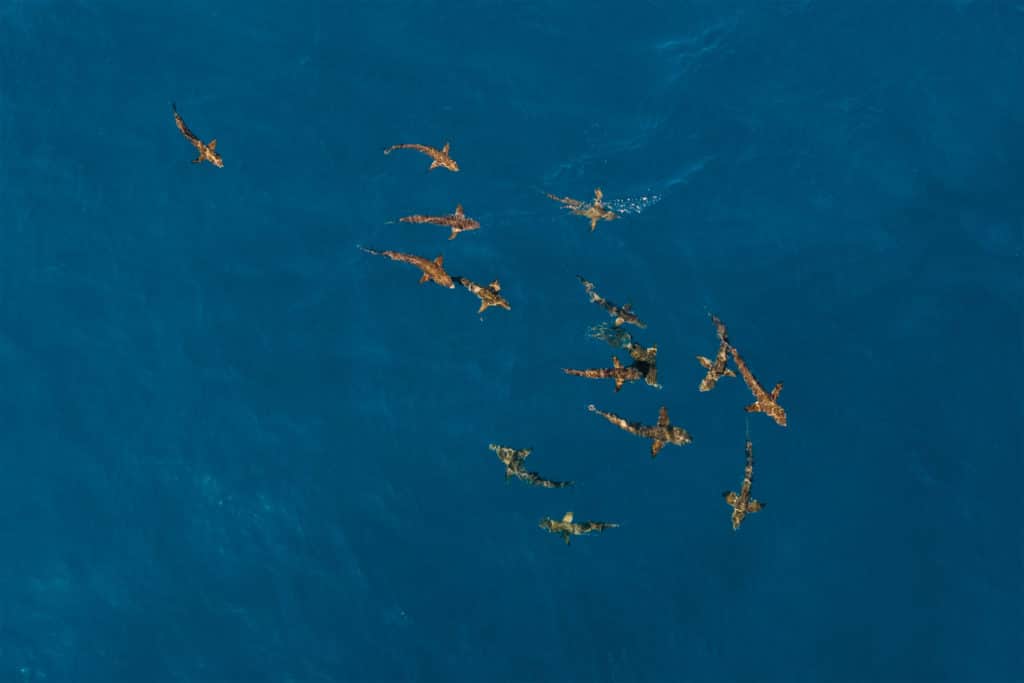 Jason Stemple
For hungry predators along Florida's Gulf coast and the anglers in pursuit, fall provides the means, motive and opportunity to partake of an astounding smorgasbord as the first signs of cooler weather prompt a massive baitfish exodus toward warmer environments to the south.
Only a portion of the forage fish survive the trip. Gamefish intercept many as they leave coastal bays and estuaries, or shortly after they reach Gulf waters.
The most furious assaults typically take place in the passes; however, the beaches are often settings for wild frenzies involving Spanish and king mackerel, bonito, jacks, bluefish, sharks, cobia and even tarpon, which isolate and pound pods of baitfish that splinter from the main schools.
Below the surface, baitfish receive little respite from the nearly constant onslaught.
While the underwater drama is undoubtedly spectacular, you'll get to see plenty of surface fireworks, with explosive strikes and the occasional skyrocketing fish.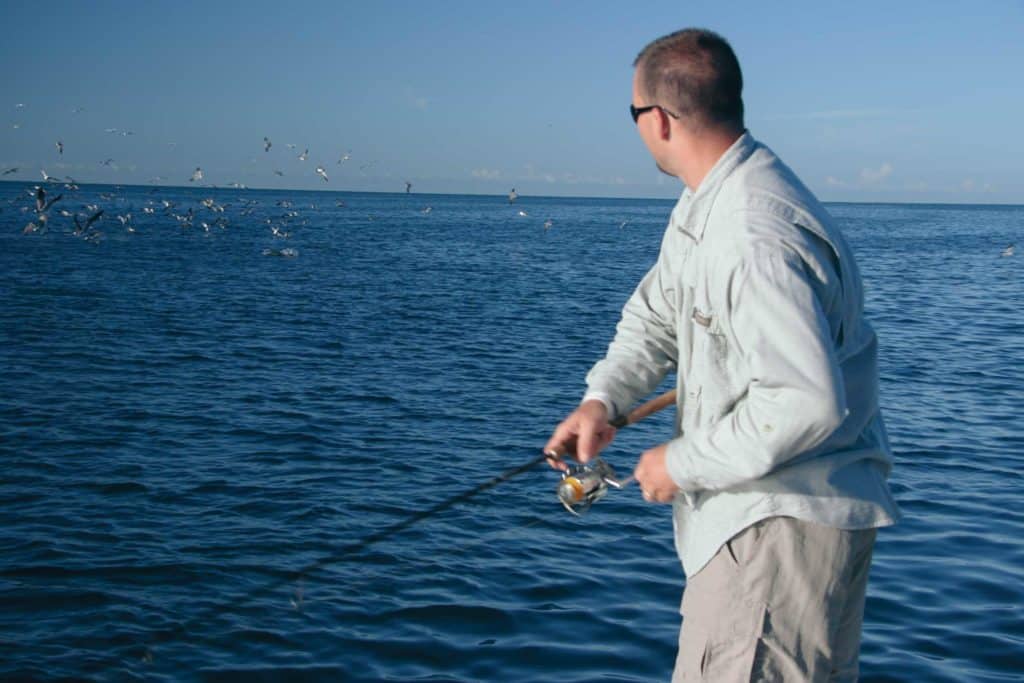 David A. Brown
"Sometimes action is great in the pass, sometimes 2 miles out," says Sarasota captain Rick Grassett. "The fish are wherever the bait is, and birds often point you right to the activity."
Pelicans, gulls and terns hovering and diving indicate feeding, recent or ongoing, but don't overlook a group of birds sitting on the surface; they're probably waiting for the action below to rise within reach.
Flush Timetable
Grassett says the fall bait flush generally starts in October, with scaled sardines (commonly called pilchards or whitebait) and threadfin herring (greenbacks) transitioning from the flats toward the Gulf. With normal weather patterns, he expects bay anchovies (glass minnows) to make the move in November and December.
Tidal movement drives this scene, with the outgoing cycle creating the optimal feeding dynamics. The current piles baitfish along channel edges, and predators swarm these choke points to gorge on a baitfish buffet akin to the East Coast mullet run.
Slack tide sees the bite dwindle, but the incoming tide sparks a secondary feeding window. Most of the pelagics roam the peripheral areas until the tide turns and resets the dinner table.
You'll find plenty of action in open water, but don't overlook bridge pilings and jetty points, both eddy producers that make prime ambush spots. Channel markers, artificial reefs, wrecks and limestone outcroppings are also worth a look, especially during the slack tide.
Top Tactics
Free-lining or suspending live pilchards or threadfins under a float will catch fish, but it's best to keep your baits on the outer edge of the fracas, where gamefish are more likely to zero in on a vulnerable straggler.
During a glass minnow run, big fish often become fixated on the tiny forage, yet floating a pinfish through the red zone sometimes pays off. It's a hit-or-miss deal, but the larger potential meal occasionally triggers an aggressive response from hungry predators.
Courtesy SPRO
From an efficiency perspective, it's hard to beat jigs. For one thing, they let you cover the entire water column by simply varying the rod angle and retrieve speed. Moreover, switching the jig's body style, size and color keeps the presentation fresh. For best results, choose a lure color based on water clarity and light conditions, and match the size to that of the prevalent baitfish.
Suspending or slow-sinking lures, like the MirrOlure MirrOdine or Yo-Zuri 3D Twitchbait, fit this scenario well, as do topwaters (both walkers and poppers) and spoons. You get more bites with fluorocarbon leader, but a trace of wire might be required if mackerel and bluefish are confiscating your baits.
A true user-friendly event, the fall forage flush offers a great learning opportunity, especially for fly anglers, who'll do well with an 8- or 9-weight outfit, floating fly line, and a 10- to 12-foot leader. Grassett suggests baitfish patterns like his signature Grassett Snook Minnow (a glass minnow imitation) or the classic Lefty's Deceiver.
SWS File
"Because the larger baitfish thin out by late fall, fly-fishing gets better," Grassett says. "I normally use a 30-pound fluorocarbon bite tippet, unless I get into more toothy fish. Then I'll go up to 40-pound or heavier."
Bonus Bites
Concurrent with the forage flush, the fall tripletail migration brings the feisty sea gypsies within easy range of inshore anglers. Look for them hovering under crab-trap buoys along hard-bottom spots, just outside the passes.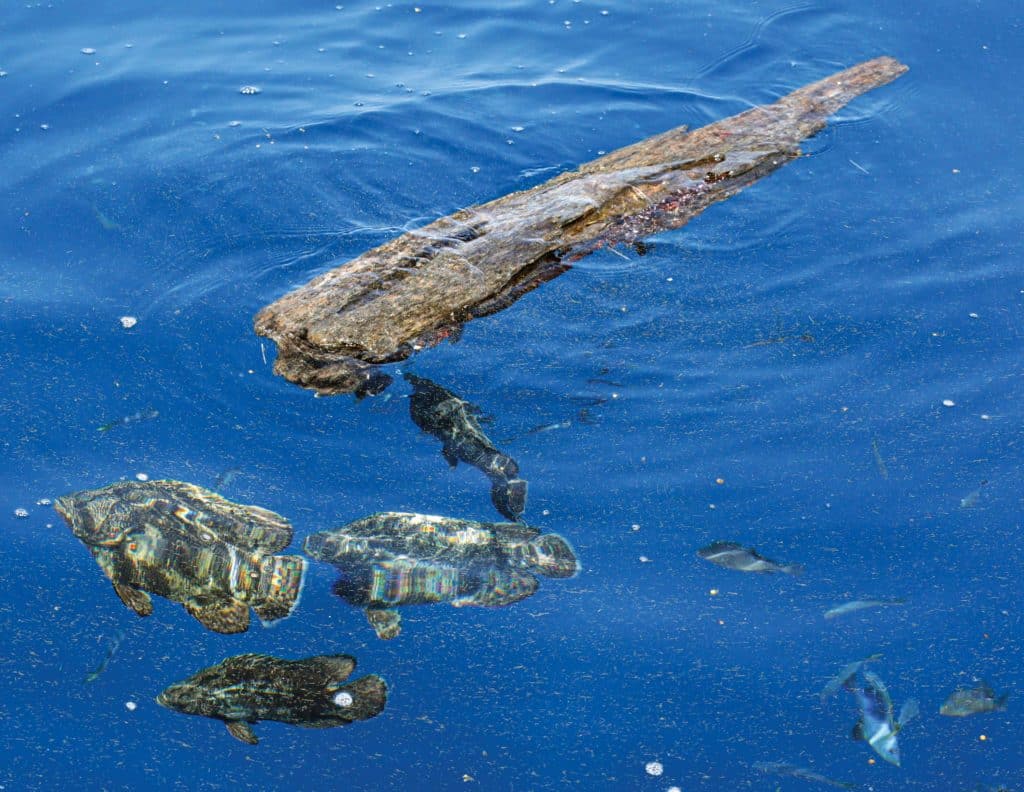 Tim Rahn
Grassett doesn't see a direct correlation to the baitfish run but recognizes the benefit of targeting tripletail during slack tides, which often puts anglers on an intersecting path with baitfish pods and the predators chasing them.
"I work in and out to 30 feet of water, and run a crab trap line for a while. If there's nothing on it, I jump to another, always scanning for surface activity."
Jason Stemple
Northern Neighbors
Looking to the upper Gulf, we find similar fall-forage flushing opportunities with regional twists.
In Mobile Bay, the Mobile-Tensaw river delta, secondary rivers (the Dog, Deer, Fowl and Fish), tributary creeks and countless marsh drains create the nation's fourth largest estuary. Here Capt. Barnie White eagerly anticipates the fall white shrimp run.
"Beginning in October, depending on the weather, usually when the second cold front lowers the water temperature enough to get them moving, shrimp pull out of the marsh and drift out with the falling tides," White says. "This usually lasts about a month and a half, so it's mid-November by the time shrimp move through the bay and reach the Gulf."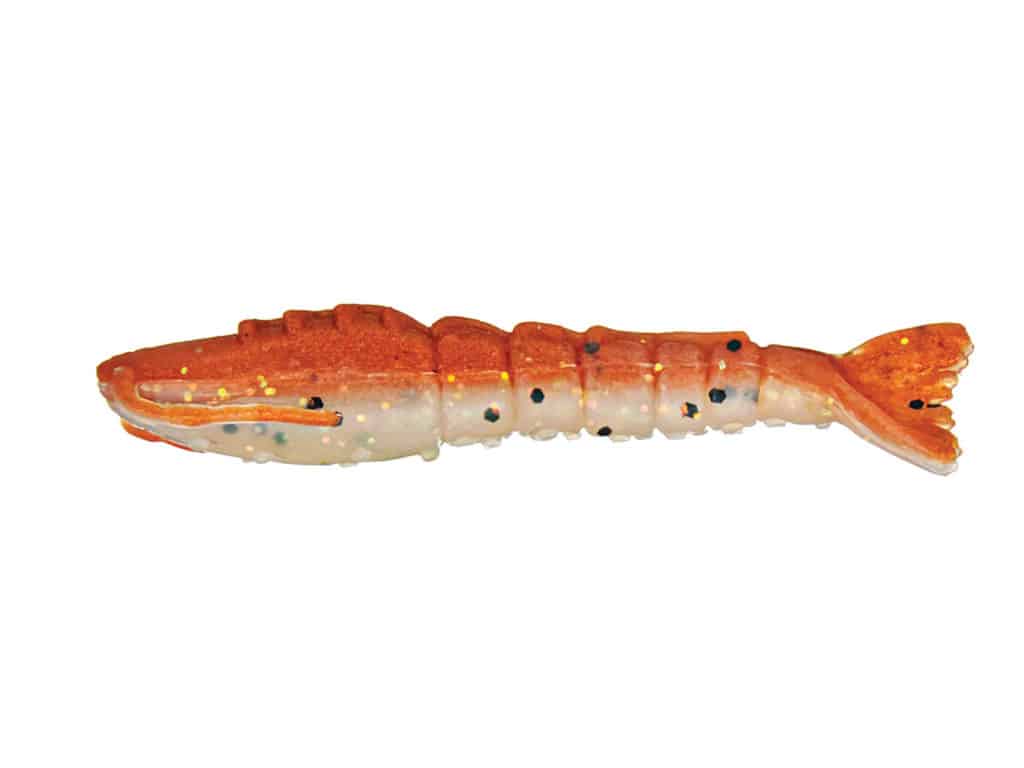 Courtesy Berkley
Water temps in the mid-60s will get this crustacean convoy rolling, much to the liking of speckled trout and redfish. White says a popping-cork rig with a jig head and paddle tail or Berkley Gulp! Shrimp will catch plenty of school-size trout, while getting rid of the float and bumping the bottom tends to yield more redfish and larger trout.
"It's all about the channels," White says of his shrimp-run focus. "Everything goes out with the current, so you find those main current paths and stay along those edges. One day, the best bite is on the edge, the next day, in the middle of the channel. You have to adjust a bit to find the sweet spot."
The shrimp push south and flow into the Gulf or westward through Mississippi Sound, which has its own fall shrimp run. White still finds more consistent action along channels, but the deeper work requires heavier jigs.
Mobile Bay is a big body, but White is keen on reading the signs. "Birds point you to the shrimp, and shrimp boats will tell you where things are happening."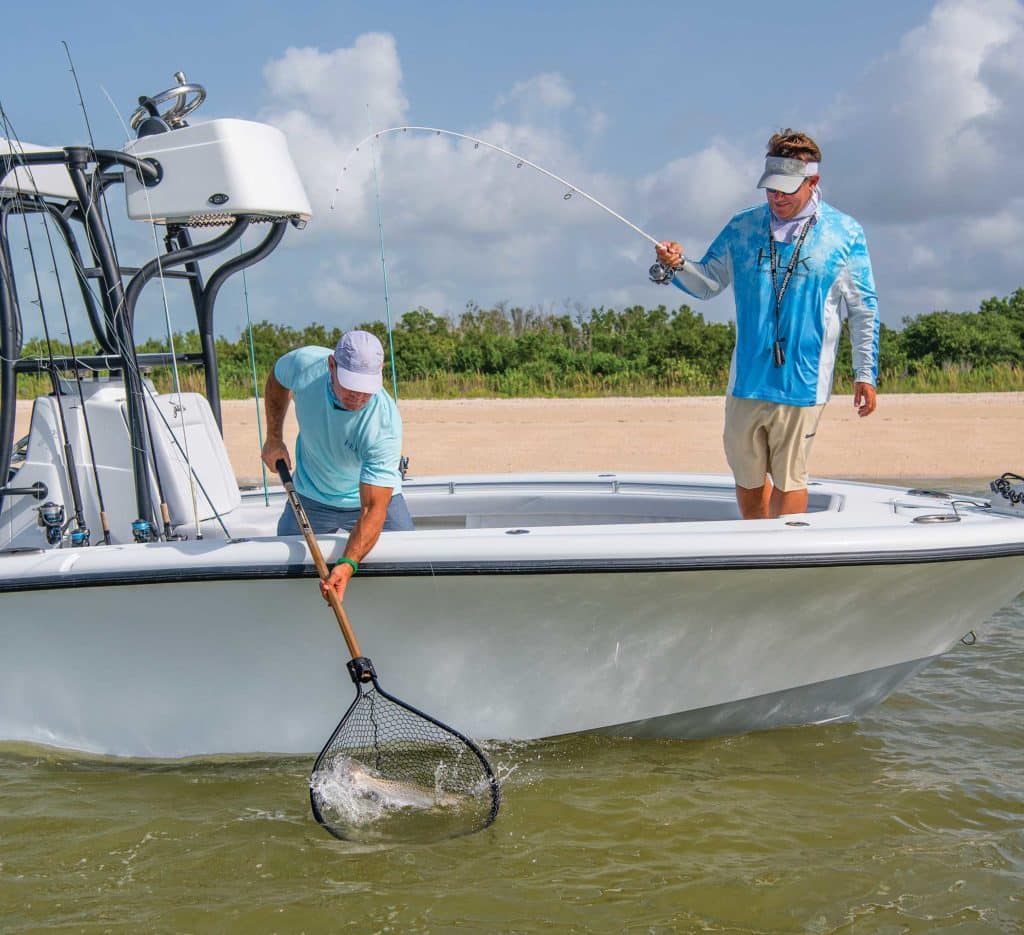 Jason Stemple
In the Mississippi Delta, anglers benefit from this massive food-production facility year-round, but fall amplifies the attraction. As Capt. Anthony Randazzo says, it's a matter of intercepting the foraging fish coming and going.
Read Next: Choosing and Fishing Live Bait in the Gulf of Mexico
While the Delta has a strong fall shrimp run, usually in November, there's also an inward movement of menhaden that flood interior bays in late summer and early fall. Additionally, Randazzo points to the "storm minnows" that survive in muddy marsh puddles until turbulent conditions bring them into deeper areas. Tropical weather in late summer and fall swells the tides and, when water recedes, it pulls thousands of these silver shards into accessible run-outs.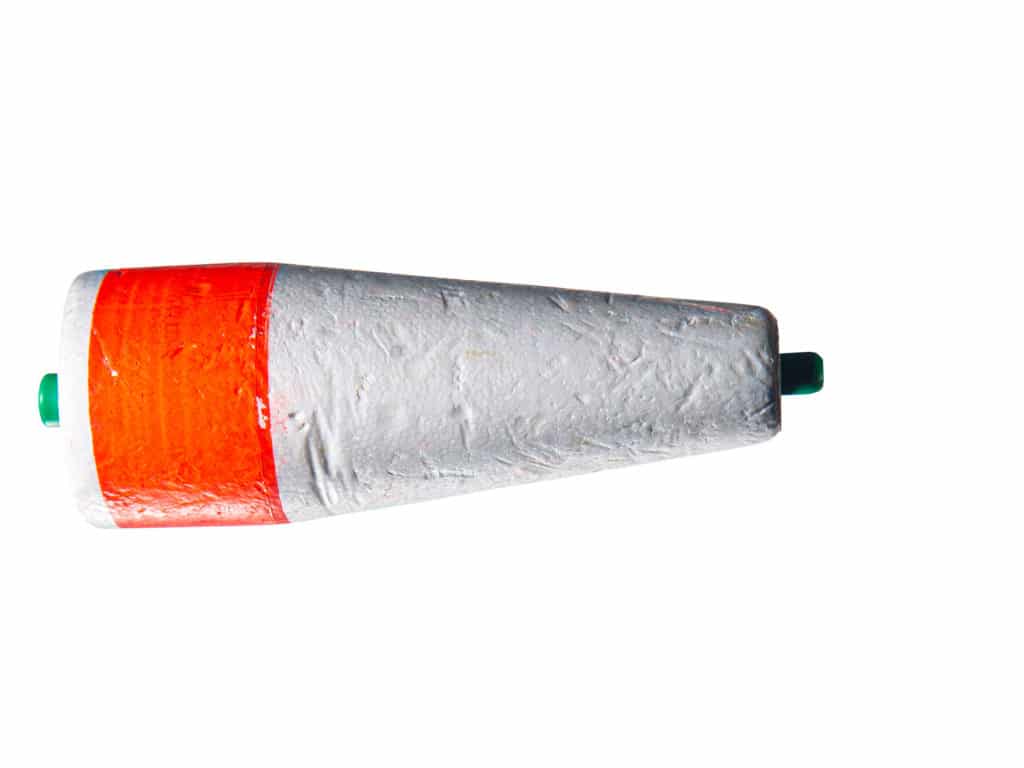 SWS File
Popular Delta offerings include topwaters, shallow-diving crankbaits, spinnerbaits, jigs with minnows or paddle tails, and spoons. Popping-cork rigs with jigs or artificial shrimp are pretty much foolproof; just hold on tightly—the redfish get really big in this neighborhood.
Final Tips
Randazzo strongly recommends looking for more sparse concentrations of baitfish or shrimp to increase the odds of gamefish finding your baits. "Also, fish around structure, where fish are more likely to be waiting in ambush."