Jason Stemple
A school of mullet milled around a spoil island in the Indian River as we eased into cast-net range with our skiff, and then things went crazy.
Mullet went airborne and the water exploded as a school of jacks attacked the baitfish. I yelled at my friend to grab one of the spinning rods and throw a lure — any lure — into the feeding frenzy.
Seconds later, a hole opened in the surface as a 20-pound jack smashed the swimming plug. Twenty minutes later, after the fish had taken us across the river and back, my friend, breathing heavily, released the jack not far from where he'd hooked it.
Encounters like these, when silver mullet are migrating north, are the ­surest sign that spring has arrived in South Florida.
Not as extensive as the fall mullet run, when acres of silver, black and finger mullet swim south off Florida's beaches and in its rivers and bays, the spring mullet run is nevertheless a cherished occurrence for fishermen pursuing everything from tarpon and snook to sailfish and dolphin.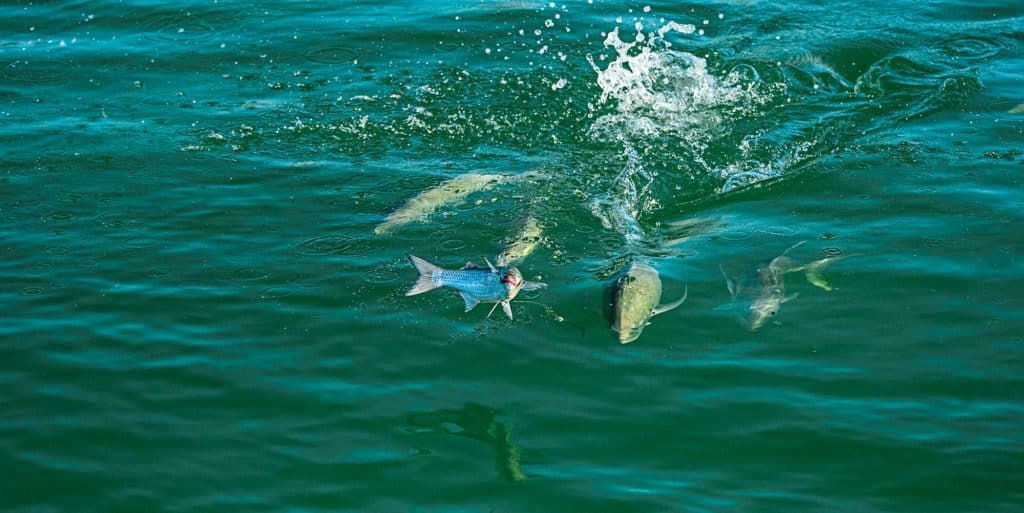 Jason Stemple
Kickoff
Capt. Glyn Austin uses live finger mullet as well as topwater lures and jerkbaits in the Indian River from Grant to Vero Beach during the spring mullet run.
"Typically, depending on the cold fronts, that mullet run starts in late March into April," Austin says. "What they do is move in and get into pretty much all the little coves and the flats around Sebastian Inlet, several miles north and south, and they get in along the mangroves.
"It's a good time to fish topwaters. We've still got cooler water temperatures. It'll warm up a little bit, but it doesn't get as hot as it does during the fall mullet run, so we use topwaters all day."
Read Next: Fishing With Live Bait
Austin fishes his usual spots in the ­river, such as mangrove shorelines and spoil islands that were created when channels were dredged, instead of searching for mullet schools.
If the mullet are there, great. If not, he'll move to the next spot. His favorites include Black Point, south of Sebastian; Campbell's Pocket, which is close to Sebastian Inlet; and Coconut Point and Mathers Cove, which are north of the inlet.
Justin Hodge
"All those areas are going to hold mullet during the spring run," Austin says, "and they'll have nice trout, some redfish, bluefish, jacks and snook.
"I fish mangrove shorelines that are holding the bait, and I fish in the trees with artificials as much as I can. ­Typically, the snook and reds are tight to trees. Jacks, bluefish and trout are under the schools."
Austin's favorite topwater lure for all those species is a Rapala Skitter Walk. He also uses two Rapala subsurface lures, the X-Rap Twitchin' Mullet and X-Rap Twitchin' Minnow, which he likes because they each have two single hooks instead of a pair of treble hooks.
"I catch finger mullet if the customer wants live bait, and fish seawalls for snook and jacks," Austin says. "If the bite's slow, I like artificials because we're always doing something. We're always moving, we're always casting."
When fishing mangrove shorelines, docks and other areas with obstructions, where the fish have to be pulled out and away from the structure, Austin arms his customers with spinning tackle up to the task, 20-pound class, with beefier leaders to move the fish and avoid cutoffs. In more open, shallower water, where the fish are free to run, he opts for lighter tackle, in the 10-pound class, for increased casting distance.
"I like the lighter setup because you can cast farther," Austin says. "A lot of times you get out there and those schools of mullet are way out on the flat and the fish are in there with them."
If the weather is nice and seas are calm, Austin ventures out of Sebastian Inlet and sight-fish the beaches with lures or live mullet for blacktip sharks, which are migrating with the mullet.
Most of the time, he's in the river, where highlights this time of year include gator trout — seatrout weighing 5 or more pounds — that are gorging themselves on mullet. And you never know when you might catch the fish of a lifetime like the woman from Minnesota who caught a 43-inch snook fishing with Austin around a spoil island.
Banner Days
"Some of the most exciting kite-fishing I've ever had has been during the spring mullet run," says Capt. Bouncer Smith of Miami Beach. "We once had 23 shots at sailfish on a half-day trip fishing with live mullet that we'd caught inside Haulover Inlet. In the springtime, if you have silver mullet, something's going to eat them."
Smith, who fishes out of Miami Beach Marina, says inshore anglers can catch big barracuda, tarpon, snook and jacks in Biscayne Bay during the spring mullet run, which is typically best from April 1 to the middle of May.
"My favorite replication of a mullet was always the Zara Spook," Smith says. "A large walk-the-dog plug is really, really deadly for mimicking mullet being chased."
Smith says he prefers to cast-net mullet with a 10- to 12-foot net with 1- to 1¼-inch mesh and take them offshore. A big net is needed because the mullet schools are typically spread out in the spring.
He usually finds the baitfish by Key Biscayne's Crandon Park Marina and Hurricane Hole, and on the flats by Haulover Park in North Miami Beach.
"Even today, mullet are still one of the overlooked but prime kite baits," Smith says. "Kingfish, sailfish, dolphin, blackfin tuna, cobia, grouper — every­thing jumps all over a live mullet. And there's nothing more exciting than a ­slow-trolled mullet for tarpon."
Smith says that if you're not kite-fishing along a color change with live mullet, then trolling is the best way to fish them, although if the current is ripping, you can fish mullet from an anchored boat. If you drift with live mullet, the baitfish will invariably swim toward the boat, the line trailing behind them.
When he fishes for tarpon, Smith bridles mullet to an 8/0 VMC circle hook, puts them out at different distances, and trolls them at about a mile an hour in Biscayne Bay, ­Government Cut and just outside the inlet. At times, Smith has had up to a dozen tarpon chasing those baits behind his boat.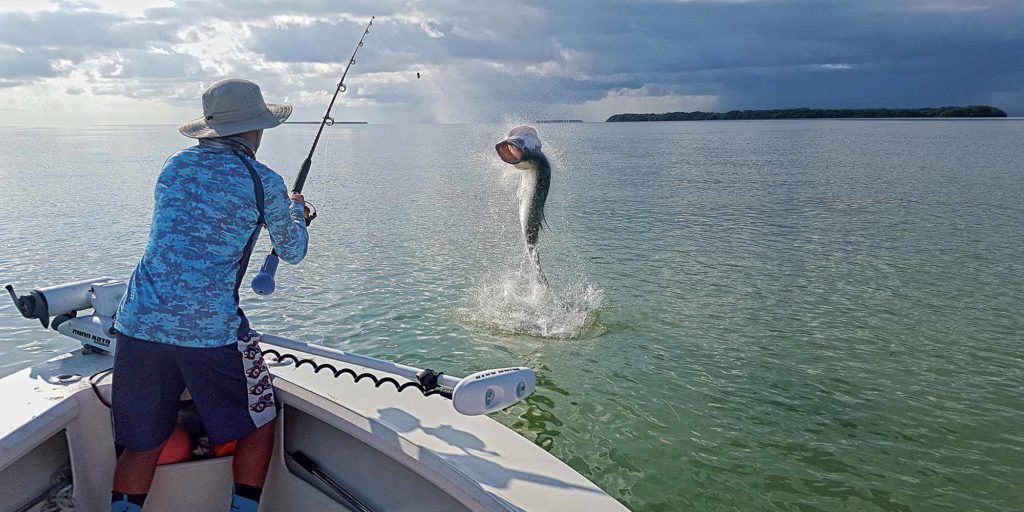 Rick Stanczyk
Span Time
In the Florida Keys, the spring mullet run coincides with tarpon season, which has many fishing guides running two and three trips a day using silver mullet for bait.
"We fish them live around the bridges for tarpon," says Capt. Rick Stanczyk, who fishes out of Bud N' Mary's Marina in Islamorada. "They're definitely tuned into the mullet. Usually, it starts in March and goes into April and sometimes into May."
Keys tarpon guides like Stanczyk catch their own mullet or buy them from commercial bait fishermen.
"Having live mullet that are as fresh and lively as possible helps," says Stanczyk, who uses 60-pound spinning outfits to both handle the oversized live baits and gain and maintain control of the tarpon in the strong currents that run though the bridge spans.
"That 60-pound mono just gives it a little extra bit of stretch, so they don't throw the hook as often when they jump. With the braid, you have enough line that you're not going to get spooled, and it's pretty ­abrasion-resistant, especially around bridge pilings."
While fishing for tarpon around bridges, Stanczyk sometimes catches jacks, barracuda, sharks and even snook. When he fishes well back in Florida Bay, snook, redfish and trout will eat live mullet intended for tarpon. Not surprisingly, his customers are not disappointed by those catches.
Glyn Austin
Tackle Up
In the Florida Keys, Stanczyk fishes live mullet for tarpon on spinning rods spooled with 50-pound braided line and 10 to 15 feet of 60-pound mono attached to 7 or 8 feet of 80- to 100-pound leader. On calm days, he uses mono or fluoro leaders as light as 50-pound and hooks the mullet through the nose on a 6/0 or 7/0 hook.
Read Next: Rig a Split-Tailed Mullet
In the Indian River, around Sebastian, Austin fishes topwater lures and jerkbaits on 7-foot ­spinning rods. If he's fishing in the open, his outfits carry 10-pound braided line with a 20-pound mono leader to facilitate longer casts. Around mangrove shorelines and docks, he uses 15- or 20-pound braid with a 30-pound leader. When he fishes live finger mullet, he puts them on a 4/0 J hook or a 5/0 circle hook.
Go Get 'Em
The spring mullet migration is a prime time to catch a variety of species in South Florida, from tarpon in the Florida Keys to sailfish and dolphin off Miami, and snook, seatrout and redfish in Sebastian. The migration starts in early March and runs through mid-May.
Islamorada
Capt. Rick Stanczyk
[email protected]
islamoradatarpon.com
Miami Beach
Capt. Bouncer Smith
[email protected]
captbouncer.com
Sebastian
Capt. Glyn Austin
[email protected]
goingcoastalcharters.com