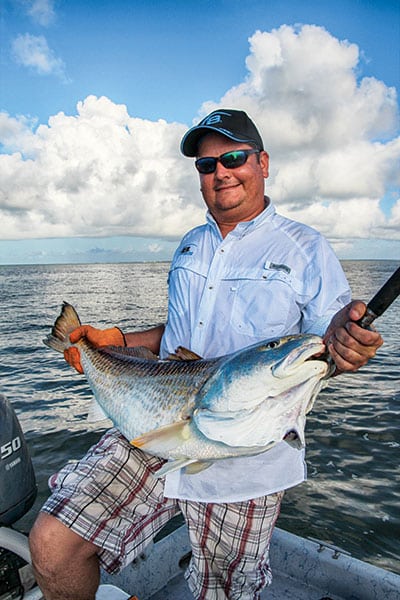 Robert Sloan
Redfish anglers looking to tangle with big fish don't need to look any farther than the deep water off the jetties and passes along the Texas coast. That's where you'll find redfish in the 25- to 50-pound class on any given day. When you hit it just right, the fishing is fast — and just about every bite is a rod-bending adventure.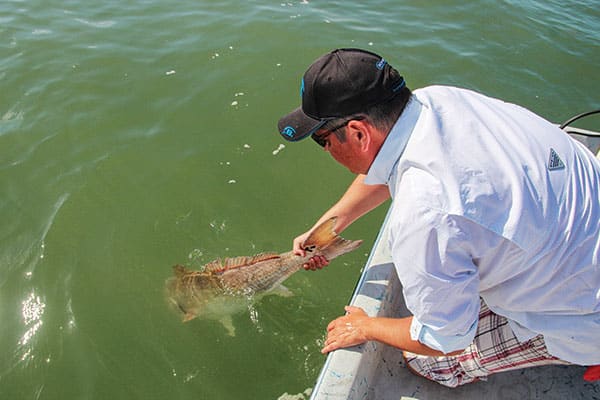 Robert Sloan
One of the best places to catch bull redfish is at the Port O'Connor jetties on the middle Texas coast, between Matagorda and Rockport. Here the deep water provides the type of habitat that big, mature bull reds like. The Port O'Connor jetties connect West-Matagorda Bay to the Gulf of Mexico. From Bird Island on the bay side out into the Gulf of Mexico lie miles of prime bull redfish jigging water.
At the end of either jetty, you'll find washed-out areas where bull reds feed opportunistically on shrimp, mullet and crabs. But big reds also hit soft-plastic jigs other favorite redfish lures.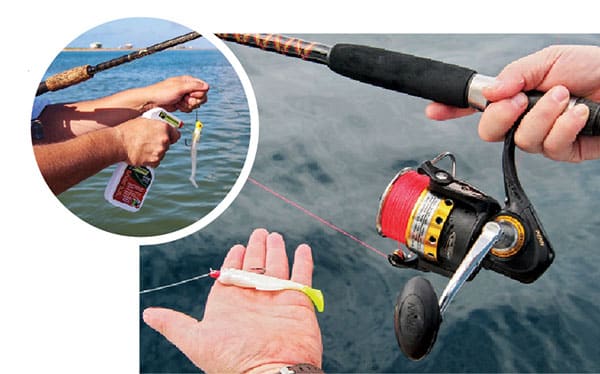 Robert Sloan
Deep Fishing for Redfish in Texas
Fishing the wash-out holes at the jetties requires a ½- or ¾-ounce jig head, heavy enough to get down in the strong current. My go-to lure for deepwater reds is a Bomber Saltwater Grade Shad Head jig head, either glow-white or chartreuse, with a 5-inch Yum Money Minnow in pearl, or pearl with a chartreuse back. When I'm rigged and ready to fish, I drop the jig, and bump it up and down 1 to 3 feet off the bottom. The trick is to keep a taut line as the jig falls so you can feel the hit. Bull reds are tough and aggressive, but sometimes their often-subtle bite demands an immediate hook-set or they'll blow out the bait.
All sorts of jigs work well for catching bull redfish. In the deeper water, around offshore structure, 1- to 3-ounce nylon or bucktail jigs tipped with a variety of soft-plastic tails produce especially well. A 4-inch twirl tail is an excellent option. The best combinations include a yellow lead-head jig with a nylon tail and a chartreuse twirl-tail soft plastic.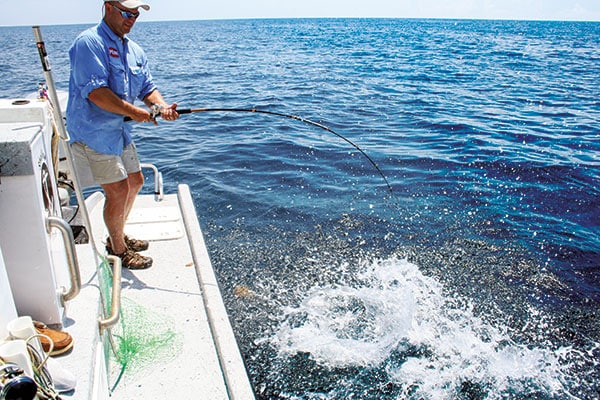 Robert Sloan
Rigged with a paddle tail, like the Money Minnow, a jig produces a lot of vibration and is more effective in murky water. A small tube rattle inserted in the soft plastic kicks it up a notch. Glow-bone and glow-chartreuse seem to always work, but the clarity of the water is normally the key to selecting the proper lure colors. I do well with white-pepper flake or clear-pepper flake when the water is clear. When it is sandy or muddy, I prefer a glow-chartreuse or black-chartreuse paddle-tail jig. The color contrast added to the lure's vibration greatly improves your chances in off-color water.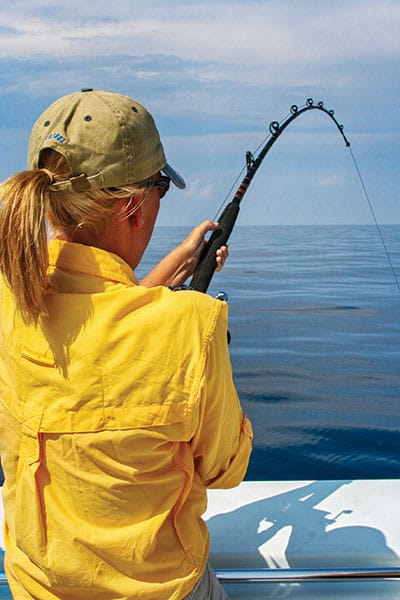 Robert Sloan
Jetties are not the only structure that hold bull redfish in Texas. Submerged rocks, oil rigs, and wrecks out to about 25 miles offshore also yield their share. Deep, vertical jigging produces nonstop action most days, so I use a ½-ounce Bomber jig head on 5-inch Money Minnows to get to the bottom in a hurry. I'll also use Yum shrimp or add garlic scent to the lure on every third or fourth cast to spice things up.
During summer and fall, structure — inshore and off — attract small shad and mullet, some more than others. That's why schools of big reds often frequent one particular wreck or rock. There's a handful of those I count on when guiding clients intent on catching a really big fish. Then I opt to match the hatch using a stand-up jig with a -pearl-and-white or smoke shad tail.
One of the best days I've had targeting bull reds was last August on the Lower Laguna Madre, in extreme South Texas. We left the dock at Getaway Adventures Lodge in Port Mansfield early one morning, cleared the jetties and ran some 5 miles down the coast to a line of rocks in 35 to 45 feet of water, about a mile offshore. The drill was simple — work the jigs vertically under the boat while bump-trolling around and over the rocks. We used 5-inch Yum Money Minnows in pearl-and-chartreuse, and caught and released 26 bull reds in three hours. A quick reminder for trophy seekers: Bull reds are the mature females that spawn future generations of reds; please practice catch-and-release.