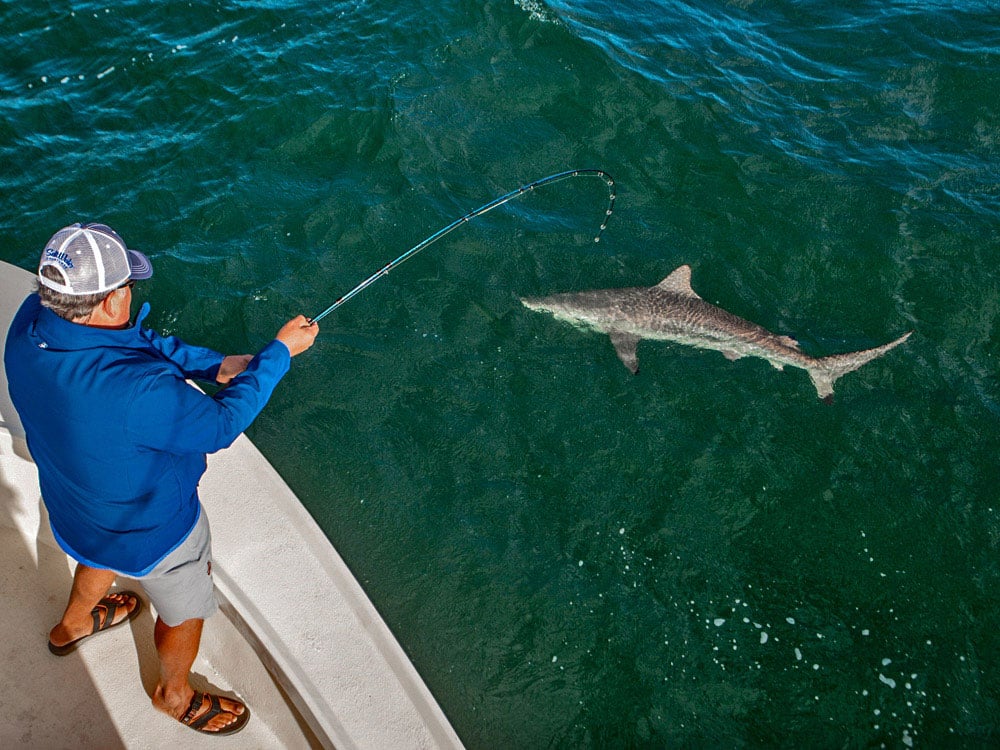 Zack Stovall
While I have caught a decent number of sharks on fly, I couldn't begin to count the times I've resisted the urge to cast at one. When fishing the flats in pursuit of bonefish, redfish, permit or other highly-regarded game fish, many fly anglers pass up opportunities to tangle with sharks for fear that it could lead to missing that long-awaited shot at their intended target species. During slow fishing days, however, an increasing number of fly rodders are discovering how fun it is to set one's sights on the snaggletooth critters that patrol the shallows, which are not only welcome day-savers, but also great tests for your casting and fish-fighting skills.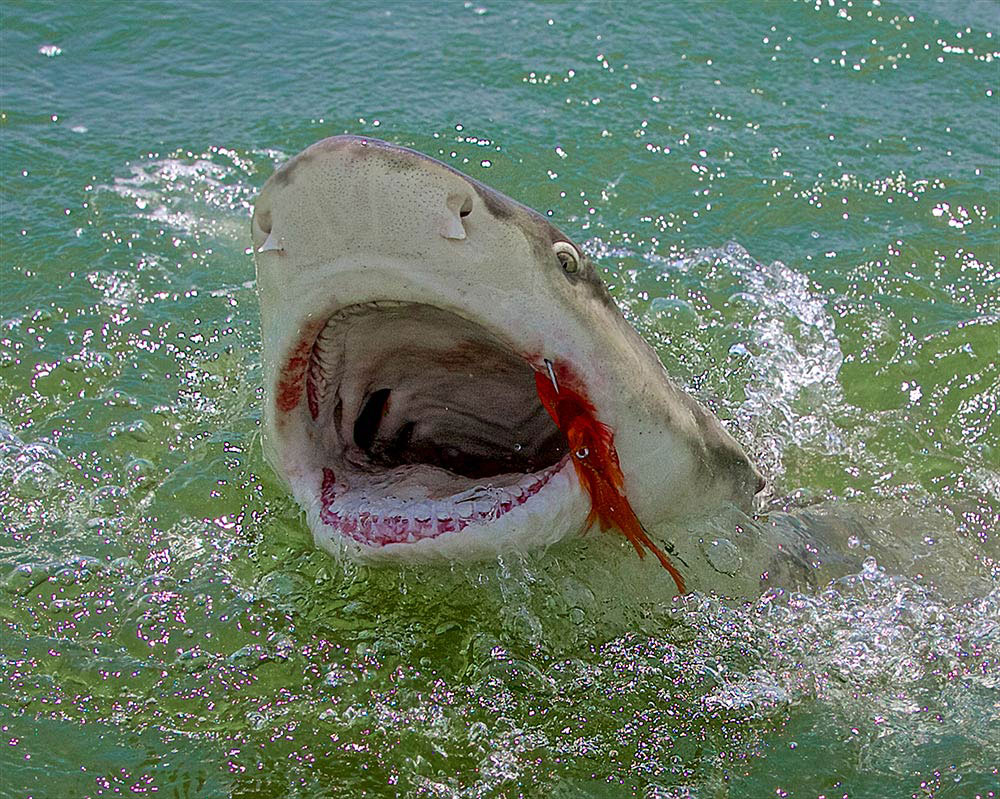 Mike Conner
Cast of Characters
Depending on locale, the shark species you're most likely to encounter in shallow water throughout the Gulf of Mexico and South Atlantic coasts include lemons, blacktips, bonnetheads, bulls, spinners, sandbar sharks, and even small to medium hammerheads, all of which can and have been taken on fly.
The sharkiest days I've experienced took place in the Bahamas, though Miami's Biscayne Bay and Florida Bay in the Upper Florida Keys can both be nearly as prolific from spring through fall. In my experience, you see more sharks along flats or beaches where bait or game fish are schooling. In South Florida, flats that hold bonefish and redfish also harbor plenty of lemons and blacktips, two shark species that love to corral and terrorize bones and reds, and sadly pick off untold numbers of the tired specimens that fly fishers lovingly release.
In the islands, I've often had to stop wade-fishing for bonefish to prevent losing fish to sizable, super-charged lemons that kept getting a little too close for comfort. On one occasion, a husky lemon crushed my hooked bonefish 25 feet from me, and with blood in the water, dozens of other lemons suddenly appeared. With our boat some 200 yards away, I recall wishing I was wearing a jet pack.
Alex Suescun
Fire Them Up!
Although it's possible to have some success by purely sight-casting to sharks spotted while poling — or motoring quietly with an electric trolling motor — along a flat or beach, you can greatly increase the number of shots you get and boost the sharks' desire to scarf up your fly by anchoring or staking out and chumming on the outkirts of a flat, the edge of a channel or through, or a dropoff, where the tide is certain to carry the scent toward likely avenues used by sharks to travel in and out of the shallows. It pays to wait until you spot a couple of sharks and gauge their path to pinpoint the best location to stop and chum, and a high falling tide often draws the most sharks within casting range.
The time-tested chumming method in South Florida is to catch a few small barracuda, which typically congregate at flats edges, sand holes and rocky outcroppings along channels, on spinning gear, then butterfly them and hang them over the transom or gunwale with a dock line or a snap-clip fish stringer, and periodically make additional cuts in the flesh of the cudas to keep the scent trail going.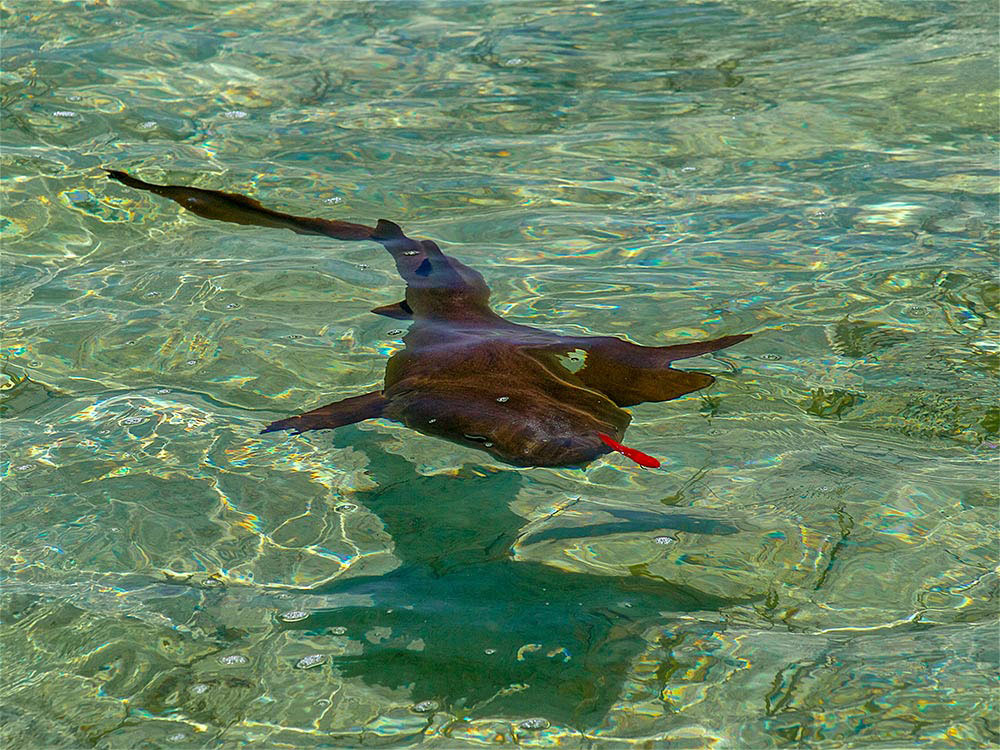 Mike Conner
When the current is strong, the scent will bring sharks right to the boat from a surprising distance. During lower stages of the tide, it's best to chum along the "apron" of a flat, where turtlegrass and other grasses give way to sea fans. That extra bit of depth allows bigger sharks to swim along and forage.
If barracuda happen to be scarce, a block of blood chum is a good alternative. The frozen chum block is employed more often for sharks over deeper grassy bottom, such as the various basins between flats in Florida Bay, where hordes of pinfish, ballyhoo and small snappers soon show up to feed on the chum particles, adding to the appeal for the sharks. For bonnetheads and smaller blacktips, a chum tube stuffed with pieces of fresh shrimp or crab does the trick.
Zach Stovall
Tackle Selection
Choose your fly rod by the size of the fly you'll use and the heft of the sharks you expect to find. While fishing a flat full of 5- to 10-pound bonnets (a.k.a. poor man's bonefish) is more enjoyable with a 7- or 8-weight, I don't see reason to fish anything lighter than a 10-weight for larger sharks, especially because it will shorten the fight and ensure a healthy release. Keep in mind that sharks — other than spinners — don't jump like tarpon and won't tire out as quickly. They will test your mettle!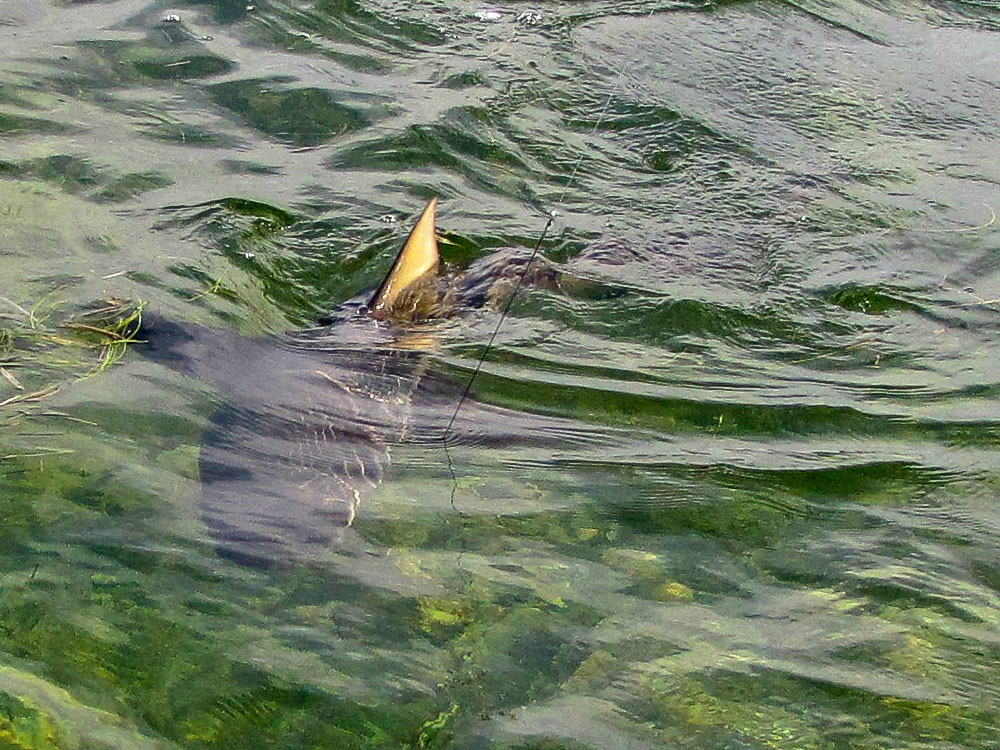 Alex Suescun
Leaders and Tippets
A 7- to 9-foot leader is perfectly suitable for sharks, but you'll need wire for the bite tippet, unless you plan to target bonnetheads, which can be landed with just heavy mono. You'll want enough rod to turn the big fly and wire tippet over, and for casting ease, keep the wire tippet under 12 inches. Singlestrand wire in No. 4 through 6 (38- and 58-pound-test respectively) will handle most sharks, and since you will be using less than 12 inches of it, chances of kinking are minimal. Other fly fishers swear by tie-able, multi-strand cable or titanium wires. the latter has extra-small diameter, but sharks are not leader-shy once they lock in and track a fly. Unless on the hunt for an IGFA class tippet record, use a heavy mono class tippet (30-pound) due to a shark's rough hide.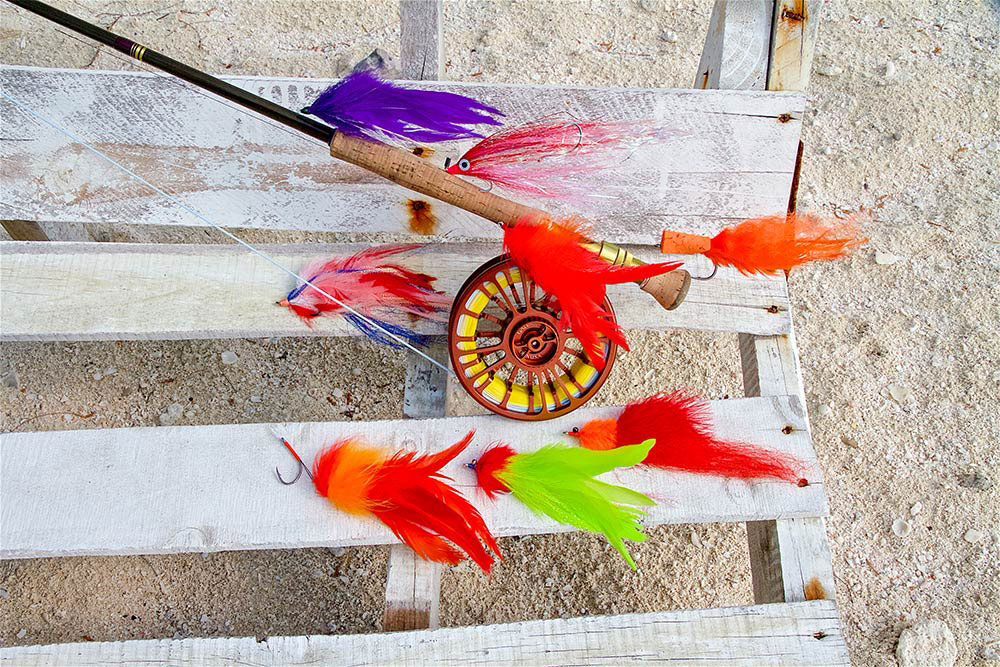 Mike Conner
Fly and Line Choices
Big, bushy streamers best catch the attention of sharks, and a floating fly line with a short head and front taper (the typical Saltwater taper is fine) allows you to pick up the fly and recast without false-casting, enabling a second and sometimes third shot to a slow-moving shark that has not detected your fly, an asset when you have difficulty getting the goods into the animal's narrow window of visibility.
The best fly patterns suspend in the water long enough to tease a shark into striking. Bushy, bright hackle streamers are popular, and typically incorporate wool, deer hair or marabou feathers in combination with the saddle hackle feathers. Added strands of flash help, too. If you tie your own, be sure to tie the flies so they won't foul easily during the cast. Many fly fishers swear by red and orange, but black, purple, white, bright yellow and chartreuse work well too. The key to the presentation is placing the fly "right on the eye."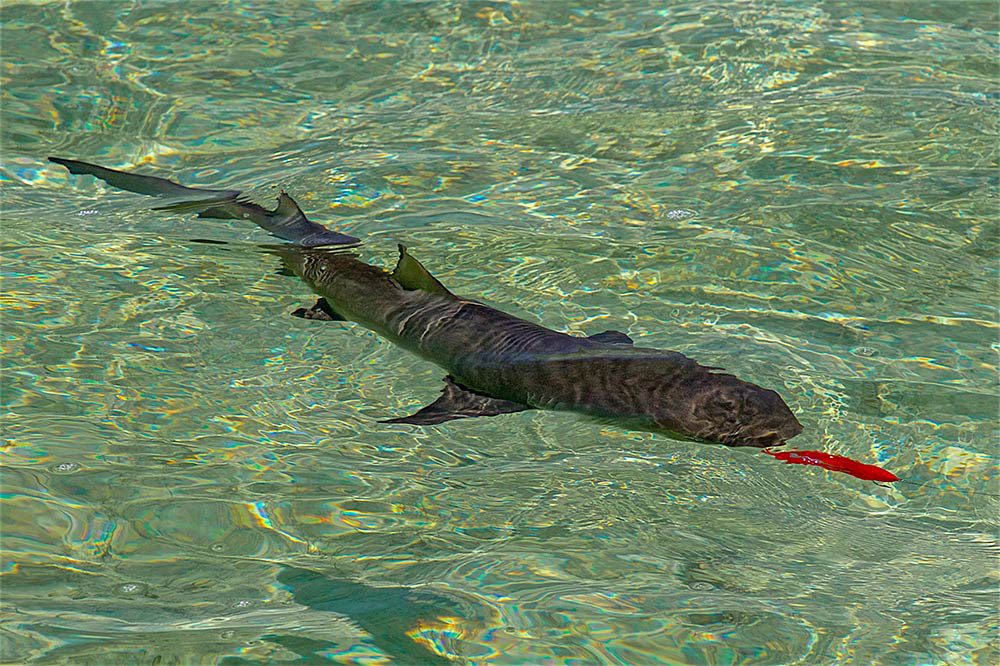 Mike Conner
Fly Presentation
Sharks are rumored to have poor eyesight, but that is a bit of a bad rap. What is limited is the shark's cone of vision. Beause of where the eyes are located on its head, a shark has a blind spot, and it just happens to be directly ahead. That should tell you where not to present your fly. Sharks see just fine to the side for about 100 degrees, and their eyes can gather more light in murky water than many fish, cats and humans. So get your fly to the side of a shark's head to make it easier for the predator to spot, track and attack it.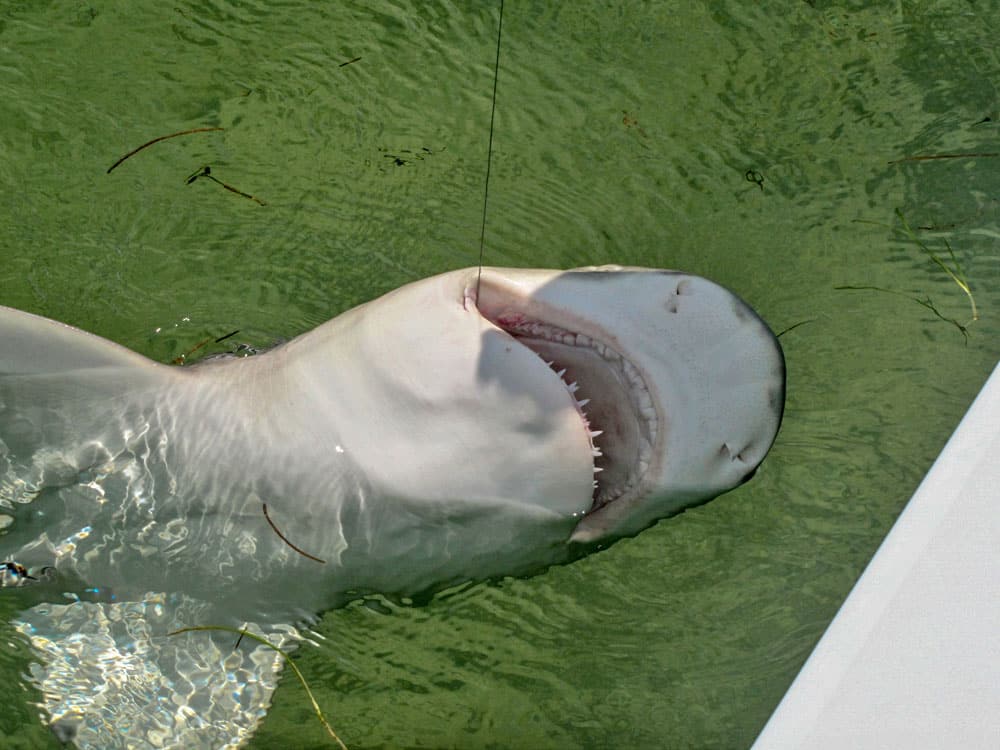 Alex Suescun
Safe Handling
No matter how well you take the fight to sharks, they always seem to have an extra gear when you bring them boatside, so stay alert and ready to counter any sudden moves until the release. You may have seen hero shots of fly fishers hefting 50-plus pounders onto the casting deck, but I strongly advise against it. Sharks are powerful and can inflict serious harm to the angler, tackle and boat if you are careless. You are better off leaving the shark in the water, and never grab it by the tail! These contortionists can twist and bend their bodies enough to reach around and clamp on to your arm or leg, or flip and flop mightily on the casting deck or cockpit and break any objects or injure anyone in proximity.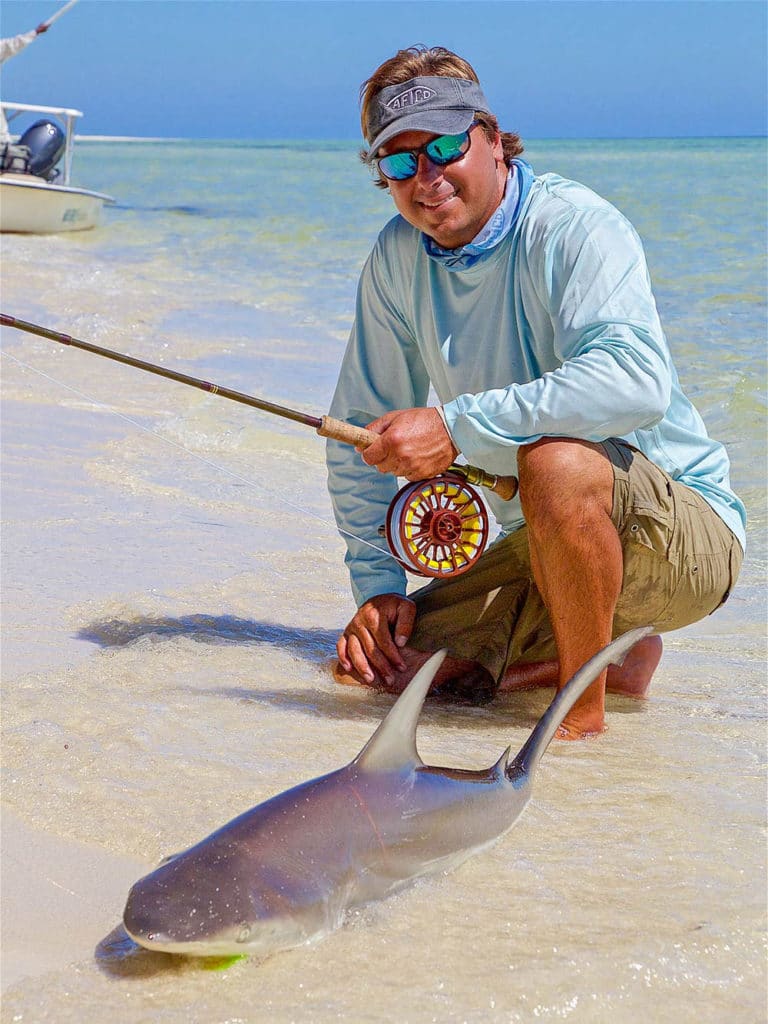 Mike Conner
Use a long dehooker, or at least long-nose pliers to rid the shark of the hook. But never perform "surgery" to retrieve a fly that is deep in the shark's throat. One mishap, and the surgery will be performed on you. Sometimes it's best to just clip the wire leader, a safe distance from the fly, in order to avoid possible injury. A carbon steel hook will corrode quickly in comparison to stainless steel, and a flattened barb will facilitate a quicker release, too.
If you haven't yet targetted sharks on fly, trust me, it's time you found out what you've been missing. Whether 5-pound bonnetheads on a bonefish outfit or 150-pound lemons on stouter gear, give sharks in shallow water a whirl and you won't be disappointed.