Drew Schreiber
Drew Schreiber may have missed an IGFA world record by a little more than a pound when he hauled in a massive yellowedge grouper during an overnight outing in the Gulf of Mexico in early March, but the $100 bet that he won made for a nice consolation prize.
The 26-year-old from Tampa says he's not really concerned with world records anyway.
"I fell in love with fishing when I was 4 years old, fishing on a bucket on the beach," Schreiber told Salt Water Sportsman. "It's something I enjoy doing with friends, not something I do for records."
Schreiber made a 200-mile run from Tampa to Pulley Ridge in his Contender 35 with a bunch of friends on Monday, March 6. The first drop of the trip, during the sunset bite that evening, produced a 24-pound queen snapper for one of the anglers. "We gamble a little while we're out, and there's a $100 bet for biggest fish," Schreiber explains. "He was chirping about it all night and the next morning."
One Big Grouper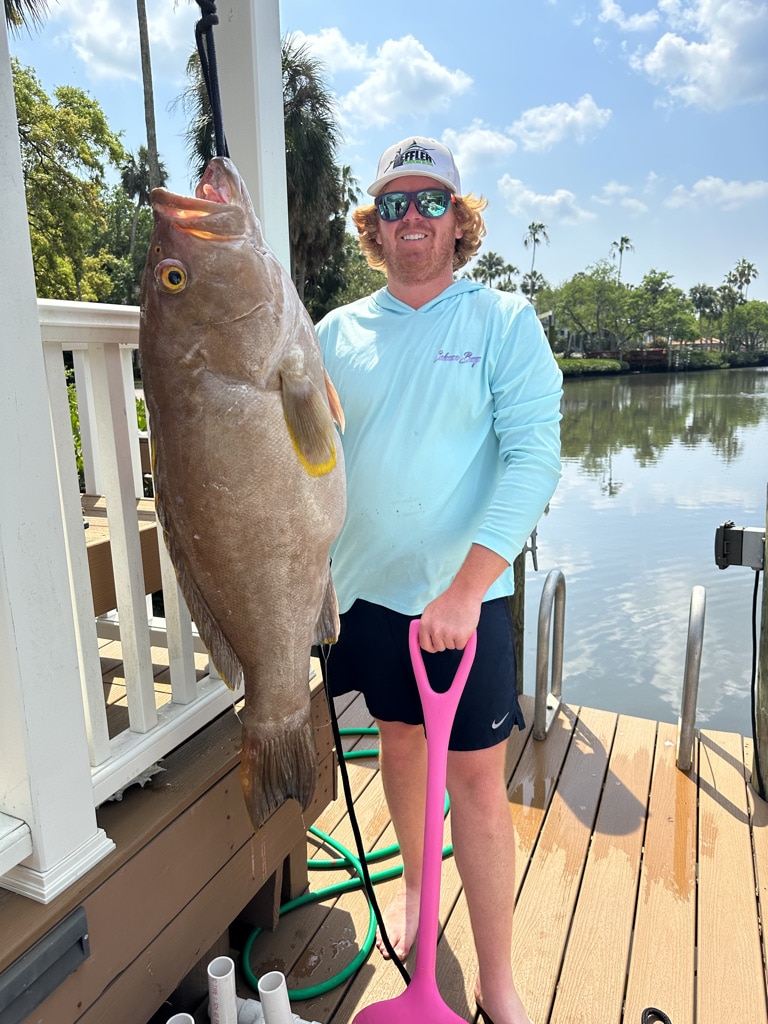 Drew Schreiber
But a few hours into the morning drop on March 7, Schreiber boated a fish that got everyone's attention. Targeting grouper with a two-hook chicken rig baited with squid, he was fishing about 50 feet off the 650-foot bottom when a big bite nearly doubled up his rod. It took about 7 minutes for the electric reel to bring the fish up. As it neared the surface, his boatmates—who were standing by with gaffes—told Schreiber that it appeared he'd hooked two yellowedge groupers on the double rig. "Then someone said, 'No, it's one big yellowedge," Schreiber recounts.
The grouper weighed 47 pounds, stretched 48 inches long and sported a girth of 32 inches. Spread out, its tail fan measured 13.5 inches wide. The IGFA all-tackle world record for yellowedge stands at 48 pounds, 9 ounces, and was caught by Tyler Kennedy at Dauphin Island, Alabama, in June 2012.
As some of his companions scoured the internet to gather that information on the record, Schreiber was unconcerned. "I dropped another bait to the bottom," he says. "I'm out there to catch fish, and to get away from everything. I was just glad that it was me that caught it and I won the bet, but I don't really care about records. I just couldn't wait to get back in the water and give it another try. It's like Jurassic Park out there: Anything can bite. There's so many different kinds of fish, and you just don't know what's going to happen."
That doesn't mean he's blasé about the catch. "That grouper, when you think about it, is probably 80, 85 years old," Schreiber says. "Almost four times older than me. I just had to take a step back and think, 'This is what we do it for. Good times, laughs, the love of fishing.' It's definitely the fish of a lifetime."
A Solitary Delicacy
Yellowedge grouper (Epinephelus flavolimbatus) range from the southern United States to southern Brazil. Considered a solitary fish, yellowedge prefer rocky, sandy or muddy bottoms and reefs, and they've been observed to dig and occupy burrows where bottoms are soft. Juvenile yellowedge stay shallow, but mature adults are found in water 400 to 1,000 feet deep. Considered excellent table fare, they are highly esteemed by chefs, who say the fish's firm, flakey meat hold its moisture better than any other fish.