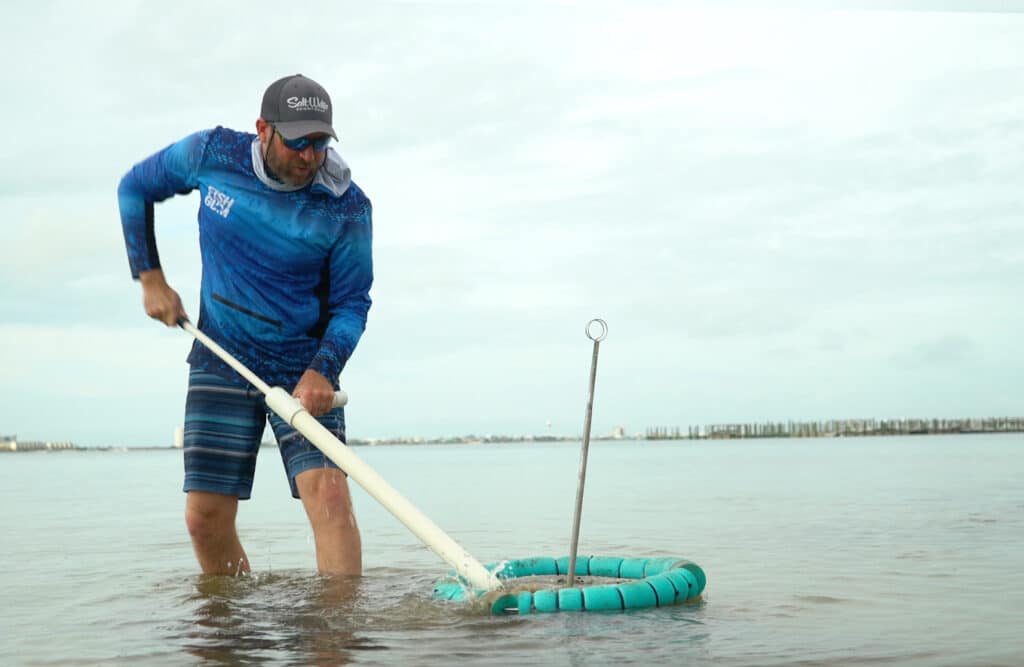 Phil Hollandsworth
A slurp gun? Sounds like something you would find at your local 7-Eleven. But this contraption, often built from scratch out of PVC, is actually quite useful for harvesting one of the most effective surf fishing baits. Ghost shrimp (often called yabbies) are little alien-looking critters that live in sandy or muddy tunnels up to several feet below the surface. The only way to reach these elusive shrimps is to "vacuum" them out.
How to Find Ghost Shrimp
While ghost shrimp can be found in the surf, it's often easier to find them in wind-protected bays. Online tools like Google Maps (when used in conjunction with a wind forecast app) can make the job of scouting potential zones simple. Then, head to the lee side of that waterbody with a bucket.
Once onsite, look for mounds that resemble miniature volcanos. Ideally, a location will be littered with these little mounds, expediting harvest. Whenever you find a cluster of mounds, there often will be a network of tunnels that link together. The slurp gun can vacuum out a half-dozen shrimp with just a couple pumps. Now wade out into that zone and get pumping. Make sure you do the "stingray shuffle" to avoid a barb to the leg.
How to Use a Slurp Gun
Whether you choose to build your own PVC slurp gun, or buy a fancy stainless-steel model from your local tackle shop, the goal is to have a tool that provides enough suction to extract the ghost shrimp. Step up to a mound, place the open end of the slurp gun on top, and pump until the handle reaches the water.
You can pump the contents directly back into the water and wait for the sediment to settle, snatching the ghost shrimp from the water. But if you're a DIYer with a garage full of odds and ends, there's always the option of building a portable flotation sifter. This handy device separates the shrimp from the sediment, making them easy to grab. Many sifter variations can be found online. Get creative!
How to Fish with Ghost Shrimp
Ghost Shrimp are the fillet mignon of surf fishing baits, but have one major weak point. They're much softer than traditional shrimp and tend to fly off the hook when casting. Before sticking the shrimp onto the hook, fold it in half and push the hook through the tail and into the head. Now here comes the secret ingredient that most anglers will miss. Wrap the folded shrimp with Atlas Mike's Magic Thread. This thin elastic thread comes in white and orange colors to camouflage with the Ghost Shrimp's exterior. No need to tie any knots as the thread will stick to itself and the shrimp. That $20 PVC slurp gun has now produced enough bait to catch your own pompano limit. Tight lines!