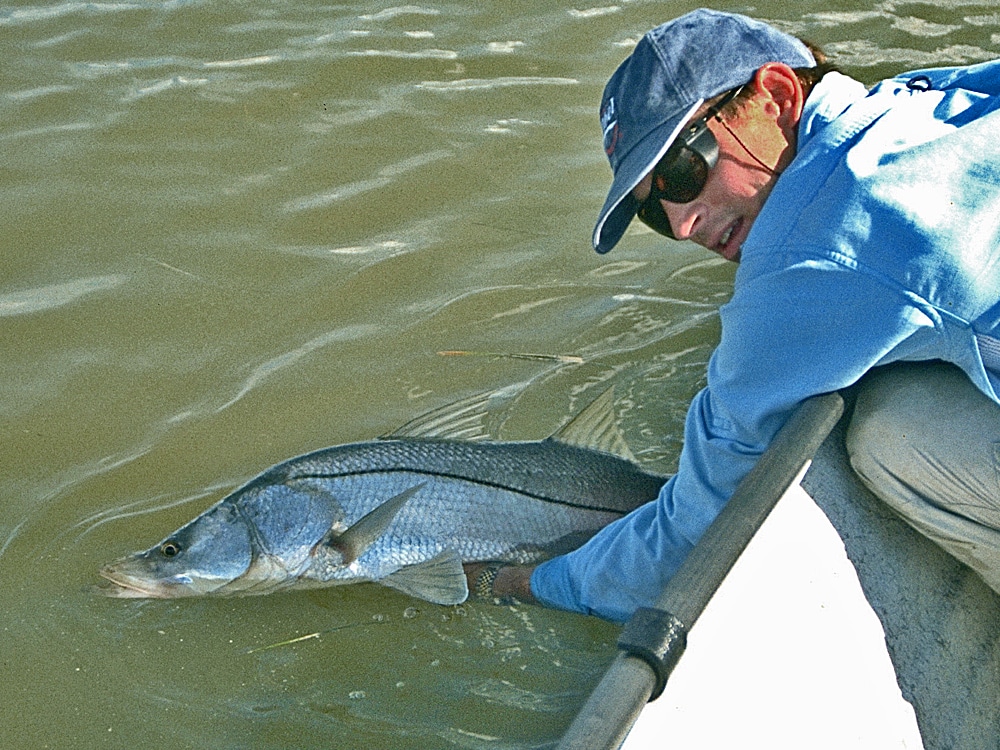 Alex Suescun
One week last summer reminded me why it's so great to be a fly angler in Florida, especially if you love snook. In the space of a few days, I caught linesiders in a mangrove-lined creek at sunup, on the beach at high noon, on an open grass flat in the afternoon, and under a bridge and various lighted docks after midnight.
That's actually not unheard of in Florida's South or Central region, where snook are well-distributed and, with minor adjustments, fly fishers can score linesiders in countless locations, so long as the water temperature is in the 70s or above.
In winter, when temperatures dip, snook bunch up in headwaters of rivers, and creeks, and well into brackish and even fresh waters that are connected to estuaries, but by late spring, they spread throughout coastal bays, the Intracoastal Waterway and many beaches. Some even move out to nearshore reefs.
Melanie Guerrero
Fly-Fishing the Backcountry
Perhaps the serenity and mystery of the mangrove jungle is biggest draw for fly fishers in Florida. The Ten Thousand Islands, Whitewater Bay and the countless branching creeks and rivers of the Everglades are iconic. But similar places exist throughout the Gulf coast of the state, as well as the Indian River Lagoon, and the Loxahatchee and St. Lucie rivers, on the east coast.
In such areas, snook feed along oyster bars and tight under the mangroves in the labyrinth of ink-black creeks. The drill is to fish during moving water, preferably on a falling tide when forage fish such as mosquito minnows and finger mullet are flushed from the cover. Since much of the casting takes place in tight quarters, I prefer a short rod. Plus most 7 1/2- to 8 1/2-footers in the necessary 8- to 10-weight class are usually better fighting sticks.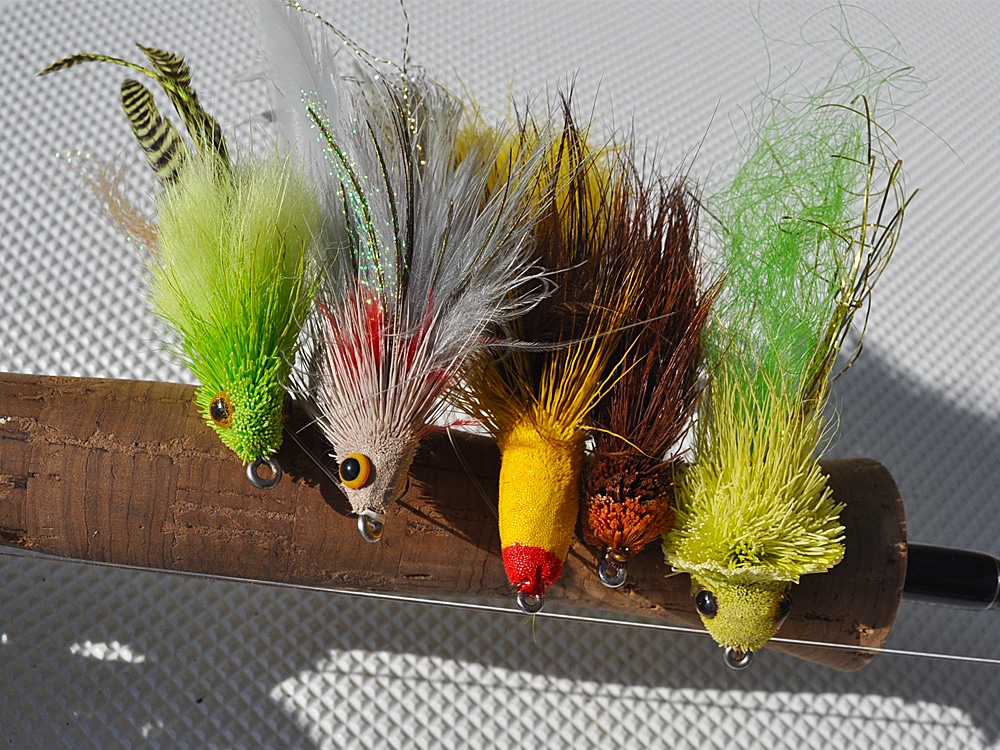 Mike Conner
The classic approach is to cast foam poppers or deer-hair bugs such as the Suescun Konehead or the venerable Dahlberg Diver tight to cover. A couple of chugs mixed with strips to make the bug swim often result in a crushing strike. Buy the bugs with mono or light-wire weed guards, or tie them on yourself, to decrease the chance of hanging up on mangrove roots and overhanging branches.
When the snook won't strike on top, a Deceiver, Seaducer, Woolhead mullet, or Bendback can be the ticket. Fish a floating line with a short head (typical bonefish or so-called bass bug taper) for the typically short casts, and use a relatively short leader (6 to 8 feet overall), with a 25- to 40-pound bite tippet as protection from a snook's raspy lips.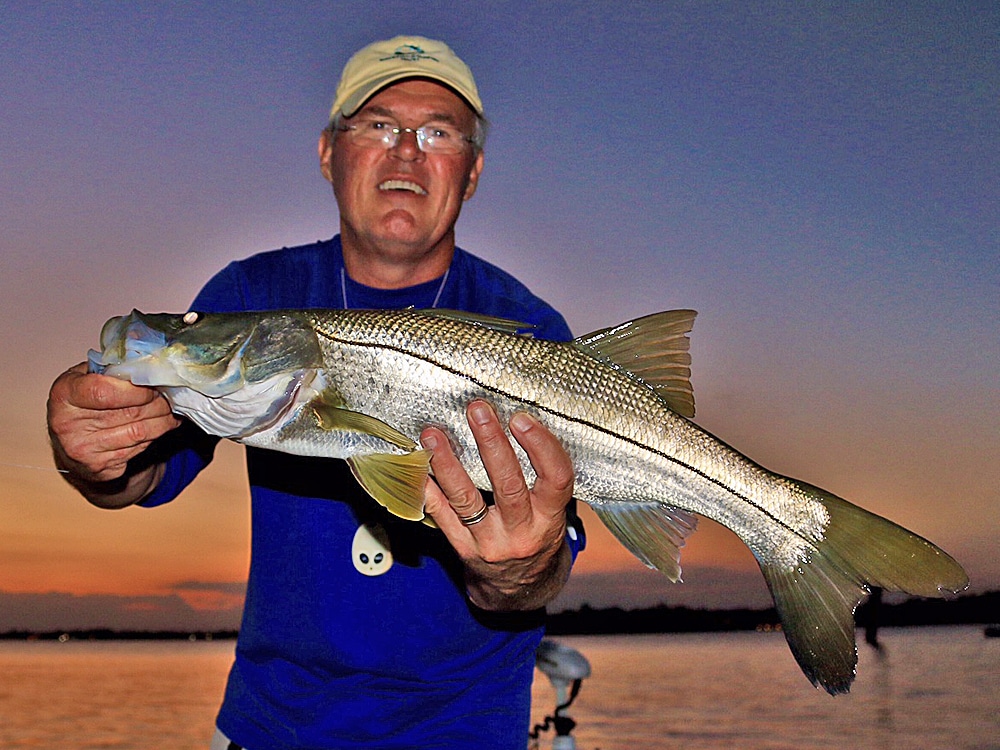 Mike Conner
Snook on the Flats
Coastal-bay grass flats hold snook nearly year-round. Here the magic water temp is around 72 degrees, and the fishing gets better as the water gets hotter. Find a grass flat with potholes and ample baitfish, such as pinfish, and your chances soar. The recommended game plan is to blind-cast early and late, and sight fish when the sun is high. Keep in mind that snook blend in better than redfish, and sometimes you may spot only the edge of the fish's tail or fins. So cast to the edges of the largest potholes first, then make subsequent casts to the middle. The deeper holes, by the way, call for sinking flies.
Tampa Bay, Sarasota Bay, Pine Island Sound and various other Gulf Coast bays offer sight-fishing for snook, and so do numerous small mud flats and coves throughout the Ten Thousand Islands. But tops on my list is Florida Bay, from Flamingo all the way to the Florida Keys, where mud and grass flats are littered with potholes that make ideal snook lairs.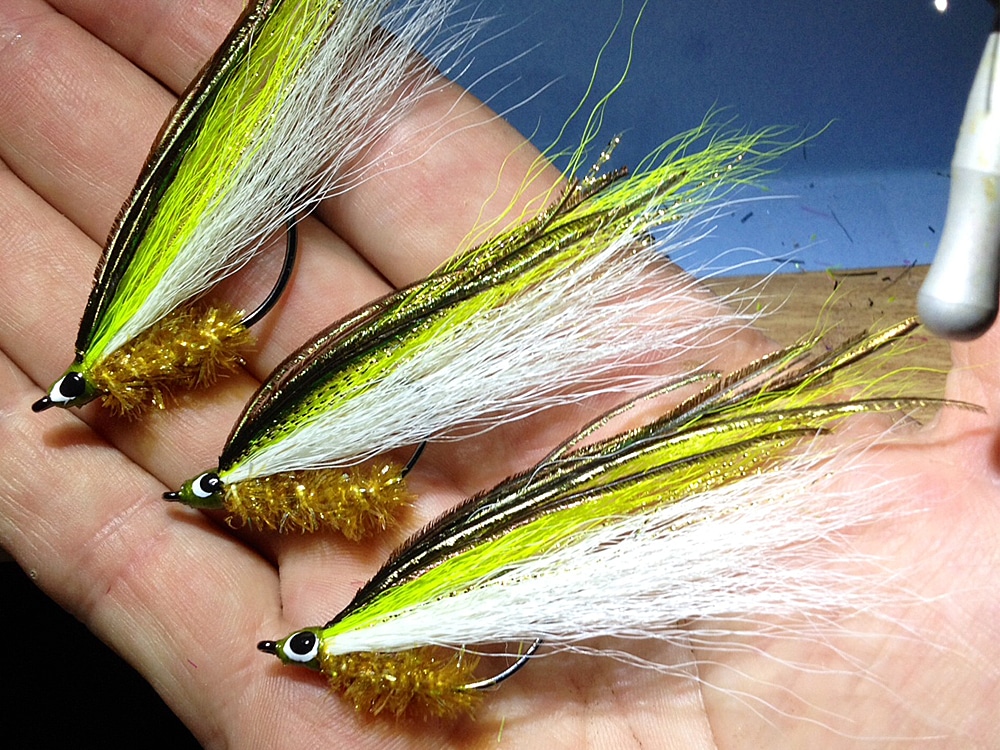 Mike Conner
From April through November, many Florida Bay flats hold more snook than redfish. And many slams (snook, redfish and trout) are accomplished there. On the lower ends of the tide, the linesiders move to the edges of flats channels and along wheel ditches (prop scars) and moats that ring many islands, and often are drawn to mullet muds and stingrays. They can still be sight-fished, but a slow-sinking line is the ticket for probing for snook once they drop into the deeper waters of the channels and moats.
Both shrimp and baitfish patterns (and even crab flies) take snook on the flats, just match the hatch whenever possible. Top flies include the Seaducers, Muddlers, lightly-weighted Clouser Minnows, Bendbacks, Borski Swimming Shrimp, Crystal Shrimp, and EP Baitfish patterns. Choose between a 7-, 8- and 9-weight rod, depending on size of your fly.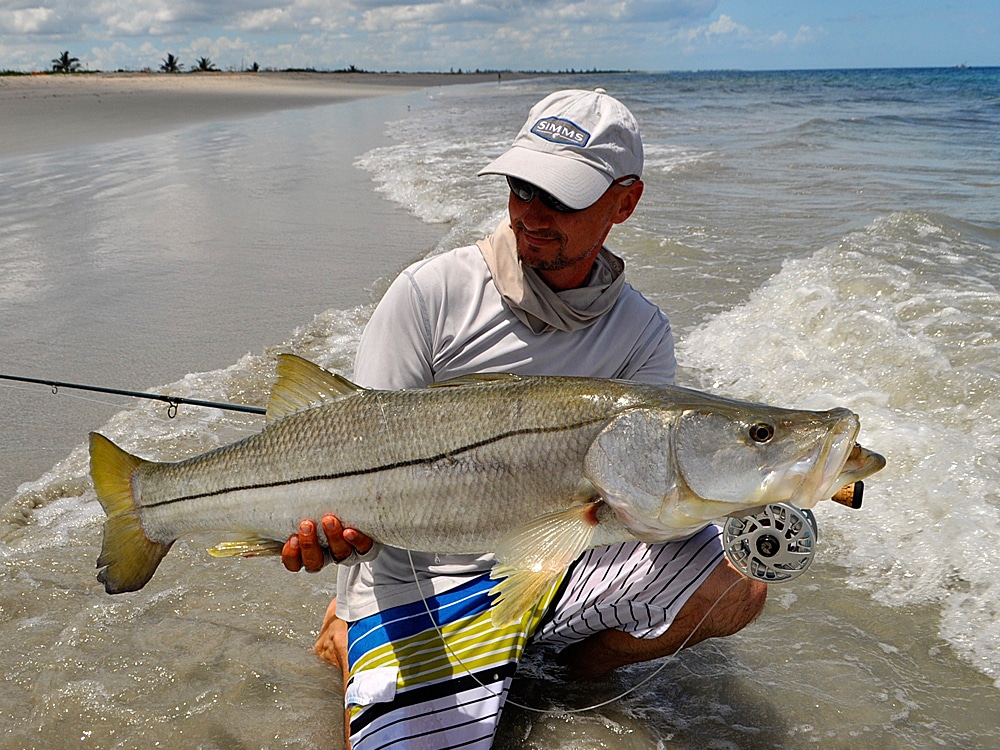 Mike Conner
Beach Fishing
A life-long bonefisherman now living in Stuart, more than a couple of hours from the nearest reliable bonefish haunts, I've come to appreciate how special beach fishing for snook really is. Though more fish can be caught at sunrise or late in the day, when they feel less conspicuous, the sight-fishing aspect when the sun is up high is hard to resist.
Though primarily stationary ambush feeders, snook tend to cruise when they hit the beaches. The usually rove along the sand before or after spawning in nearby inlets and passes, frequently gravitating toward structure, natural or manmade. So beaches adjacent to inlets and passes tend to produce best. And, on the Gulf coast, beaches with strewn rocks or timber can be truly golden, while those with hard-bottom patches on the Atlantic side tend to hold the most snook.
Mike Conner
The key to finding snook in numbers is timing. Roughly from June to early October, spawning females and their male escorts move in and out of inlets and passes periodically. I don't get serious about my beach snooking until about the 4th of July, and the top month for me is August, when lots of fish are done spawning and light winds and clear water make fly fishing less troublesome and more enjoyable. Of course, the calmer conditions require increased stealth on the angler's part. The fish then are much more aware of their surroundings, and see beach-goers and even joggers as potential threats. Though surf snook sometimes hang among the swimmers, it's still best to fish well away from such activity.
The ideal beach-snook rod is a 9-weight, which enables you to cast big streamers when big females are around. I know fly rodders who fish 6- and 7-weights on the beach during the summer because the wind is down and there aren't many places where a hooked fish can't cut you off. But when the wind kicks up — as it normally does in the afternoon, they struggle to cast much distance.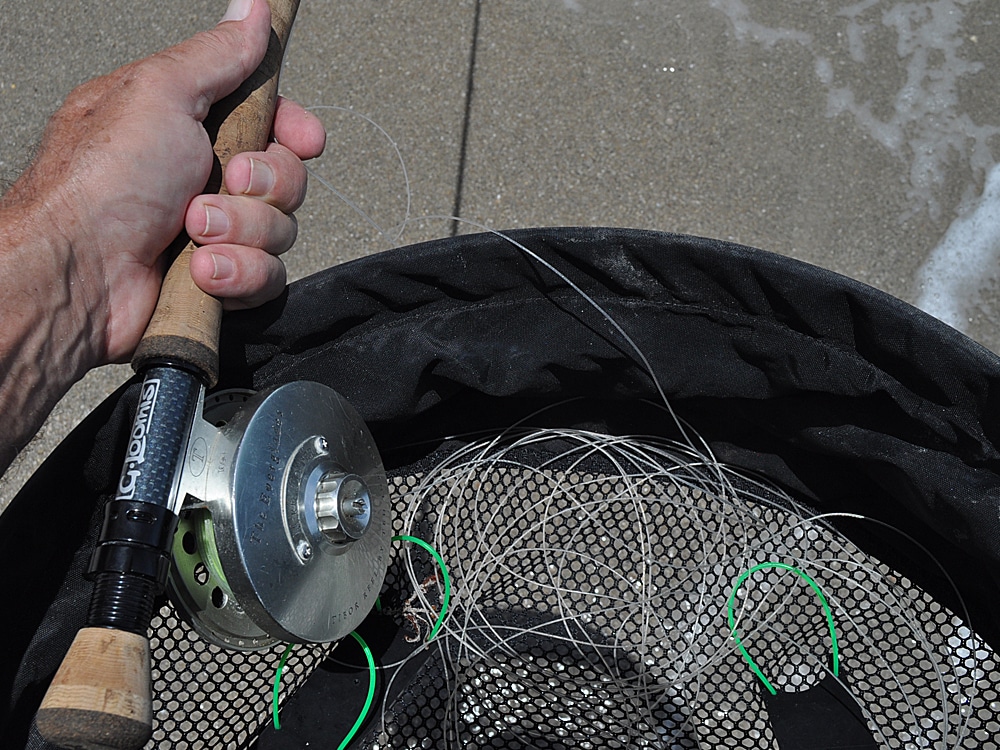 Mike Conner
While casting is mainly parallel to the sand when the tide is on the high side, you sometimes have to reach out to put the fly in front of a fish cruising beyond the trough typically created by the surf. When the tide is high, you can cast from the dry sand, but when it's out, you're better off wading out to knee-deep water, where you'll see more fish. Either way, a stripping basket is a must, especially when fishing a slow-sinking line, my favorite for the beach.
If you'll be taking a long walk to reach the stretch of beach you want to fish, be sure to carry plenty of flies, bite tippet, a water bottle, snacks and sunscreen in a fanny pack or a small backpack. And wear a broad hat. Sight-fishing at high noon in the summer, when the wind is light, is brutally hot. When I plan to spend a whole day, if tarpon are also possible, I roll my beach cart with an 11-weight rod, along with a 9 and 10. When I'm fishing, I leave my spare tackle on the cart, along with a small cooler with food and cold beverages, a big plus, trust me.
Mike Conner
Fishing Docks and Bridges
These "snook centrals" exist throughout the fish's range, and the best are usually within a couple miles of an inlet or pass. The key time to fish these structures is when the tide is moving. A lighted dock that is a ghost town on slack water can be the site of a hot feeding frenzy when the current gets moving and food is around.
The drill is to move slowly into casting range with an electric trolling motor and cast from as far away as possible, depending on how hard the resident snook are hit in the particular spot. Look for the dark shapes of the fish, or watch for surface feeding activity. Even when the fish are not visible, take a few casts anyway. Start by placing your fly at the periphery of the light cone, and work your way increasingly closer to the light. Get a cast under the dock shadow, too. And give unproductive docks a second try later in the evening, if possible. It may pay off after all.
Mike Conner
Prey around docks tend to be small, mostly shrimp, small anchovies, pilchards or similar small baitfish, and even tiny crabs. Best flies include little white marabou flies like a Norm's Shminnow. I tie a pattern I call the Midnight Minnow, which is a simple glass minnow tied with white craft fur and a pearl or white palmered chenille head. My favorite shrimp fly is simply a brown craft fur tail and palmered brown chenille head, with black nylon dumbbell eyes, which add no weight.
Other popular dock flies include the What's Up Dock, EP Minnow, D.T. Special, and if the snook are hanging a bit deeper, a lightly weighted Clouser. Best sizes are No. 2, 4, and even 6 if the prevalent prey is particularly small.
Mike Conner
Bridges hold bigger snook, in general, and are not fished as hard. Any bridge with a shadow line can have fish close enough to the surface to target with on fly. My favorite bridge outfit is a 10-weight with a clear, intermediate sinking line. With it, I can turn most big fish from the structure, and chuck big streamers repeatedly without fatigue. Top flies include big 5- to 7-inch Deceivers, Seaducers and various mullet patterns, tied on the bushy side, on top-quality 2/0 and 3/0 hooks. Basic white is fine, though some nights the fish happily take darker colors, even all black.
When it comes to leaders for the bridges, there's no need to get fancy. Many fly fishers just go with straight 50-pound. But I loop on a 2-section, 4- to 6-foot leader — comprised of a 60-pound butt and a 40- to 50-pound bite tippet — to my clear sinking line. I like fluorocarbon because it resists abrasion from big snook and bridge abutments. Despite lacking a weaker class tippet, you wont break your rod if you back off on the pressure when that big snook surges. If you insist on a class tippet between the butt and bite tippet, use 15- or 20-pound.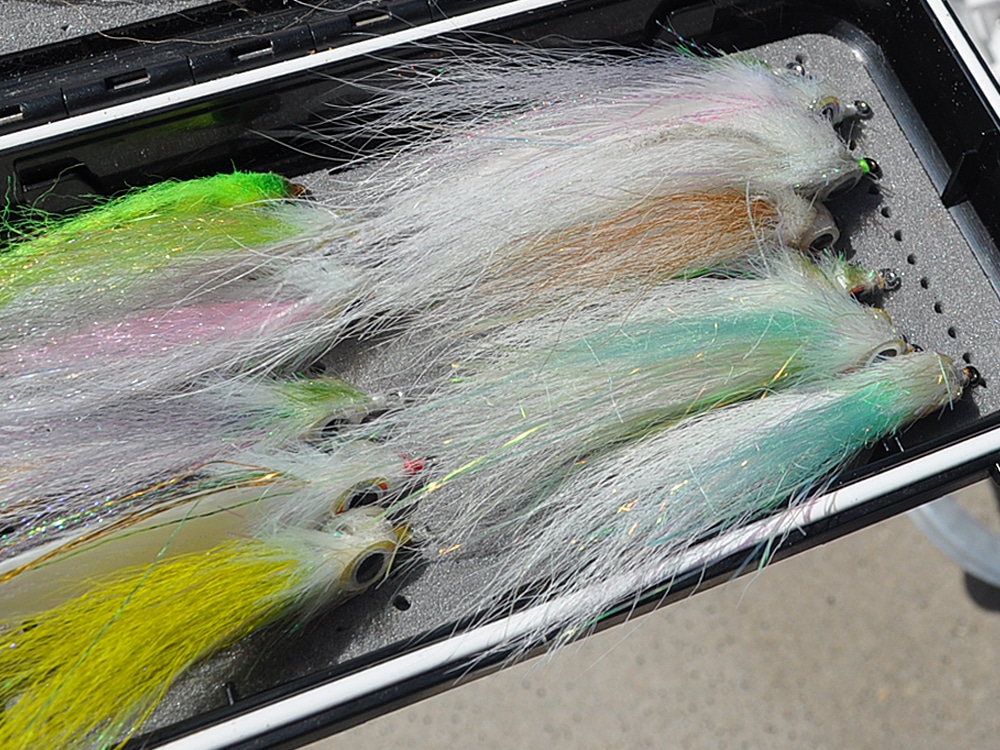 Mike Conner
It may seem counter-intuitive, but it's best to fish your fly down-current from a stationary boat when fishing a bridge. This way, you swim the fly longer through the strike zone of a shadow line. I use my bow-mount electric to position me up-current of the shadow line, and cast across the current from uptide. Long, slow draws on the fly line makes the fly swim on a tight line, and you can also shake some slack line through the rod guides to allow it to drift back into the strike zone before stripping again. The strike from a big snook can range from a light tap to a wrist-wrenching grab, so stay alert.