Jim Hendricks
Many anglers associate California halibut fishing with drifting or slow-trolling over mud and sand flats. Yet some of the most consistent fishing takes place adjacent to structure such as wrecks, outcroppings, jetties, breakwaters and artificial reefs. In my early years of fishing, we'd hook one or two halibut while fishing rocky areas and wrecks for calico bass or rockfish, and the fish we caught were often hefty 20- to 30-pounders. Then it dawned on me that California halibut like structure as much as bass and rockfish.
Depth seems irrelevant, as I have caught halibut on structure in 20- to 200-foot depths. One constant is the manner in which these fish orient to structure. California halibut look for horizontal surfaces, usually the seabed next to the structure. However, I have also caught halibut off the decks of wrecks as well as on low-relief rock slabs. Check out these other halibut fishing tips that might help you land more fish.
Jim Hendricks
Work the Edges of Structure for Halibut
If you're fishing for halibut, work the edges of a wreck, sea wall, kelp bed, or shoreline cobble that melds to sand. And don't discount inside edges and small sand patches in rocky bottom.
I have caught big halibut using my fish finder to locate smooth patches no more than 20 feet wide dotting a reefy area. Be prepared for a bite as soon as you drop a bait or lure on these patches.
Drift-fishing the edges often proves effective, but consider anchoring to fish an edge, repositioning to work the entire area. Electric trolling motors also help you present baits and lures with pinpoint accuracy.
Current Is Key When Halibut Fishing
While working the edges of shoreline spots and kelp beds, a flood tide generates the best current, transporting forage such as baitfish and squid. On wrecks, rock piles and reefs in open water, the up-current side of the structure often produces best.
Find a point such as the tip of a wreck or the end of a jetty with current flowing around it and you've found the alpha position for ambush predators such as halibut. This is where you will often catch the biggest ones, the so-called barn doors.
Don't hesitate to work all sides of a structure spot, as currents at greater depths sometimes differ from those higher in the water column. If you are fishing an upright wreck that retains portions of its deck, work a bait across it. Halibut like to play king of the mountain on structure.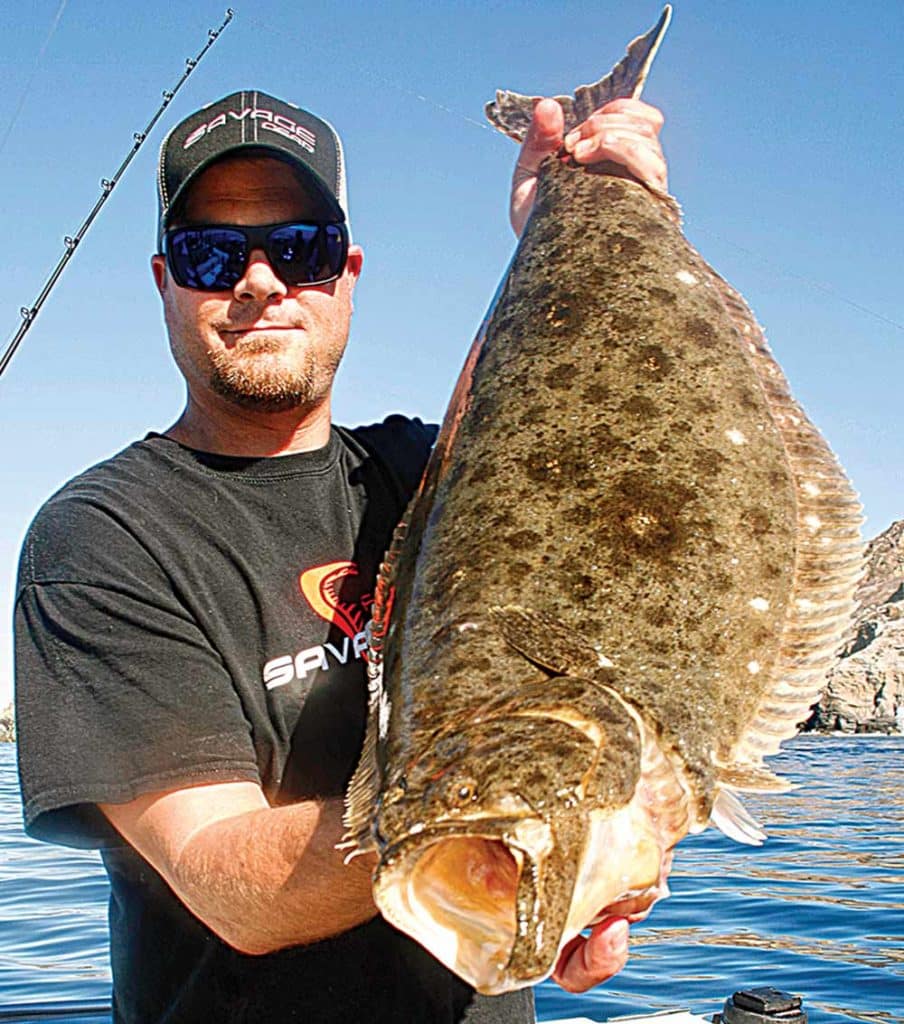 Jim Hendricks
Fishing Live-Bait for Halibut
Halibut are opportunistic feeders, preying on anchovies, grunion, mackerel, lizardfish, sardines and white croaker, as well as opalescent squid.
Commonly available live baits include anchovies and sardines sold off barges and docks in Southern California harbors at Santa Barbara, Ventura, the Channel Islands, Marina del Rey, King Harbor, San Pedro, Long Beach, Newport Beach, Dana Point, Oceanside, Mission Bay and San Diego. Live squid is sometimes available as well.
Pacific mackerel (known as "greenies"), jack mackerel (known as "Spanish") and topsmelt are easily caught with Sabiki rigs. Five- to 8-inch baits work best.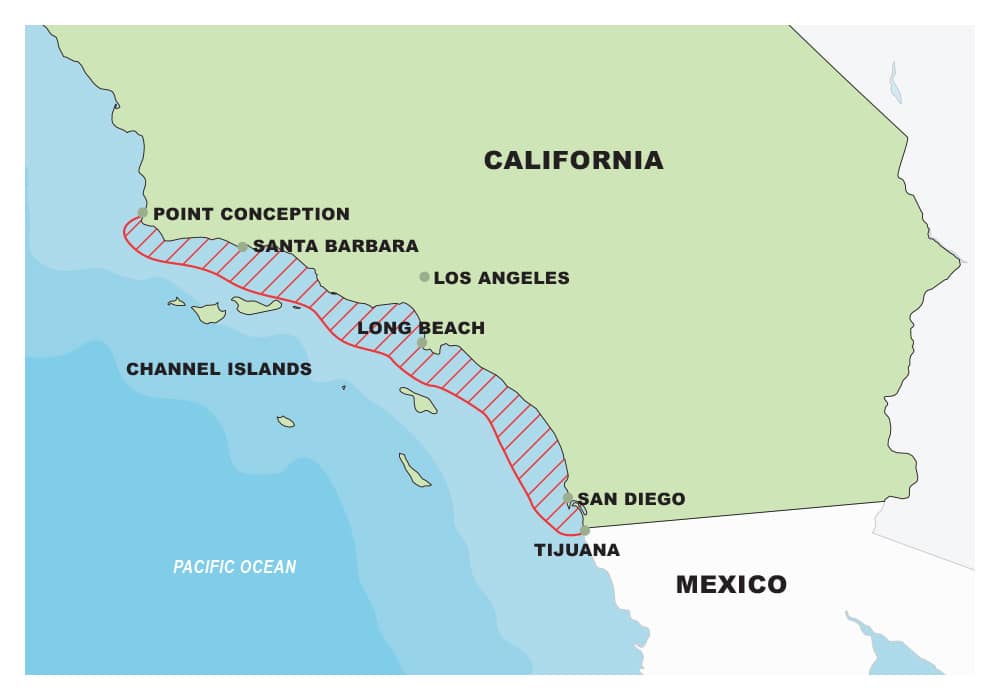 Illustration by Mile Garces
Keep Your Lure or Live Bait Moving to Catch Halibut
It's important to keep any bait moving. California halibut respond to visual cues like a house cat does to yarn. Drift-fishing meets this criterion, but lacking current, bumping the boat in and out of gear or using an electric trolling motor helps keep the bait active.
When fishing an anchor, twitch the bait with the rod to interest a halibut. The principle to keep in mind: Put the bait close to stationary fish to get bit. While live bait is the top producer, halibut also hit lures such as curly-tail grubs and swimbaits fished on lead-heads. Work these along the bottom, but move them faster than you might twitch a livey.
Reel Halibut in Slowly
A big California halibut usually uncorks one run after it's hooked, but that quickly turns to solid weight with an occasional head shake. The best technique is to simply put slow turns on the reel to ease the fish upward. If you apply too much pressure, the fish responds with a wild fight, which can dislodge the hook or break the leader. Pumping the fish leads to excessive head shaking and teeth sawing through the leader.
As the fish approaches the surface, back off on the drag because the halibut still has plenty of energy and might stage one last run. Often, however, the fish simply planes to the surface and the waiting gaff.
How Big Are California Halibut?
The California halibut (distinct from the Pacific halibut, which exceeds 100 pounds and can reach 500 pounds, in the Pacific Northwest and Alaska) hit trophy size at about 25 pounds. The IGFA all-tackle world record is 67 pounds, 5 ounces, caught at Santa Rosa Island off the Southern California coast.
Sinker-Slider Rig (Top) and Carolina Rig (Bottom)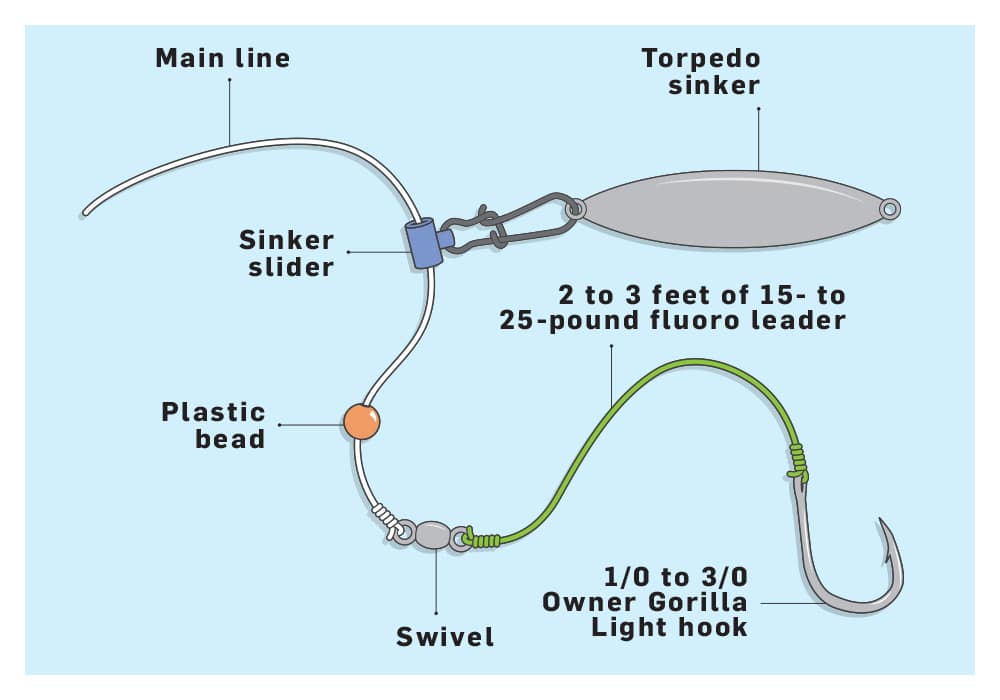 Illustration by Steve Sanford
Illustration by Steve Sanford
Best Bait Rigs for Halibut
Sliding-sinker halibut rigs that let halibut run with the bait without sensing any weight are essential for live-baiting success. Use a conventional reel in free-spool or a spinning reel with the bail open to feed line to the fish for five to 10 seconds before setting the hook. Big halibut inhale the bait right away, but smaller ones often grab it by the tail and race away, so give them time to eat the bait fully.
A simple variation on the Carolina rig, an egg sinker on the main line ahead of a small swivel, with a 2- to 3-foot leader connected to a J-hook such as a 1/0 to 3/0 Owner Gorilla Light, is a very effective halibut rig.
And when you need more weight than 3 ounces, opt for the sinker-slider setup. It employs a plastic sinker slider (Eagle Claw Sinker Slide or Sea Striker Quick Slide) on the main line, to which you attach a bank or torpedo sinker of desired weight.This rig works well in deep water and to keep large sardines, mackerel, and other strong, frisky baits on the bottom.
Most anglers use 15- to 25-pound fluorocarbon leader with either rig, since halibut have sharp teeth and tend to shake their heads violently to dislodge the hook.
California Halibut Season
When is the best time for halibut fishing in California? You might be surprised to find that there really isn't a bad time to go halibut fishing:
Excellent: April, May, October and November
Great: January and February Good: March, June, July, August, September and December
California Halibut Fishing Information
What: California halibut
Where: Point Conception to the Mexican border, around wrecks, reefs, jetties and hard-bottom areas
When: Spring and fall
Who: Boating anglers with reliable craft from 20 feet up. A number of Southern California charters and guide services can show you the tricks to successful halibut fishing.
California Halibut Fishing Tackle
Rods: 7- to 8-foot rated for 15- to 25-pound line
Reels: Medium-size star-drag conventional and spinning
Line: 20- to 30-pound mono or 50- to 65-pound braid
Terminal Rigs: Carolina rig or sinker-slider setup with 2 to 3 feet of 15- to 25-pound fluorocarbon leader