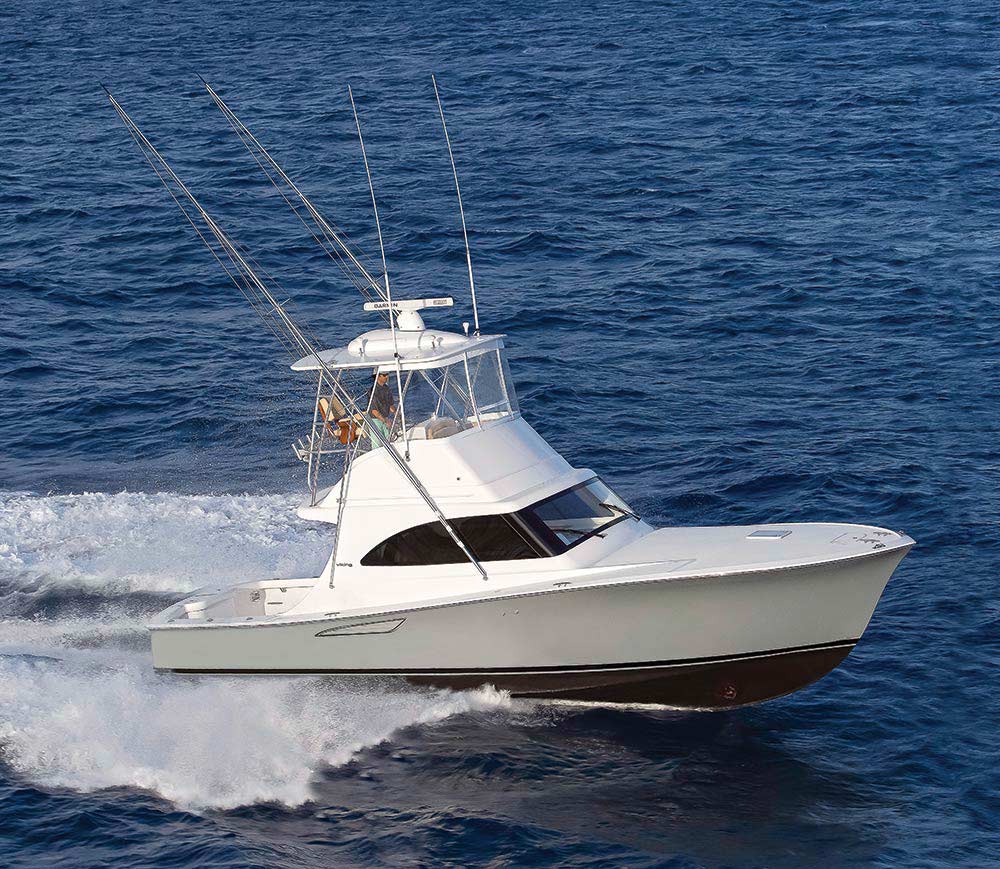 Courtesy Viking Yachts
With models ranging from 42 to 92 feet, Viking Yacht Company has dominated the offshore-fishing market. And certain that bluewater anglers will quickly recognize its fish-catching prowess, the famous builder now offers its new interpretation of the classic day boat, with the unmistakable look of models originated in the early 1960s, but more refined and with an array of modern enhancements.
As its name denotes, the new 37-footer is a billfishing machine. It is designed and built to make fast work of the speediest white marlin or sailfish, and effectively troll the same marlin spread as its battlewagon brethren while burning a fraction of the fuel. The hull sports a beam just shy of 14 feet and a slippery 12.8-degree deadrise at the transom, which features pockets to funnel clean water to the props and rudders, and reduce the shaft angle, resulting in a top speed of nearly 35 knots. That's cooking for a 30,000-pound boat, and it's no slouch backing down either!
Courtesy Viking Yachts
Design and Layout
Construction is cutting-edge. Custom-blended polyester resins are used in structural laminates, topsides, and the bridge and hardtop, while blister-resistant vinylester resins are used for the hull skin. For strength and weight reduction, the hull, stringer system and command deck are vacuum-bagged and cored with closed-cell foam in selected areas. The decks are foam-cored to reduce noise and heat transfer from the engine room.
The gently sloping shear flows from bow to transom. The house is topped with a compact flybridge that features a center-console helm station with seating for up to five. From the Release Marine teak helm chair, the skipper has an unobstructed view of the water ahead and the cockpit below. The console holds two 12-inch monitors, an engine-monitoring system, Seakeeper control panel, and single-lever controls with Glendinning synchronizer, along with a joystick control for maneuvering in close quarters. An overhead panel holds a pair of VHF radios and other electronics, and the door directly over the helm chair is the nesting place for a pair of teaser reels.
Courtesy Viking Yachts
In true day-boat style, the new Billfish has a deck-level helm station to starboard inside the salon area, the aft side of which is open to the cockpit. The full-width windshield and large, tinted side windows offer a panoramic view. Ideal for running the boat in nasty weather or fishing short-handed, the lower station is just a couple of steps away from the cockpit. On the port side are a U-shaped settee and dining table, with additional seating behind the helm chair. Both seating areas rise on electric rams to access the engine room, which is neatly laid out and houses a long list of mechanical, electronic and safety systems. A deck hatch provides quick access to the 9 kW generator and optional Seakeeper stabilizer.
Interior Amenities
A heavy-duty door opens to the cabin, which is air-conditioned and heated to keep the crew comfortable during prolonged trips offshore or overnighters. Inside, a nicely appointed galley exudes Viking's exquisite design. It boasts high-gloss maple cabinetry, a large L-shaped Corian counter with stainless-steel sink, hidden range top, convection/microwave oven, two-drawer refrigerator/freezer, pantry and ample drawer space that make for a functional place to prepare meals. To port, the bathroom includes a full-size shower enclosure with molded-in seat and glass door, vanity, mirror, storage space, and Domenic electric head.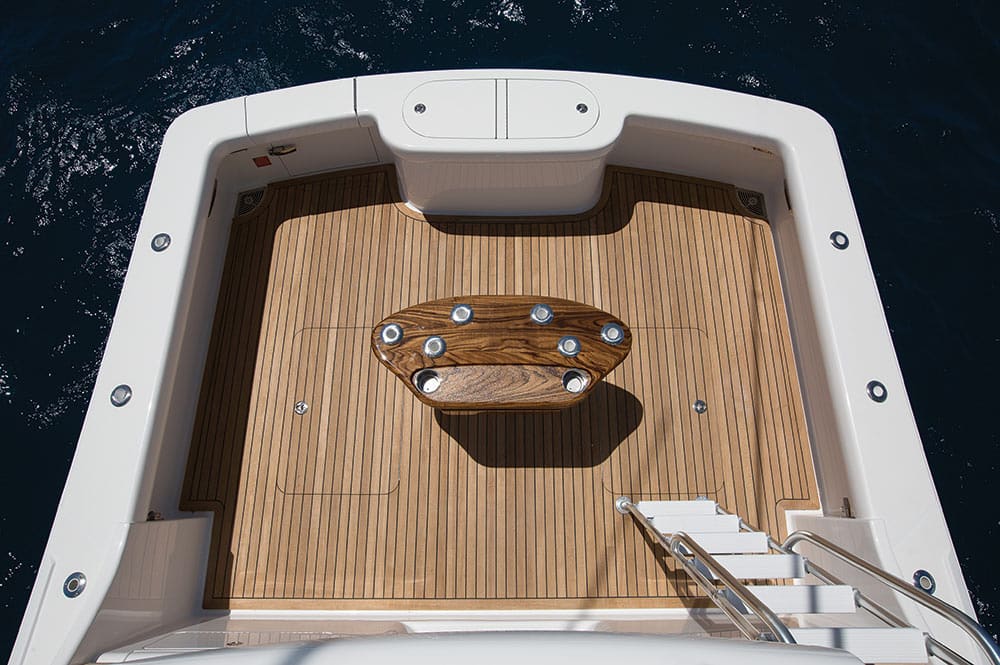 Courtesy Viking Yachts
French doors allow entry to the stateroom, available in large single- or twin-bed configurations. There are two hanging closets with drawers below, and cabinets for additional storage. The bed platform includes another chest of drawers, unless you order the optional bow thruster.
Sea Trial
The cockpit is an offshore angler's dream. With only a rocket launcher on center stage, the 86 square feet of fishing space is perfect for challenging pelagic brawlers with stand-up tackle. The transom has a molded-in fish box/livewell, and a door and gate to starboard. Twin mezzanine couches keep everyone comfortable and engaged while trolling, and underneath hide a bait freezer and a rigging station with freshwater sink. Fresh- and raw-water washdowns are located under the covering boards. A pair of 30-foot Rupp double-spreader outriggers can easily be rigged for dredges and teasers. And our test boat had six flush-mounted rod holders on the gunwales.
Courtesy Viking Yachts
We left the inlet in a patchy fog and unsettled seas left over from a storm the previous day. The 37 Billfish proved fast, smooth and quiet, thanks to its twin Cummins diesels, 2.22-1 ZF transmissions, and Acme props. Response to the throttles is surprising, even if you're used to multi-outboard boats, and at a 2,900 rpm cruise — making 30 knots — fuel consumption is easy on the wallet. Drop a couple hundred rpm to cruise at 26 knots, and the engines sip a modest 32 gph.
Day boats of old were renowned for their nimbleness while fighting a billfish. Having fished vintage 37-footers repowered with modern diesels, I can attest to that. The new Viking follows in their footsteps and also raises the bar. And if you like to run your boat, you'll love the center console helm on the flybridge. Single-lever controls give the captain the advantage when the action is jumping off the stern.
The 37 Billfish is already in high demand. So, if you think it might be for you, visit a Viking dealer soon.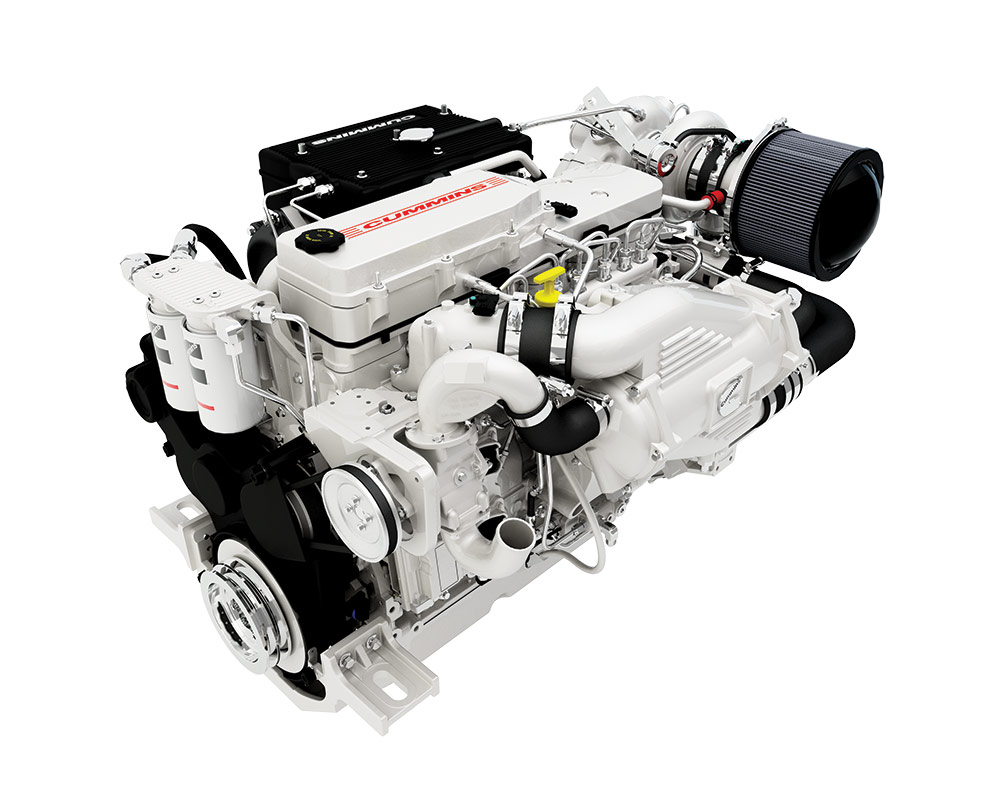 Courtesy Cummins