Capt. Tim Simos / bluewaterimages.net
Fish finders might be the superheroes of the marine-electronics world, but transducers are the always important, though seldom appreciated, sidekicks. Without the right transducer mounted in just the right place, that fish finder can't provide accurate, clear sonar imagery, and you'll be fishing blind (unless you have superpowers yourself).
Choosing which transducer to buy should be equally as important as picking a display. Do you need chirp? Side-scan? Down-scan? 3D or multibeam? Real-time? To answer those questions, transducer makers boil down the selection to three factors:
what kind of fish finder you own or are purchasing;
how you fish;
what size and type of hull you run.
Matching Brains The easiest of the variables to resolve is fish-finder compatibility. "Most ­multifunction-display models today [which incorporate fish finders] can use 1 kW transducers," says Craig Cushman, director of marketing for Airmar Technology, a primary source for today's recreational and professional marine transducers. "It's when we get into the 3 kW transducers that you need to make sure the MFD can output that power."
Few anglers need to see to depths that would require a 3 kW transducer, which are capable of reading bottom to 10,000 feet. Similarly, few boats could really accommodate these higher-power transducers because of their size; some weigh 30 pounds or more.
Offshore anglers generally gravitate toward 1 kW or 2 kW transducers (offering 2,500 to 6,000 feet of depth capability), depending on whether those anglers fish more recreationally or compete in tournaments. Inshore anglers can easily manage with 600-watt units and transducers (capable of reading depths up to about 1,000 feet).
To use side- or down-scan, 3D or real-time sonar transducers, your fish-finder, MFD—or networked sonar module—must come programmed to interpret those kinds of sonar signals. Online product descriptions spell out a unit's capability, and MFD manufacturers usually recommend transducer options for each of their units.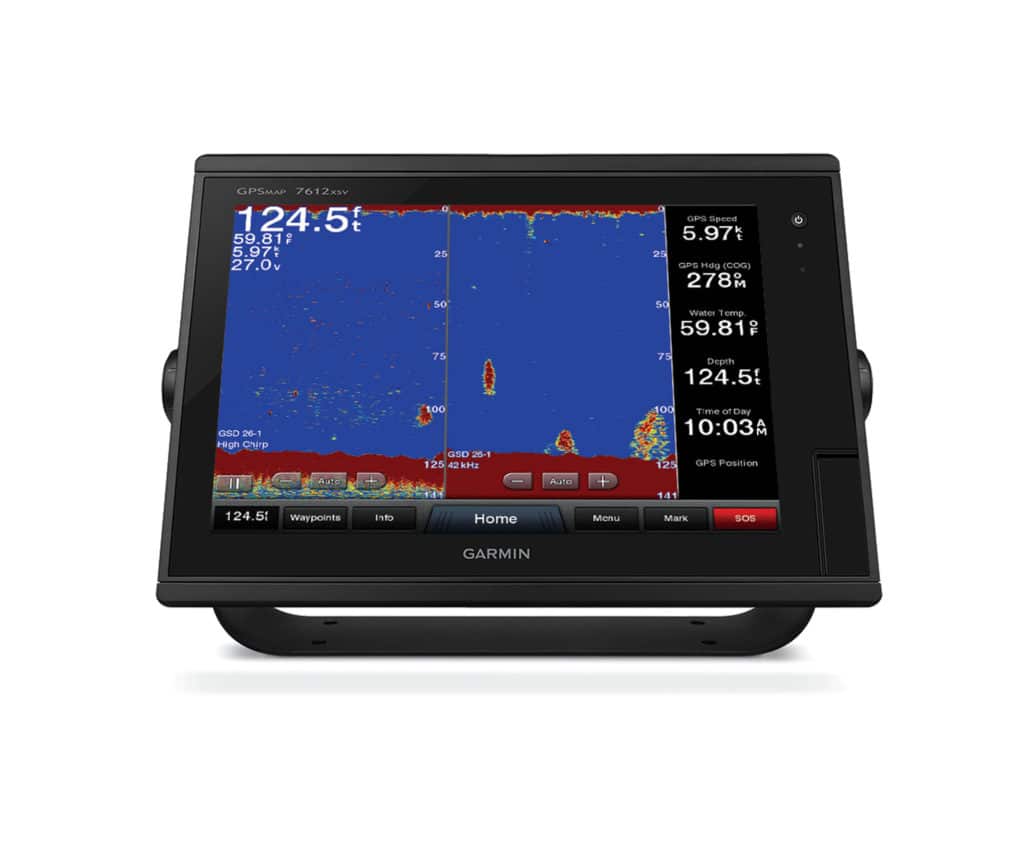 Courtesy Airmar and Garmin
Fishing Styles Once you recognize the need to match a transducer to its computer brain in an MFD, you face the second round of choices—based on how you fish. Many anglers today buy boats that can run inshore and offshore, so their needs vary on any given fishing day. They also might target multiple species by trolling, drifting, anchoring or casting.
For instance, I might troll for kingfish on a calm summer day, but in spring, I'll sightcast to cruising tripletail or in winter, float a cork for seatrout.
Decide which types of fishing you'll do most often (those that are most important to your fishing enjoyment). Gear your electronics primarily to those goals.
"We want to know where you spend the majority of your fishing time, at what depth," Cushman says. "Based on that, we can talk about power, for one, and then the second question is: What are you trying to do? Pinpoint fish in structure or wrecks? Are you fishing for pelagics and want wide coverage to locate schools of fish?"
Airmar sells traditional and chirp transducers through its distributor to dealers. It also provides MFD manufacturers with transducers to package with units, and it works with those manufacturers to build brand-specific transducers for scanning and other uses.
On its website, Airmar provides a variety of helpful resources including a bottom calculator to help anglers understand how wide an area they'll see beneath the boat at different depths. In most cases, offshore anglers want to see as much of the water column as possible, so they gravitate toward ultrawide chirp transducers, which incorporate two frequency bandwidths such as low (for greater depths), medium or high (for shallower depths and more detail).
A PM411, for instance, features an ultrawide low-frequency sonar beam and a medium-frequency beam. At a depth of 4,000 feet, the wide low beam can cover a circle at the bottom that is 2,912 feet in diameter (more than half a mile).
That's extreme, of course, but a wide transducer beam can show an angler a very wide swath of the water column below and to the sides of the boat.
Scanning or imaging sonars—such as side- and down-scan, Furuno's DFF3D multibeam and Garmin's Panoptix Livescope—give anglers detailed returns that can be photolike. They really shine for locating structure, but they can be limited with regard to the depths they can reach.
Courtesy Raymarine
Fish targets tend to be less defined with scanning sonar because the beams are thin fore and aft. Offshore anglers use scanning sonar to see bait schools to either side of the boat or to see what's under weed lines.
To combine the best of both worlds, Furuno recently launched combo transducers that incorporate multibeam elements (for the company's DFF3D sonar) with chirp elements such as those from Airmar's B275 wide, high-frequency transducer. That gives offshore anglers elongated fish targets as well as the ability to see fish to either side of the boat, Furuno says.
Furuno's multibeam unit differs from other scanning/imaging sonar in that it employs a lower frequency of 165 kHz compared with the 455 kHz, 800 kHz, 1.2 mHz and higher frequencies used by other companies. That gives Furuno's product greater depth capability.
"Our RealVision 3D and HyperVision sonar transducers are a great choice for anglers looking for precise information about where the fish are holding in relation to the boat," says Jim McGowan, Raymarine marketing manager. "Like others, we can display accurate distances to fish and objects both vertically as well as horizontally. We can also combine those sets with additional data into a 3D model to enhance spatial awareness."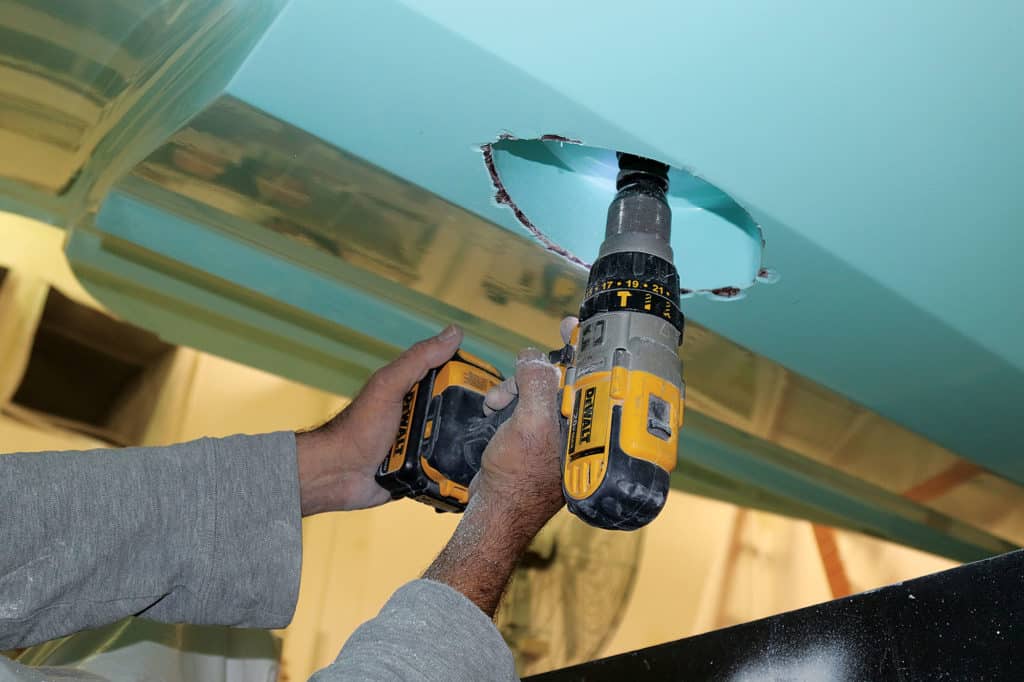 Courtesy SeaVee
Boat Type Your boat's size and hull shape play a major role in choosing a transducer. As with real estate, the prime consideration is location, location, location.
"Mounting options can make or break the whole experience," says David Dunn, Garmin director of sales and marketing. "A poorly mounted transducer will not perform well. Transom mounts are really good now, if they're mounted properly. But anytime you can use a through-hull, you'll get better results."
A transducer works best when it's covered by clean, clear water without bubbles that can flow from scuppers, livewell pickups, hull steps and other hindrances. Dunn says transom-mounted transducers remain the most popular and cost-effective solution for many boaters.
Read Next: Choose the Right Sounder for the Way You Fish
However, larger boats with deeper V's or steps often employ through-hull transducers, mounted using a fiberglass fairing block, or tilted-element transducers that can compensate for the sloping hull of an offshore vessel.
Once you walk through the three variables for choosing a transducer, you should arrive at a much narrower list of options. If you're buying a new boat, the builder and dealer can help. If you're installing newer electronics on an existing hull, consult a National Marine Electronics Association certified installer and check manufacturers' websites for a wealth of assistance.
And remember: Respect the ­sidekick.