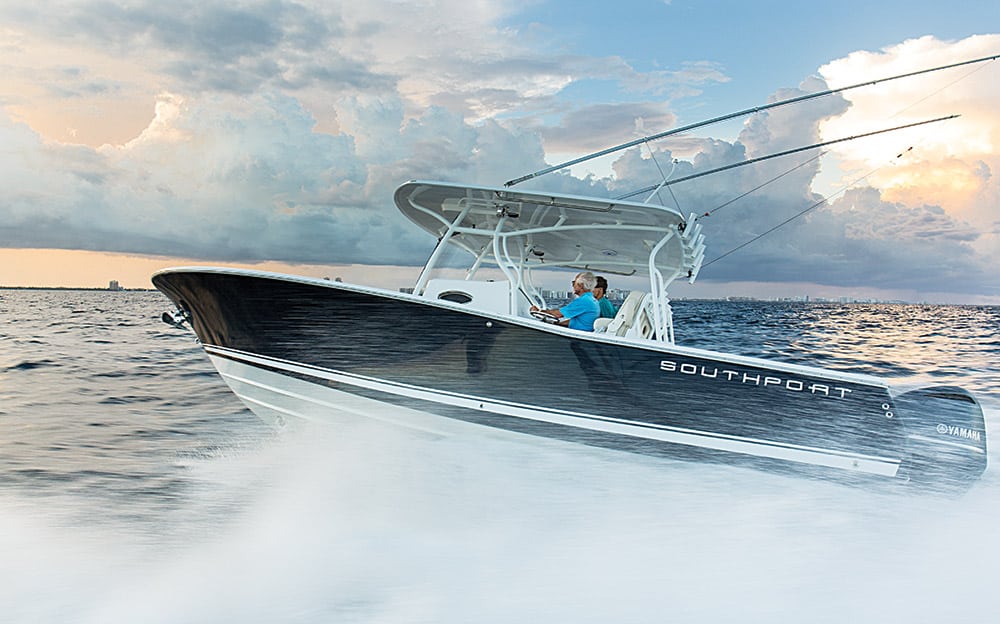 Courtesy of Southport Boats
Founded in North Carolina in 2003 and moved to Maine eight years later, Southport continues to explore the potential of its original seaworthy hull, a shared dream realized by experienced boatbuilders, passionate fishermen, offshore racers and legendary boat designer C. Raymond Hunt Associates.
That hull was designed specifically to capitalize on the performance and power of modern dual outboards, using cutting-edge composite manufacturing capabilities, techniques and materials — among them vacuum-infusion construction, upgraded wiring and plumbing systems, and vinylester resins.
The boating angler experiences that as soft ride, stability and agile performance.
Southport builds boats of 27, 29 and 33 feet. The 29 FE (Family Edition) launched in 2013, followed by the 33 a year later. In 2015, the 292 was born as a redrawn deck plan for the 29, joined by Southport's first Tournament Edition boat with coffin box, the 272 TE, which could be rigged with single-outboard power like the company's original North Carolina design, the Southport 26.
Southport has just moved into a new 60,000-square-foot facility in Maine that will give the growing brand the ability to deliver more boats to the market, as well as focus on new projects, including new layouts on existing hulls, updates to existing models and a pair of larger boats in the coming years.
SOUTHPORT 292 TE
Southport makes its 292 center console in two versions: the cruising-friendly Family Edition and the fishing-focused Tournament Edition.
Just remember that while the TE aims for fishing first, there's plenty about it for the family to like too. It's just that extra space is reserved for fishermen, fishing and fish. This is not a stripped-down fishing stage, but one set for the drama of big-game action.
Between the rocket launchers on the outrigger-ready ­aluminum- and-fiberglass T-top and the leaning post, 10 rod holders stand ready, with others flush-mounted across the gunwales and six more shotgun rod holders astern. At the transom is a livewell with overboard drain and light. An aft-deck fish box with macerator and overboard pump-out is removable; in the bow is an insulated coffin box with macerator. Behind the helm seat is a livewell/rigging station with insulated bait box, sink and cutting board. Dual transom doors provide access.
And while the TE is fishing foremost, the FE — along with additional seating and an entertainment center — also has a fishing-friendly rigging station and rod holders. Both come standard with twin Yamaha 250 hp four-stroke outboards; step up to 300s if you like.
Between the two flavors of Southport's 292 hull, the appealing choice is less "either/or" than "which activity most."
MORE INFO southportboats.com