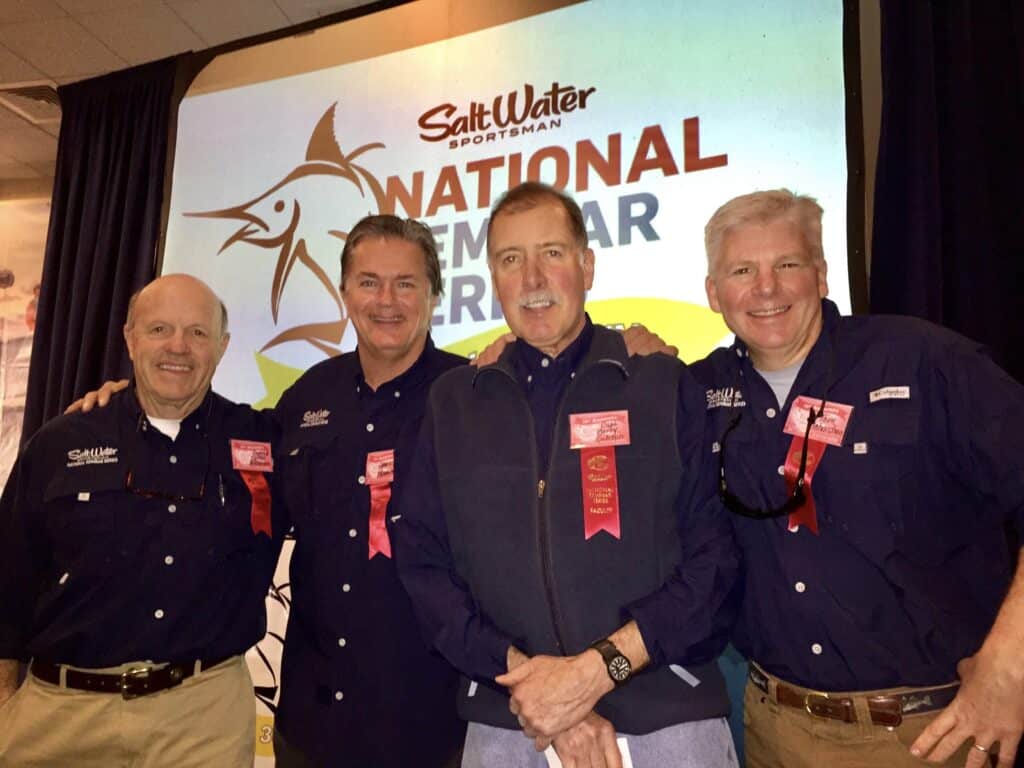 Courtesy George Poveromo
I am deeply saddened by the news of Barry Gibson's passing on Wednesday, October 11. It was Barry, along with Rip Cunningham and Spider Andresen, who brought me aboard the Salt Water Sportsman editorial team in 1983.
I first met Barry at a Mako Outdoors Writers event in the Bahamas, and we kept in touch. When a new column was about to debut in the magazine, Barry called to inquire if I'd be interested in penning it, and if so, he let me know that they'd fly me to the Boston office for further discussions. That was a dream phone call, and I jumped at the opportunity.
Over the years of working closely with Barry, attending shows, occasionally fishing together, and sharing countless laughs, he'd often reflect on two memorable events in our shared history:
The first was when I arrived at SWS' Boston office for the job interview. This was such a huge opportunity for me that I purchased a new suit, fancy tie, and a pair of Florsheims! After all, I felt that I was going to be in the presence of angling royalty.
According to Barry, I secured the position well before we sat down for the interview. With a chuckle, he'd acknowledge that it was the suit that sealed the deal. Yes, I was incredibly overdressed compared to Barry, Rip and Spider who were wearing very casual, fishing-themed clothing. Barry said he immediately told Rip and Spider that I was their guy. He explained: If this guy (me) went to the trouble of buying a new suit, tie, dress shirt and shiny new shoes for the chance at writing a fishing column, he must really want the job. He assured them that I was "perfect" for their team of writers.
Another one of Barry's favorite stories occurred when he was in South Florida for an event. I was set to take him offshore fishing, but brutally strong winds kicked up a couple days prior. I borrowed a 17-footer from Mako and we ended up in Miami's Biscayne Bay.
It was so rough in the bay that day that I retreated up into a quiet canal and to a bridge where I "knew" snook would be lurking about. After all, Barry Gibson, our "fearless" editor, was with me; I had to save face and a snook or two would help me do exactly that. We arrived at the bridge, but there were no snook present. None. Instead, we happened upon schools of hungry moonfish and nothing else. So, after a disappointing day of catching only moonfish, I was terribly embarrassed and deemed the entire trip a failure. Barry, however, always said he found it to be a fun, relaxing and enjoyable day — but he never let me forget about it!
Along with being a friend, confidant and consultant, Barry also served as co-host with me at many of our Salt Water Sportsman National Seminar Series. I have so many great memories with him there by my side, far too many to pick just one!
Barry, thank you for giving me the dream job that started my fishing career. I am successful because of mentors like you. Rest easy in knowing that I will always continue upholding your professionalism and the spirit of Salt Water Sportsman in all I do. Your legacy lives on.
Courtesy Dave Morel