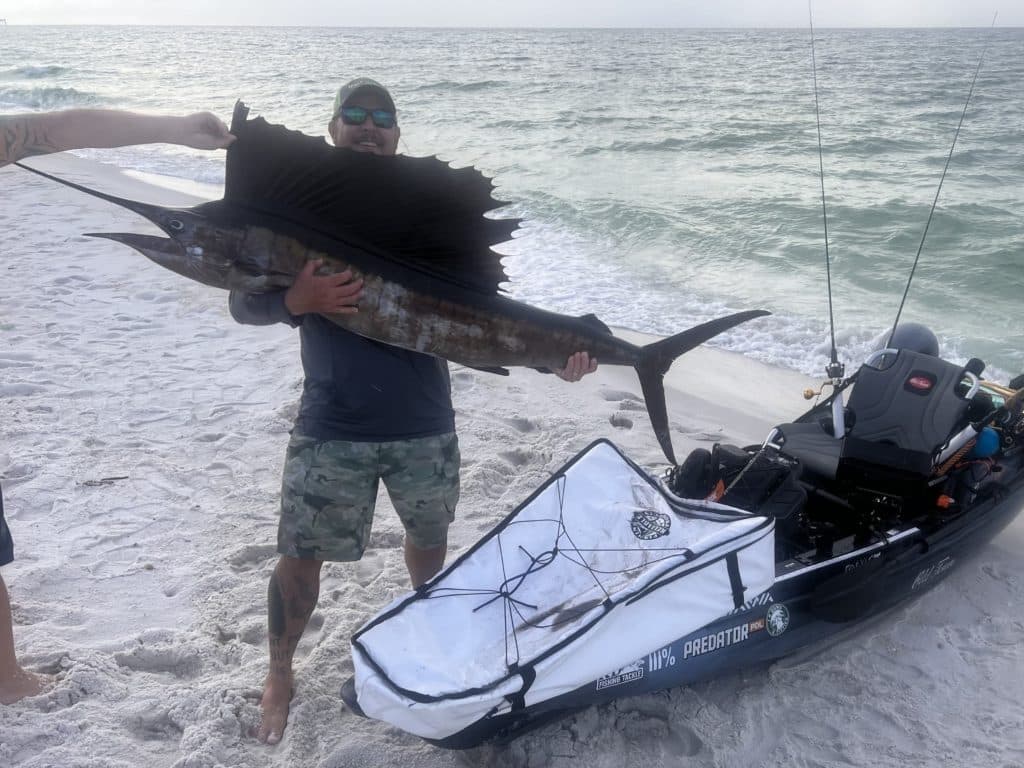 Corey Chuba
Navarre Beach, Florida, near Pensacola on the panhandle, has become a mecca for kayak fishermen. Its artificial reefs hold plenty of fish, and when billfish migrate to the area in September, you have a shot at catching a fish half as big as your boat.
Just ask Corey Chuba, a guide with Reel Patriots Guide Service, who boated a 65-inch sailfish on his 13-foot Old Town Predator pedal-drive kayak Sept. 10. Chuba braved rough water to get his first kayak-caught billfish. After all, he said, "the sails like to eat when it's rough."
"It was a rush," he recalled. "The initial drag rip was quite a bit more extreme than other fish that we normally troll for, like king mackerel. The excitement of it jumping was probably the coolest part," said Chuba. "We catch a lot of tuna on the kayaks in the winter, but they don't jump out of the water like that. It was just five minutes of pure chaos, with the fish jumping and swimming all around me, and I'm trying to navigate a kayak in 3-foot rollers. I'm doing everything I can to keep the kayak stable and this thing is jumping and going in circles around me."
Chuba caught the fish in 40 feet of water, only a half mile off the beach. He caught a baby bonito for bait, rigged it on his spinning rod, and hooked the sailfish just five minutes later. In the week after his catch, at least three more were caught by people he knows. "It's pretty cool that these fish come in so close to feed," he said.
Dogged Sailfish Fight
Unfortunately, the fish did not survive the battle. "The fight was only about 20 minutes long, and I did not intend on harvesting the fish," Chuba said. "The plan was just catch and release. But it had swallowed the hook, and the fish was dead by the time I got it up on my lap." Most of it went to a friend's smoker and was parceled out to family and friends.
Turns out it's no small project to transport a five-foot fish on such a small craft in rough water. "The tough part was what to do with it on the kayak," Chuba said. "I have probably the biggest kill bag you can have on a kayak, but the fish wasn't close to fitting in it." The sailfish made the bumpy ride back to the beach strapped atop the kayak with bungee cords. Chuba phoned friends who waded in chest-deep to help with the landing: "Once I got close enough, they could help grab the kayak and I jumped out and we dragged everything to the shore."
The state of Florida does permit anglers to keep sailfish, although the vast majority of fish are released. Sailfish must be 63 inches from the tip of the lower jaw to fork of the tail to keep. Only one may be retained per angler per day.
In a few weeks, the blackfin tuna run will begin, and Reel Patriots' clients will likely have plenty of action. The three miles of artificial reefs in an area that doesn't get a lot of boat traffic make kayak fishing a real treat.
"It's definitely beneficial to kayak fish, because we can hit those reefs in next to no time," Chuba said. "Navarre has turned into what I like to call the mecca of kayak fishermen."
Corey Chuba
Editor's Note: Got an interesting catch? We'd love to hear about it! Drop us a line with all the details at [email protected].