It's hard to beat the mouth-watering goodness of the real thing, but lures have their own appeal. They play off predators' other senses, convincing them that a tender morsel is about to escape their grasp—and they better act fast if they want a full belly. And unlike bait, they don't require livewells or refrigeration to stay fresh. Plus, there's a certain thrill that comes from a fish absolutely walloping a lure.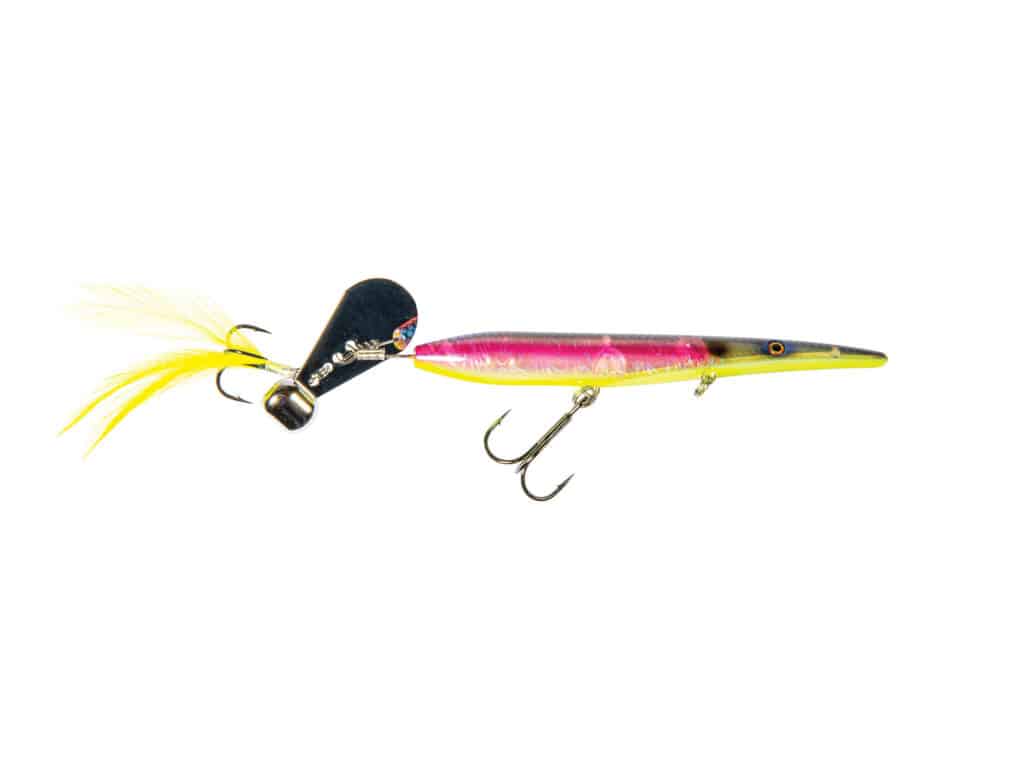 Courtesy Z-Man
Z-Man HellraiZer
The HellraiZer doesn't look like any baitfish I've ever seen, and that's probably a good thing. Z-Man, known for soft baits, bills this self-walking topwater hard bait as the first of its kind. The lure incorporates a weighted tail blade. Four- and 5-inch models are available in a wide variety of colors to imitate local bait.
Courtesy AFTCO
AFTCO Blue Fever Swimmer
AFTCO debuted the Blue Fever Swimmer at ICAST 2022, and it quickly made its way into SWS staffer Jim Hendricks' tackle box. This unique subsurface resin lure does a number on calico bass and California yellowtail, but will work for just about anything that will eat a surface iron. Six lifelike color options imitate a variety of baitfish, each fitted with oversize split rings and 4X-strong treble hooks.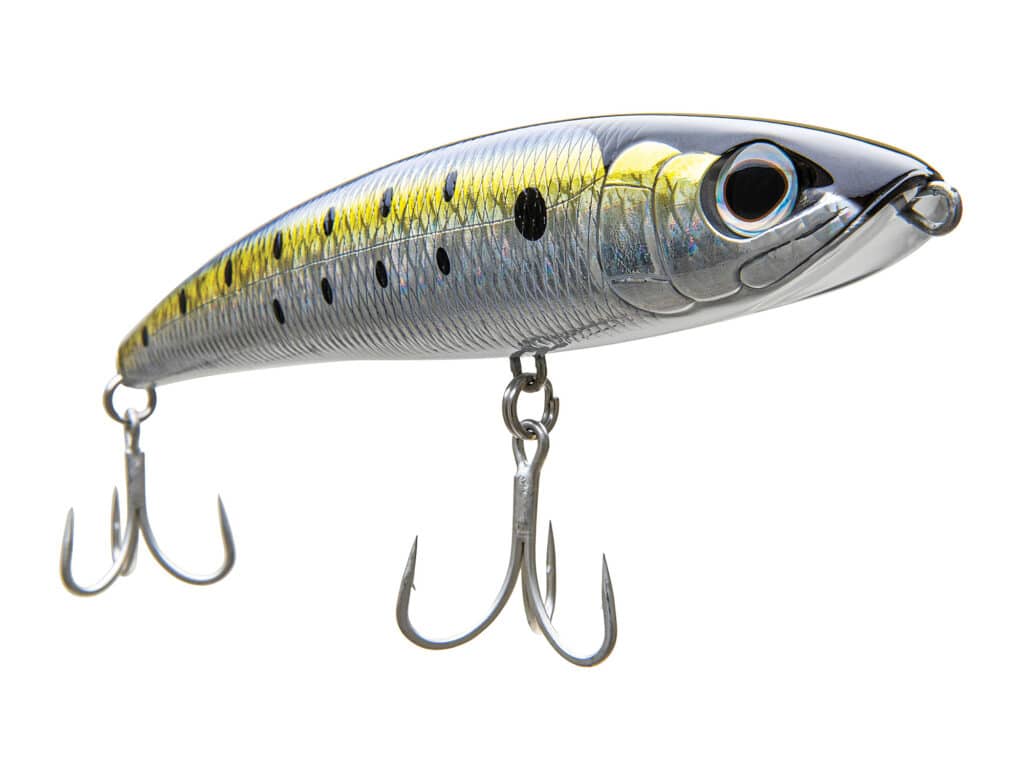 Courtesy Shimano
Shimano Current Sniper Splash Walk
You can slow down Shimano's Current Sniper Splash Walk to nearly a standstill and still get plenty of action out of the bait. Weighted at the tail, it sits nearly vertical until you start your retrieve. This is designed for the striper guys, with a variety of finishes mimicking Northeast baitfish, but I suspect it will work just about anywhere.
Courtesy Savage Gear
Savage Gear Panic Popper
I'm a topwater junkie, and the second-generation Savage Gear Panic Popper scratches the itch. This through-wire brute stretches the tape to 7.5 inches, though it seems much larger. It'll hold up to 120 pounds of pulling force, so don't hesitate to toss it into that foamer.
Courtesy Berkley
Berkley PowerBait Power Swimmer
When rain bait like sardines or spearing makes up the menu, Berkley's PowerBait Power Swimmer is just the ticket. The ridges push water to tickle lateral lines, and the enhanced flavor gets fish to bite. Rig it with a heavy-duty, extra-wide gap hook and pull it through the weeds, or outfit it with a jig head.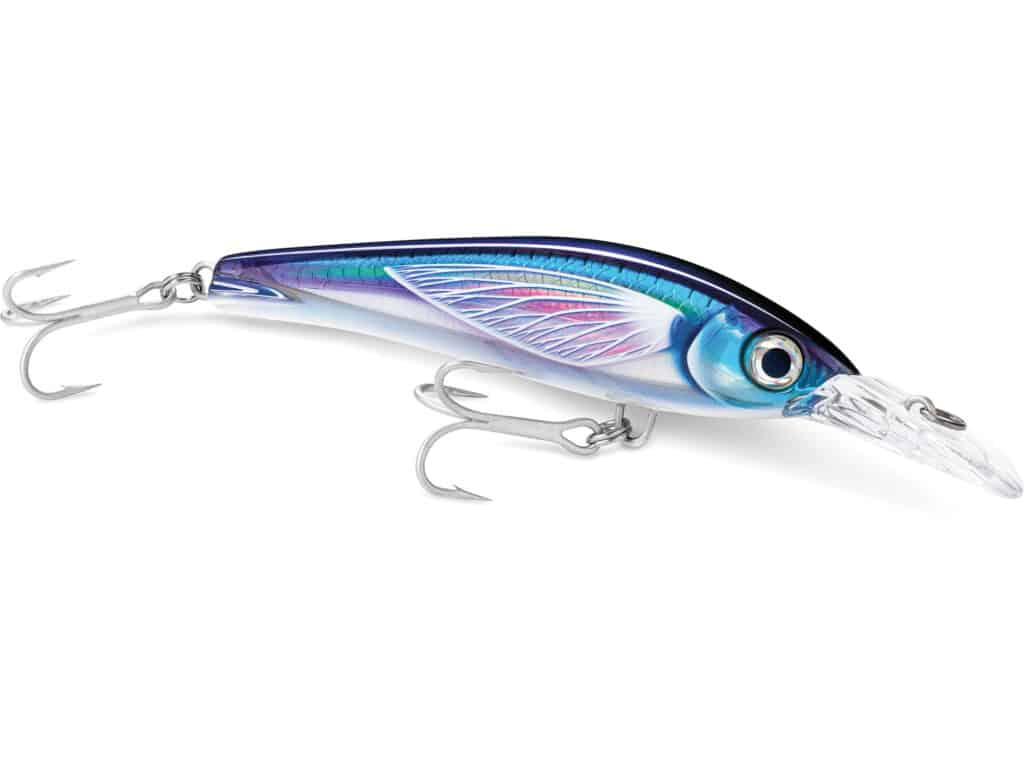 Courtesy Rapala
Rapala X-Rap Magnum Xtreme
If fast trolling is the key to your success, the tight rolling action of Rapala's X-Rap Magnum Xtreme gets fish to chew. Through-wire construction, heavy-duty split rings and 3X-strong treble hooks stand up to violent strikes, even at 15 knots. Add this one to the spread in one of its various finishes sure to match the local forage base.
Read Next: Crossovers: Bass Lures in the Salt
Courtesy Daiwa
Daiwa 23 Bull Steel
Vibe baits are taking the world by storm. I've long been a fan of blade-style baits, throwing freshwater Gay Blades and Binskys in the brine for early- and late-­season suspended stripers. But Daiwa's 23 Bull Steel is built for the bruisers that call the salt home, in sizes designed to get down deep. Cast or jig this one and hold on.