Joe Albanese
One of Zeiss' newest offerings, the SFL 40, offers fast-focusing capabilities in a lightweight frame that delivers the impeccable low light performance the company is known for. I tested a pair of the SFL 40 binoculars in the 8 x 40 configuration in some of the worst conditions the Northeast had to offer over the past several months. Here's how they stood up.
Zeiss SFL 40 Overview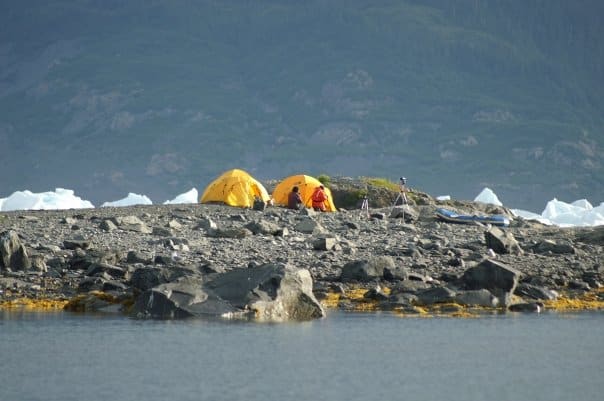 Joe Albanese
I've spent plenty of time peering through binoculars, thanks to my first career in wildlife management. In addition to surveys for marine mammals or other sea life, I also conducted predator watches and put together activity budgets for various species of waterfowl or seabirds. This would sometimes amount to 12 straight hours or more staring through magnified optics. I've had the opportunity to use a wide variety of glass from a wide a wide variety of manufacturers, from bargain basement to top of the line while in the field. I used that experience when evaluating the Zeiss SFL 40.
The SFL 40 is lightweight and nimble. They are slightly smaller than a typical full-sized 8 x 40 binocular, but still provide a handful, though they are lightweight enough to managed by a single hand. The lenses let in more than enough light to see breaking bait in the first rays of civil twilight or identify small songbirds flitting through a dense forest at dusk. They proved to be waterproof and durable, surviving encounters with freezing spray and a couple of falls onto the deck. Overall, they are one of the better binoculars I have ever used.
Light Weight
I have long been a fan of Zeiss' Victory SF models, but have always found them to be a touch on the heavy side. The new SFL series seems to remedy that, in part by shrinking the lens diameter a scant 2 mm. Though this minimal adjustment doesn't have much of an effect on the binocular's visual properties, it allowed Zeiss' engineers to utilize thinner lens elements, placed closer together. This reduced the weight of the SFL's by 13 percent when compared to the Victory SF line, and up to a third lighter than some of their competitors. I'm just guessing, but I think the shorter distance between optical elements also contributes to the fast focus characteristics.
The chassis of the SFL is comprised of magnesium, the same metal used to build racecar wheels. This makes them extremely durable, but maintains the rigidity needed to keep the optical elements aligned, even when getting bounced around on the high seas. Magnesium also seems to be less affected by temperature than aluminum, which should further help prevent fogging when transitioning from areas with differing temperatures, such as when going from below decks to sunny console.
In the field, these construction elements translated into a noticeable reduction in heft. The 8 x 40 model I tested weighed a little over 22 ounces, which is about what you'd expect a pair of premium 8 x 32s to weigh. I hardly noticed the SFLs strapped around my neck while chasing pods of bait off the Rockaways and looking for ducks over the winter. After a few minutes they seemed to disappear.
Find Fish Fast
Joe Albanese
Though I expected Zeiss' claims about the SmartFocus Concept built into the SFL series to be marketing hype, the new center focus wheel does seem to find clarity faster than the other binoculars in my stable. I can only guess that Zeiss used higher gearing to accomplish this, though I supposed their shortened geometry also plays a role. However it came about, these binoculars find focus quickly and intuitively, requiring only 1.4 turns from close focus to infinity.
I didn't have to take my hand off the boat's wheel to focus them, which was a boon when looking for signs of bait that came up out of nowhere before disappearing quickly. The focus wheel was easily operable even when wearing heavy, waterproof gloves stiffened by the dead of winter. And my finger seemed to find it intuitively, instinctively indexing the wheel when the binoculars were raised.
Low-Light Performance
Animals, fish included, are often most active during the crepuscular periods of dawn and dusk. But the accompanying low light can inhibit the use of magnified optics like binoculars. Each time light passes through a lens, some of it is lost. How much depends on the quality of the glass, and the coatings they are covered in. Zeiss' excellent lenses and their proprietary T* multicoating allows for as much as 90 percent of light transmitted through the optical array, with clear high-contrast images. This translated to crisp observations during the day's darkest periods.
Adverse Weather
Using binoculars through the depths of winter meant encountering a variety of tough conditions. Zeiss' hydrophobic LotuTec coating helped the lenses shed water fast, making it easy to see after encountering splashes or wind-driven rain. A nitrogen filling ensures that water stays outside the lenses, and prevents interior fogging. My vision remained clear, even during winter Nor'easters.
In the Hand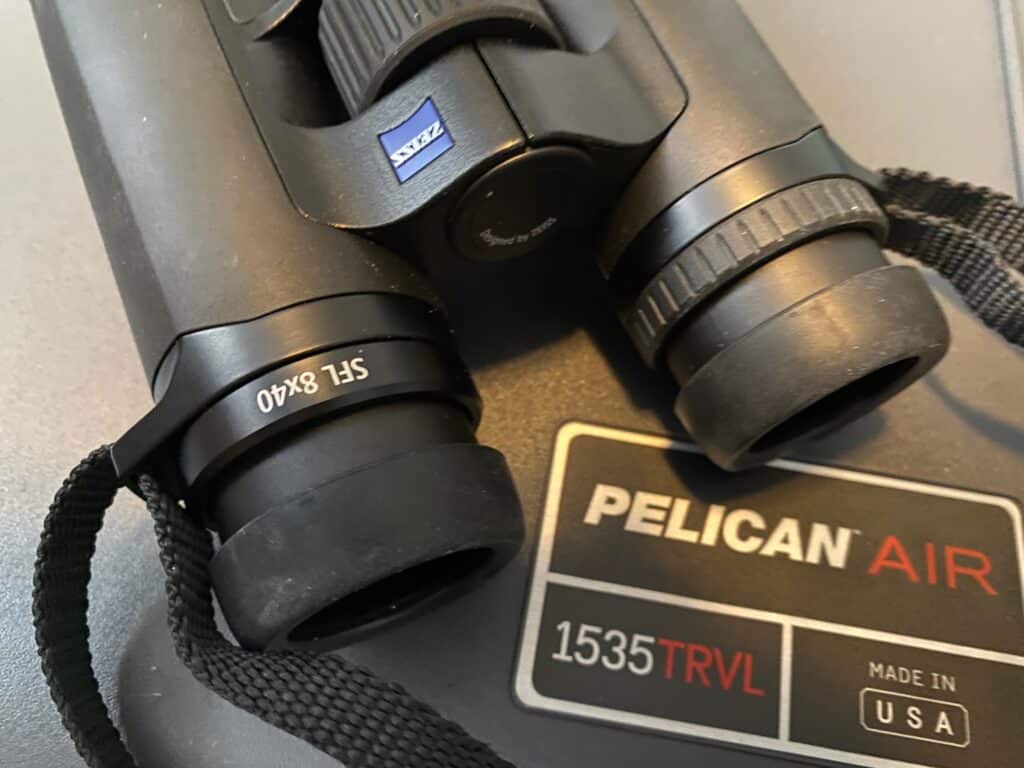 Joe Albanese
The shortened chassis and light weight contributed to the SFL 40's excellent ergonomics. The slightly smaller size is easier to maneuver, but still offers full-size performance. Excellent eyecups, combined with the binocular's large exit pupil, make for comfortable viewing even when running around at speed. I was able to set the eyecups at distances that worked with and without sunglasses. While they may not let quite as much light through as Zeiss' Victory HT series, they are about $1,000 less with an MSRP of $1,799, and seem to be every bit as durable. Overall, Zeiss' new SFL 8 x 40 is an excellent choice for fishing, boating, or birding.