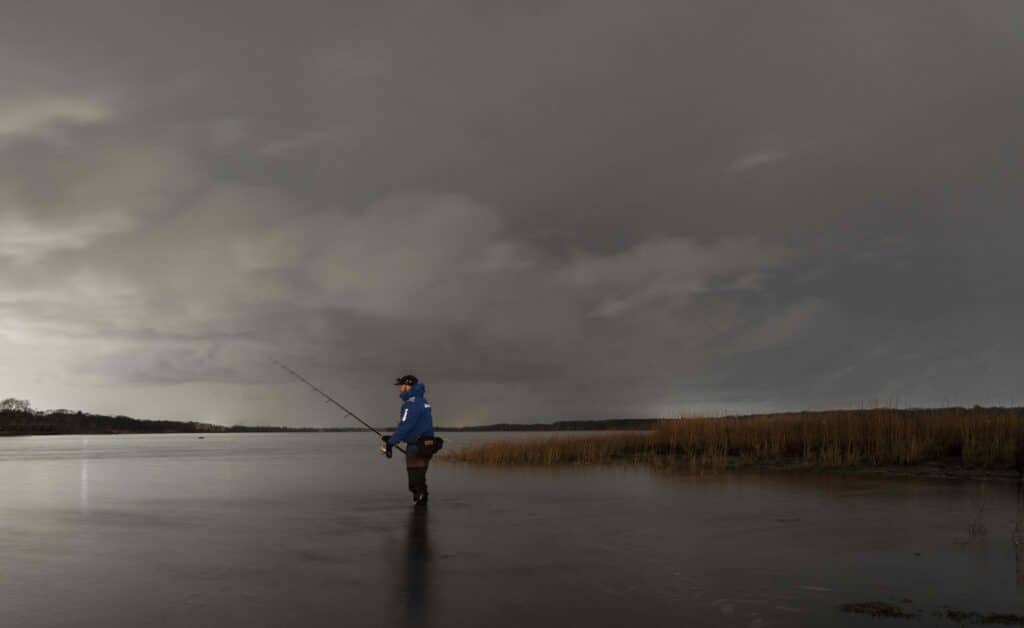 Jerry Audet
Back in the early 2000s, Simms introduced their original splash top. It was called the Surf Pullover, and it was revolutionary in its lightweight and extremely breathable design that still managed to be rugged and durable. Striped bass anglers in particular fell in love with the top, using it under some of the harshest and most extreme fishing conditions in the Northeast. However, anglers on both coasts used the top to keep them dry while fishing for everything from halibut to red drum.
As good as it was, the original top had some room for improvement. The high neck, while extremely dry, wasn't the most comfortable for some anglers. It also lacked a hood, which was one of the biggest complaints about the jacket. Further, the zippers for the front pockets were only water-resistant, not waterproof. They also could corrode in saltwater if you didn't rinse the jacket with freshwater after every trip.
Despite those complaints, the Surf Pullover was beloved by many. I still have a bright-orange version of the original jacket, and despite it being entirely worn out, I can't bring myself to discard it. I just love that thing so much! So you can imagine my excitement when I found out Simms was reintroducing a splash top, the Splash Cast jacket, with new materials and all-new features.
New and Improved Simms Splash Cast Jacket
Courtesy Simms
I got the new Splash Cast jacket at the end of the 2022 surf fishing season here in New England. My first inspection of the new top gave me a sense of relief. Whenever a company reintroduces an updated version of an already great product, it's always a bit nerve-wracking: Have they ruined or improved it? I could tell immediately that they hadn't gone backwards.
Right out of the gate, I could tell the material was extremely rugged, and the new jacket offered some improvements over the old version. It is built using Simms' three-layer Toray fabric, which is very tough, highly waterproof, and breathable. Upon trying it on, I was impressed with its more natural and comfortable fit compared with my old top. It felt more like a hooded sweatshirt and less like a kayak splash top. I appreciated that Simms kept it as a pullover, as a jacket with a zipper is never going to be as waterproof as one without.
Field Testing the Simms Splash Cast Jacket
Jerry Audet
Things looked pretty good standing in my office, but the real test is on the water. I first wore the top on a mild, very rainy, and extremely windy night, which offered the perfect chance to assess both breathability and water resistance. Over three hours of fishing in the rain, I was impressed by a few features I had initially missed.
First, the high neck is outstanding for protecting you from blowing rain. It can go up all the way to the bottom of your eyes, if you so choose. Combined with the massive hood that can be cinched down, the jacket provides a just a slit that you can look out, if that much protection is needed. I've never used any other fishing jacket equal in this regard.
The second great thing about the neck is that it has an inner and outer layer. When you unzip it, it removes the high collar, but there is still an inner layer that prevents water from running down your chest (which is adjustable as well). It also has drains between the collar and hood, so if water gets in, it doesn't accumulate at the back of your neck—a really thoughtful detail. I was really digging these features from the very first cast, which was made in the pouring rain.
As I hiked through a marsh later that night, I started to sweat. The top handled this pretty well, given the high humidity and the fact that the jacket's exterior was soaked. I wouldn't give it an A+ in this department, but perhaps an A-. While the jacket is plenty breathable, the ruggedness, and thickness, of the fabric likely affects how well moisture leaves the interior.
I think this is a good trade-off, as the fabric on this top is just insanely tough—it'll even turn away the point of big VMC trebles or Arex fly hooks. Thorns, brush, rocks, and even barnacles bounce right off it. You can stash flies or even soft-plastics on jig-heads in the front pocket and not worry about them stabbing through the jacket. I don't mind sacrificing a little bit of breathability to have it last a decade, as its predecessor did.
Speaking of that front pocket, I don't know how I didn't appreciate it when I tried it on at home. It's one of my favorite updates to the top, and one of my favorite features in general. The pocket is gigantic; you can fit a fly box, or a handful of jigs, or full-size leader spools in there. And the zipper closure is entirely waterproof. If you're getting nailed by waves, in the pouring rain, or deep wading to a rock in a place like Montauk, that inside pocket is going to stay dry. It's just awesome!
The top has a few other features I found useful. The waist cinch keeps it in place, and I never had to adjust it. The wrist cuffs are solid, though I've never really worried too much about that personally. Finally—and most importantly—the top is flexible enough to not hinder movement when you're casting. After I got over how much I loved the high neck and the front pocket, and focused on fishing, I forgot I was even wearing it. That is the mark of a good top.
Later in the season, I got to test the top out a few more times in extremely cold (less than 35 degrees Fahrenheit) but dry weather. Despite the top being comfortable with just a T-shirt, I also had no problem fitting several wool layers and a thick fleece under it. While those layers will inevitably impact casting, the surf top did not contribute any further to the reduction in range of motion. I was frankly a bit surprised that it felt so natural with all these layers on, given how well it also performed with just the T-shirt.
Who is the Simms Splash Cast Jacket For?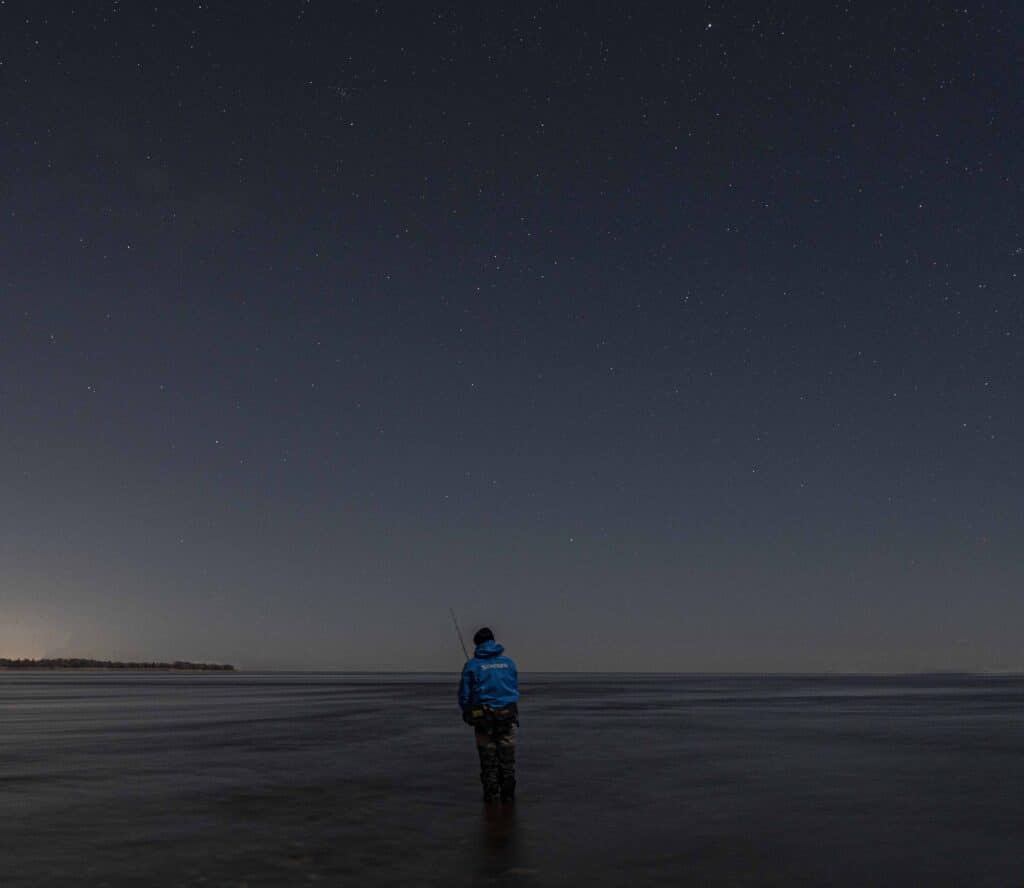 Jerry Audet
I think the Splash Cast jacket will serve a few different groups. First and foremost, there is no better option for a shore-based angler looking for a splash- and rain-proof top to wear over waders or in combination with bibs. Kayak anglers will also love it. The design is a bit less confining than many other paddling splash tops, and the neck design will appeal to all-weather anglers and paddlers. I can see it having a place for big-river fisherman in very rainy areas as well, as it makes a great deep-wading top.
The fitted nature of the top, lack of a full-length front zipper, and well-sealed cuffs and neck mean if you fall in the deep water it could actually keep your waders from filling—a nice safety bonus. The old version allowed you to float long enough to get your feet back under you if you got knocked over; this one should perform similarly. That should perk up the ears of shore-based saltwater anglers everywhere!
The only caveat is that I wouldn't want to be walking long distances in summer with it on. The "sealed up" design, coupled with the rugged fabric used in its construction, make it better suited to cool temperatures. It's probably best to avoid wearing it when it gets above the 70s; or maybe carry it to your destination and put it on before you wade out into the water.
The combination of durability, waterproofing, breathability, and fit is in a class by itself. Overall, I highly recommend the Simms Splash Cast jacket. You'll find me wearing it often in my forays up and down the east coast in the 2023 fishing season.