In every issue of Salt Water Sportsman_, we do our best to give you a glimpse of new products, including clothing, footwear, boat accessories and more. This month, we have greatly expanded our new gear section to showcase the tackle that debuted at ICAST, the International Convention of Allied Sportfishing Trades, in July. So take a good look through the next several pages for a preview of the most innovative tackle for the coming season._
The 20 and 25 are two new models that have been added to Fin-Nor's Sportfisher series. The new reels include all the popular features of the Sportfisher line in a compact lever-drag version. A solid piece of aluminum makes up the frame, and the gears are made from bronze and stainless steel. An oversize ergonomic reel handle allows anglers a solid grip while cranking, and the frame is fitted with large, heavy-duty lugs for when it's necessary to strap on a harness.
Size: SLD 20 and 25
Capacity: SLD 20, 460 yards of 30-pound mono; SLD 25, 350 yards of 50-pound mono
Ratio: 4.1:1
Features: Heavy-duty drag that locks down to 24 pounds and advanced stainless-steel components
Contact: www.finnorfishing.com
The new Penn Torque star-drag reels have a slightly different look than conventional trolling models. The star drag is located right on the reel handle. This gives an angler easy access, enabling drag adjustments during the fight. The machined-aluminum body features a truss-rod design. Side plates are corrosion-resistant, lightweight and strong. Inside, there are seven stainless-steel bearings, plus an instant anti-reverse bearing with a silent backup ratchet. The addition of the live-spindle design allows the spool to spin independently, which means that this reel is castable in free-spool mode.
Size: TRQ 12, 15, 25, 30 and 40
Capacity: TRQ 12, 360 yards of 10-pound mono; TRQ 15, 320 yards of 12-pound mono; TRQ 25, 320 yards of 20-pound mono; TRQ 30, 440 yards of 20-pound mono; TRQ 40, 350 yards of 30-pound mono
Ratio: TRQ 12 and 15, 6.0:1; TRQ 25, 5.4:1; TRQ 30 and 40, 4.8:1
Drag: Versa-Drag
Contact: www.pennreels.com
The popular Saltiga line of tackle from Daiwa has moved into a new area of performance with two-speed and hyperfast single-speed lever-drag reels. The two-speed version allows fast transitions between high-power and high-speed winding at the touch of a finger. The single-speed models pick up line at an astounding rate. With gear ratios of up to 7.3-to-1, these reels allow anglers to pull as much as 52 inches of line back on the spool with only one revolution of the handle. Daiwa's Ultimate Tournament carbon drag system is sealed to prevent water entry even while the gears are engaged.
Size: Two-speed and Hyper-Speed in 20, 30, 35, 40 and 50
Drag: Daiwa's Ultimate Tournament carbon drag
Features: Sealed drag case that prevents water entry while gears are engaged, helical stainless-steel gearing anchored within a rigid machined-aluminum frame
Contact: www.daiwa.com
For the past seven years, Cabo PT reels have been some of Quantum's more popular saltwater reels. This year, the engineers have made several significant changes. One major improvement is the removal of copper from the frame, which is now a corrosion-resistant aluminum alloy that decreases weight and adds strength. In addition, the handle is a single piece of solid stainless steel, and a new line slider allows for smooth transitions of line to spool. The anti-reverse clutch seal is nickel-plated for additional durability.
Size: CSP 30, 40, 50, 60 and 80
Capacity: CSP 30 and 40, 5.2:1; CSP 50, 60 and 80, 4.9:1
Ratio: CSP 30, 160 yards of 8-pound mono; CSP 40, 230 yards of 10-pound mono; CSP 50, 225 yards of 12-pound mono; CSP 60, 240 yards of 14-pound mono; and CSP 80, 330 yards of 20-pound mono
Features: Hard-chromed stainless-steel center shaft, aluminum frame and side cover, and sealed Quantum Performance Tuned bearings
Contact: www.quantumfishing.com
The Shimano Trinidad, the classic star-drag reel already familiar to many anglers, has received a face-lift this year. The new Trinidads incorporate Shimano's X-Ship system, which allows the gears to work more efficiently. In addition, these reels have been E.I.-treated for durability and corrosion resistance. Most notable is the overall size of each reel. A smaller frame, a one-piece cold-forged machined-aluminum side plate and a MagnumLite spool make each reel much more compact and lightweight.
Size: 10A, 12A, 14A, 16NA (narrow spool), 16A, 20A and 30A
Drag: Dartainium II woven carbon-fiber drag
Capacity: 10A, 245 yards of 30-pound braid; 12A, 280 yards of 40-pound braid; 14A, 375 yards of 40-pound braid; 16NA, 370 yards of 50-pound braid; 16A, 530 yards of 50-pound braid; 20A, 710 yards of 50-pound braid; and 30A, 1,015 yards of 50-pound braid
Features: Adjustable-handle shank and lightweight ergonomic-handle knob
**Contact: **www.shimano.com
When the engineers at Abu Garcia designed the new Ambassadeur Alphamar round reel, corrosion resistance and reliability were two factors they wanted to get right. A one-piece X-Craftic aluminum-alloy frame gives this reel full protection from salt water, and a carbon-matrix drag allows anglers a wide range of settings, all the way up to 27 pounds. In addition, the Alphamar contains Duragear brass gears and an anti-distortion spool for doing battle with heavy fish. Note: The Alphamar is available in right-hand-retrieve models only.
Size: Models 12, 16 and 20
Drag: Carbon matrix
Capacity: Model 12, 290 yards of 17-pound mono; model 16, 335 yards of 17-pound mono; and model 20, 430 yards of 17-pound mono
Ratio: 4.3:1
Contact: www.abugarcia.com
The trend in reel design seems to be a reduction in size without sacrificing power and strength. The Andros from Okuma follows that trend. This two-speed lever-drag reel is a great choice when you're targeting big fish on small tackle. The frame, side plates and spool are all constructed from machined aluminum. On the inside, six ABEC-5-rated EZO Japanese ball bearings and grade 17-4 stainless-steel helical-cut gears work with a wet Carbonite drag system that, in strike mode, delivers a maximum of 15 pounds of pressure. Set to full drag, the reel can take up to 24 pounds of drag.
Size: A-5II
Drag: Wet Carbonite drag system
Capacity: 340 yards of 20-pound-test mono
Ratio: 6.4:1 and 3.8:1
Features: External, adjustable cast-control system; one-screw right side-plate takedown for internal access; and integrated, recessed reel foot for low-profile rod fit
Contact: www.okumafishing.com
Designed to dominate the toughest trophy striped bass, but just as  effective on any big fish in the most demanding conditions, the new ZX2 series from ZeeBaaS is durable, lightweight and powerful. Reels in the series are made from aerospace-grade billet aluminum, 6AL-4V titanium and 304/316 marine-grade stainless steel. Inside, spiral-beveled stainless-steel gears make for smooth and efficient pickup of lots of line, fast. The ZX2 uses two sealed drag plates in the spool, as well as carbon-fiber woven materials, to create a highly sensitive, easily adjustable system.
Size: 20, 22, 25 and 27
Construction: Machined-aluminum frame, spool and rotor
Color: Silver and black
Drag: Sealed carbon-fiber plates inside the spool
Features: Addition of a full bail system
Contact: www.zeebass.com
New from Daiwa are 23 models of Saltiga jigging and general-purpose boat rods featuring Glatech construction. Glatech is a method Daiwa is using that sandwiches unidirectional strands of fiberglass between 90-degree inner and outer layers of graphite all the way from the tip to the butt of the rod. The end result is an extremely tough blank that maintains a powerful backbone that has the ability to lift, control and move strong fish. Rods in this series are available in both spinning and conventional models.
Construction: Glatech blank construction
Components: Fuji silicon-nitride guides on conventional models and Fuji Hardloy guides on spinning models
Features: Padded butt cap and EVA grips on 6- and 612-foot jigging models and nylon gimbals on other jigging models
Contact: www.daiwa.com
The brand-new Shimano Terez series of spinning and conventional rods covers just about any fishing situation you could find in salt water. In total, the series includes 15 conventional and nine spinning rods, which are offered in various lengths and actions. In addition, there are nine models that were designed specifically to fish Shimano's Waxwing lures. Terez blanks are constructed of TC4, a glass-graphite composite that allows for a small-diameter rod that is durable and crisp yet lightweight and sensitive.
Construction: TC4 blank construction, a process that wraps a double inner, horizontal layer of T-glass with an inner and outer spiral layer of high-modulus graphite
Components: Custom grips, custom aluminum reel seats and tangle-free stainless-alconite Fuji TK style guides
Features: Available in five prominent boat-hull colors – Aqua, Emerald Green, Fighting Lady Yellow, Pearl White and Sunset Red
Contact: www.shimano.com

St. Croix's latest introduction, the Legend Salt Offshore series of rods, incorporates SC graphite construction and was designed using St. Croix's signature Integrated Poly Curve. This technology allows a continuous-curve taper that is absent of any abrupt transition points. The rods are internally strengthened with Advanced Reinforcing Technology, which adds neither  bulk nor weight. Finally, the blanks are thermofused with 3M Matrix Resin. The end result of all this cutting-edge technology is rods that are ready to do battle over and over with the toughest fish in the ocean.
Construction: SC graphite
Components: Fuji HB saltwater guides on conventional models and Fuji MN saltwater guides on spinning models; marine-grade aluminum reel seats on all models
Features: Marine-grade aluminum gimbals with hard-anodized finish, a high-density-nylon slick butt and an EVA foregrip
Contact: www.stcroixrods.com
Because surf-casters need to be able to cast beyond the breakers all day long without tiring, Penn has created a powerful new line of surf rods that are beefy enough to make bombing casts yet lightweight enough so you won't be worn out after a full day of fishing. The new Torque Surf Series rods are  built on 100 percent graphite blanks designed to be thinner and lighter than traditional surf rods. Torque Rod Construction means the extra-strong graphite core of the blanks is spiral-wrapped.
Size: Spinning models available in 8, 9, 10, 11 and 12 feet; bait-cast models available in 10, 11 and 12 feet
Construction: Graphite using Torque Rod Construction
Components: Pac Bay stainless-steel guides, Fuji reel seat and cork tape grip
Contact: www.pennreels.com
All anglers have seen times when game fish key in on a particular bait and ignore everything else. When your quarry focuses on small baits, show them one of Spro's new BBZ-1 Baby Shad swimbaits. These lures are only 212 inches long but are broken in three places to create a swimming action identical to a small fleeing baitfish. They come in a variety of colors to match just about any type of bait and can be fished fast near the surface or slower and lower in the water column.
Size: 212 inches, 12 ounce, with a sink rate of 1 foot per second
Action: Swimming or fleeing baitfish
Color: Herring, Killer Gill, Natural Shad, Rainbow Trout, Silver Fish, Sexy Lavender Shad and Wicked Perch
Features: 3-D holographic eyes and a Gamakatsu RB NSB No. 8 treble hook (the hook can easily be replaced with a slightly larger one for larger fish)
Contact: www.spro.com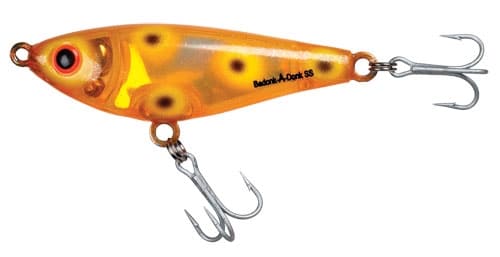 Hard topwater baits like the Bomber Saltwater Grade Badonk-A-Donk are deadly when fish are aggressively feeding on the surface. This year, Bomber is releasing the Badonk-A-Donk SS (slow-sinking), which at first glance looks like a scaled-down version, but a little deeper examination will reveal some notable differences. The Badonk-A-Donk SS has a sink rate of one to two feet per second. Its inside is built around an even weighting system and an isolated rattle chamber made in a way that allows the lure to fall naturally. This versatile lure fishes effectively with a couple of different retrieves. It can actually be fished subsurface in a walk-the-dog fashion or with a simple, steady retrieve.
Size: 212 inches, 12 ounce
Construction: Hard bait
Action: Walk-the-dog
Features: Heavy-duty No. 5 saltwater-grade trebles, hardware and components
Contact: www.bombersaltwatergrade.com
Jigging can be an effective way to entice tasty bottom-dwelling fish, and Williamson Lures' new Jigging Skarpsilda, a traditional Nordic-design jig with a classic baitfish profile, can help you fill the fish box fast. Deploy the Jigging Skarpsilda, and you'll get bit on drops as well as on the retrieve. When jigged, the lure moves through the water column with a wide sweeping motion to mimic a herring. Holographic 3-D eyes and reflective finish make it extra appetizing.
Size: 100, 150, 200 and 250 grams
Action: Wide sweeps when jigged
Components: Extra-strong VMC treble hook
Color: Black Silver, Blue Mackerel, Blue Pink Sardine, Chartreuse Glow, Green Mackerel, Pink Pearl, Purple Blue and Red Head
Contact: www.williamsonlures.com
Soft-baits are traditional inshore favorites, but Hogy realizes they can be just as effective in blue-water situations as they are in the backcountry. The Blue Max series from Hogy offers a soft-plastic lure that pairs seductive soft-bait action with the alluring characteristics of an offshore trolling head. The combo makes for a deadly skirted soft-bait that can be trolled at a variety of speeds and is a great imitator of a variety of offshore baits.
Size: 1-ounce, 10-inch and 3-ounce, 13-inch combinations in single and daisy-chain models
Construction: Soft plastic with a trolling skirt
Color: Bubble Gum, Bone, Smoke and Blurple (black-and-purple)
Features: Hook stopper to minimize spinning while trolling
Contact: www.hogylures.com
While live bait yields undeniable results, soft-plastic lures can rack up big numbers and big fish as well. When you want live-bait results from an artificial lure, try one of Z-Man's new Scented BaitZ. Each bait in this series is infused with oils and gels that are made from real baitfish to provide a completely natural scent. Z-Man's proprietary ElaZtech material absorbs, retains and releases these scents into the water. The ElaZtech material is highly durable and able to withstand repeated strikes.
Size: Jerk ShadZ, 5 inches; ShrimpZ, 3 inches; and CrabZ, 3 inches
Construction: ElaZtech plastic, which is up to 10 times tougher than other soft-bait materials
Action: Lures can be fished many different ways by adding weight and varying the retrieve
Contact: www.zmanfishing.com
The Clackin' Minnow is one of Rapala's latest creations and combines the best features of several proven lures. This baitfish imitator takes characteristics from the Clackin' Rap, the X-Rap and the Flat Rap, three Rapala classics, and has been designed for long casts. Upon retrieve, the Clackin' Minnow darts from side to side with a small twitching action, or anglers can simply apply a steady retrieve, and the lure will take care of the rest.
Size: Size 09, 312 inches, 716 ounce, runs 3 to 4 feet deep; size 11, 438 inches, 34 ounce, runs 4 to 5 feet deep
Construction: Hard plastic
Action: **Steady or darting action, depending on retrieve
**Features: Stainless-steel rattle that transmits vibrations through the water; VMC Sure Set and VMC Round Bend treble hooks included
Contact: www.rapala.com
Yo-Zuri has added four colors to their already popular series of Crystal Minnows. New to the lineup are  Bunker Flash, Mullet Flash (shown), Blueback Herring and Bleeding Redhead. With the additional four colors, the Crystal Minnow series should now have a color to match just about any baitfish that fish are keying in on. Crystal Minnows are available in floating, suspending and sinking varieties and have rattles incorporated. Anglers can fish them effectively by twitching them on the surface, pausing and jerking, casting and retrieving, or even trolling.
Size: Floating Minnow, 312 inches, 38 ounce; Jerkbait, 312 inches, 716 ounce; and Pencil, 4 inches, 58 ounce
Construction: Hard bait
Features: Sashimi color-changing technology
Contact: www.yo-zuri.com
One of Sebile's latest creations is a member of the Flatt Shad family, a new snagless, lipless crankbait that can get in and around subsurface vegetation and structure without hanging up. The bait swims right to left very quickly, even on a slow retrieve. Because it is constantly switching directions, it deflects debris more effectively than traditional crankbaits. The double-hook design also contributes to the snagless qualities of the lure.
Size: 12-ounce sinking and 34-ounce heavy-sinking
Action: Rapid side-to-side swimming
Color: Matte Brown, Holo Greenie, Gold Holo, Hot Lime, Natural Bluegill and Silver Liner
Features: Custom-designed double hook by Sebile, free-swinging feather on the tail and large 3-D holographic eyes
Contact: www.sebileusa.com
Hard-core anglers who fish even when weather and sea conditions are less than favorable need to have a rugged tackle-storage system on board. Plano's FTO Elite Hydro-Flo 4849 bag is designed to keep tackle portable and ready for instant access. Even more importantly, this tackle system keeps your gear protected, thanks to durable water-resistant materials and a cover that acts as a raincoat to the whole setup.
Size: 21″ x 13″ x 12″
Includes: Five ProLatch StowAway boxes sized for the 4849
Features: Rigid base engineered to allow water to flow through and drain away; extra pockets on the front, back and ends, plus an extendable back pocket
Contact: www.planomolding.com
Sufix has partnered with Gore, the maker of Gore-Tex fabrics, to create a new fishing-line series called the 832. Sufix went to Gore in hopes of combining its new R8 Precision Braiding technology with Gore's expertise in advanced materials. The 832 line comprises three technical elements: Dyneema fibers keep the line small and strong; Gore Performance Fibers add abrasion resistance and vibration reduction; and the R8 Precision Braiding gives durability, body and consistency to the line.
Size: 6-, 10-, 20-, 30-, 40-, 50-, 65- and 80-pound-test
Construction: Dyneema fibers and Gore Performance Fibers
Features: R8 Precision Braiding technology
Contact: www.sufix.com
Sometimes tuning a lure properly means replacing the hooks. Other times, the hooks on a killer lure may become damaged or broken. With this in mind, Mustad has introduced the Kevin VanDam Elite Triple Grip treble hook, specially designed as a replacement hook. While VanDam spends virtually all of his time in fresh water, the replacement hook that he's had a hand in designing works great for saltwater applications. Each point on the treble has an extra-large gape, allowing more hookups, and a bend designed to keep fish on once hooked. The size 2X short shank is beefy enough to hold its shape under lots of pressure.
Size: 1, 2, 4, 6, 8, 1/0, 2/0, 3/0 and 4/0
Features: 1X strong wire, wide hook gape, short shank and chemically sharpened points
**Contact: **www.mustad.no