Courtesy Best Marine Electronics
Welcome to the third-annual Best Elex Awards, which honor innovative marine electronics and technology products that have been reviewed and approved by the editorial team behind the four leading titles in marine media: Boating, Yachting, Cruising World and Salt Water Sportsman. At the first of the year, the nominees were evaluated by our team of eight judges, including the editors-in-chief and electronics editors of the aforementioned brands. In the end, seven products set themselves apart. And the winners are:
Editors' Choice: KVH TracNet
Leading Edge Technology: Simrad Halo 2000/3000
Best in Navigation: Garmin Navionics+
Best Integrated System: Lowrance HDS Pro w/ Active Imaging/ActiveTarget 2
Most Innovative for Fishing: Furuno TZtouch3 w/ CHIRP Side-Scan Technology
Best in Sonar: Garmin LiveScope XR
Best in Entertainment: Kicker KMXL
Editors' Choice: KVH TracNet Hybrid Antennas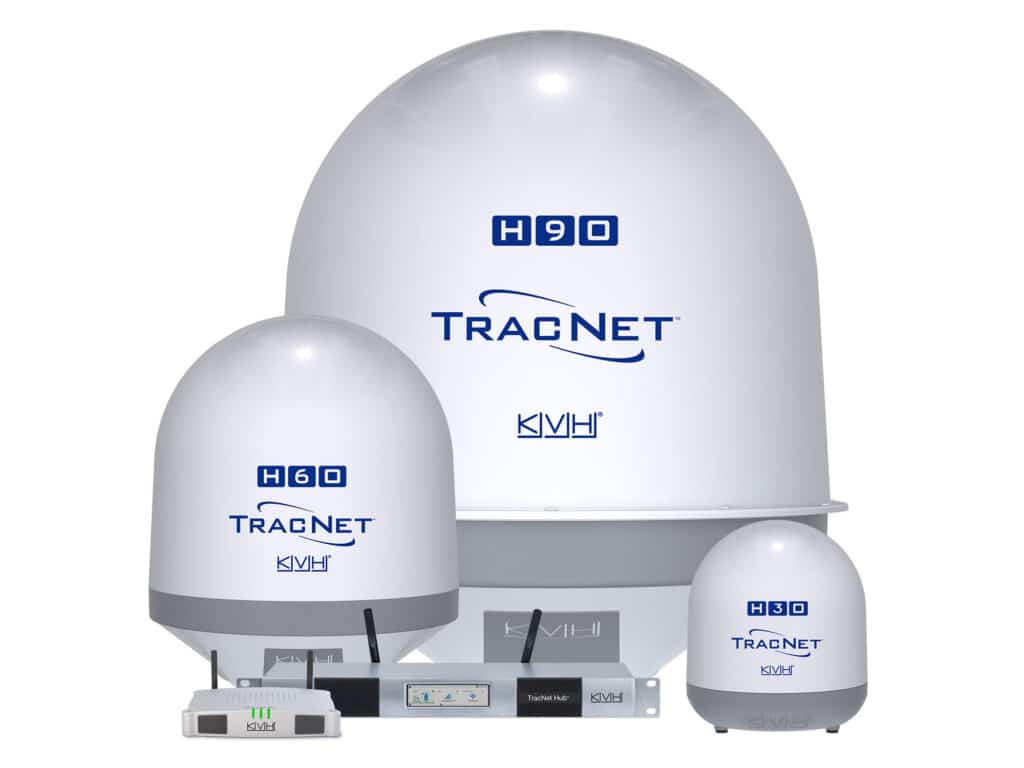 Courtesy KVH
What the Judges Said: "The most impressive feature is the antennas' ability to seamlessly jump between cellular, Wi-Fi and VSAT networks, all with the lowest-cost routing and user experience in mind." —David Schmidt, electronics editor, Yachting
Two of our eight judges gave KVH's TracNet system perfect scores. And what's not to like? This new system for onboard connectivity just might be as seamless as the internet setup in your home. And it doesn't require an assortment of disparate parts, complicated connections and multiple bills. TracNet combines satellite, cellular and Wi-Fi under one dome. The system features automatic switching to keep boats connected using the best communication option at all times—without the need for hands-on tuning. The H30 ($18,995), H60 ($27,995) and H90 ($44,995) antennas match boats of 30, 60 and 90 feet, respectively. Paired to a belowdecks unit using an Ethernet power-over-coaxial cable, the H90 can deliver VSAT download speeds as fast as 40 Mbps (with Elite service). Boaters can also expect support for 5G/LTE cellular service where available, as well as the ability to add user-supplied SIM cards for local service. TracNet connects to shore-based Wi-Fi using an integrated bridge for additional speed.
Leading Edge Technology: Simrad Halo 2000/3000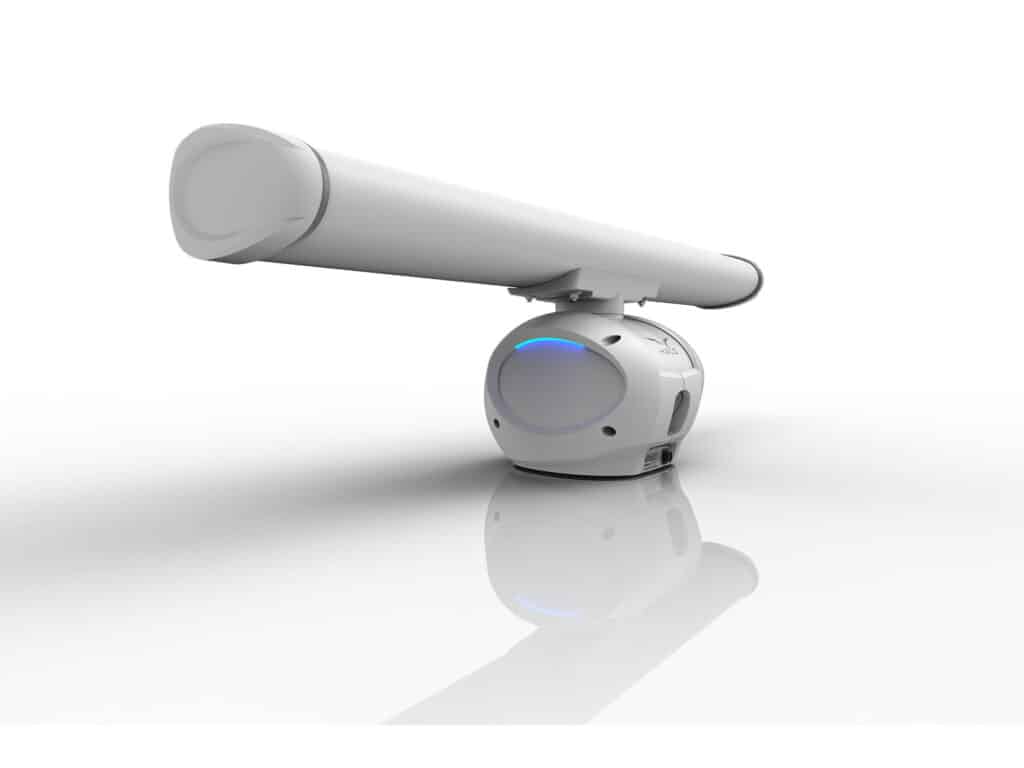 Courtesy Simrad
What the Judges Said: "Veteran anglers have long sworn by power-hungry magnetron radars, scorning the advent of pulse-compression radars, for finding flocks of seabirds. But now there's a pulse-compression radar that may change some minds." —Jim Hendricks, electronics editor, Salt Water Sportsman and Boating
All the judges commented on the Simrad Halo 3000 Bird+ mode, labeling it innovative and a problem solver. In that mode, the open-array radar focuses all its juice toward finding birds for fishermen. It can reach out to 8 nautical miles, while other pulse-compression units might see flyers at 3 miles. Halo 3000 is available in 4- and 6-foot arrays, and delivers 130 watts for seeing out to 96 nautical miles. Its smaller sister, Halo 2000, is available in 3-, 4- and 6-foot arrays, and offers 50 watts of power for visibility to 72 nautical miles. Both arrays are equipped with ZoneTrack, which allows captains to track up to 50 vessels. Dangerous Target Alerts highlight the range, bearing and heading of other vessels. VelocityTrack shows color-coded targets to help identify threats. Halo 2000 starts at $6,399; the 3000 starts at $8,499.
Best in Navigation: Garmin Navionics+
Courtesy Garmin
What the Judges Said: "The big excitement for me is that Garmin has finally combined two excellent products into a single, intuitive interface. Throw in automatic daily updates, and the end user is the real winner here." —Andrew Parkinson, editor-in-chief, Cruising World
When Garmin purchased marine-chart powerhouse Navionics about six years ago, boaters loved the idea of the two joining forces and the prospect of new navigational tools. And while the evolution took a little time, the process has come full circle with Garmin Navionics+. The all-in-one mapping solution features advanced autorouting, depth-range shading, vibrant colors, a streamlined interface, combined coastal and inland content plus a one-year subscription to daily chart updates through the ActiveCaptain app. Boaters can upgrade to Garmin Navionics Vision+ to add high-resolution relief shading, high-res satellite imagery, aerial photos and more. The charts come preloaded on a variety of new Garmin chart plotters and can be purchased online. Starting prices range from $149.99 to $249.99.
Best Integrated System: Lowrance HDS Pro w/Active Imaging/ActiveTarget 2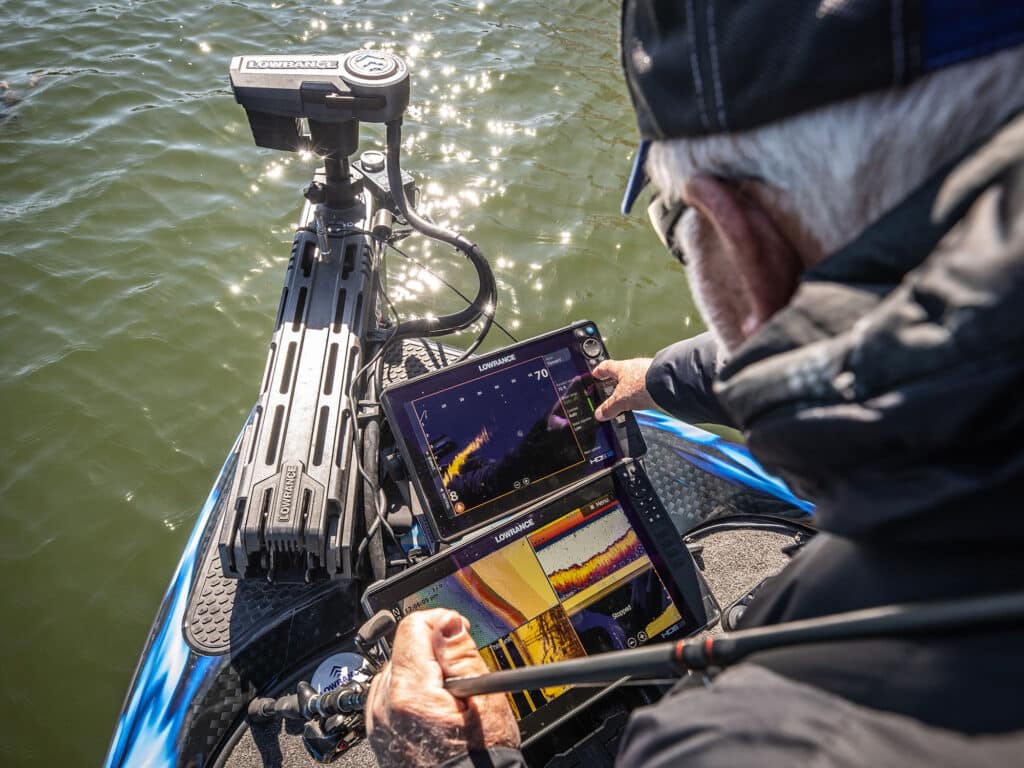 Courtesy Lowrance
What the Judges Said: "HDS Pro delivers full ­networking with bow-to-stern boat control as well as compatibility with Lowrance's latest live sonar—ActiveTarget 2—and the second generation of Active Imaging. That's a lot of capability in one package." —Chris Woodward, editor, Best Marine Electronics and Technology
How many features can you fit into one new multifunction display? If you ask Lowrance, the list appears to be near endless. With its latest system, Lowrance launches the HDS Pro line of multifunction displays, as well as increases the functionality of its side- and down-scan imaging and live sonar. The 1 kW-capable HDS Pro units also deliver full control of trolling motors, autopilots, engines, radar, communications and Power-Pole shallow-water anchors. The MFDs are available with 9-, 10-, 12- or 16-inch SolarMAX IPS HD touchscreens and cost $2,199 to $4,999. The ActiveTarget 2 Live Sonar module and transducer cost $1,649; the module alone costs $799, and the transducer alone costs $1,099. Active Imaging 3-in-1 transducers for Lowrance Ghost trolling motors or transoms cost $399 to $449.
Most Innovative for Fishing: Furuno TZtouch3 w/Chirp Side-Scan Technology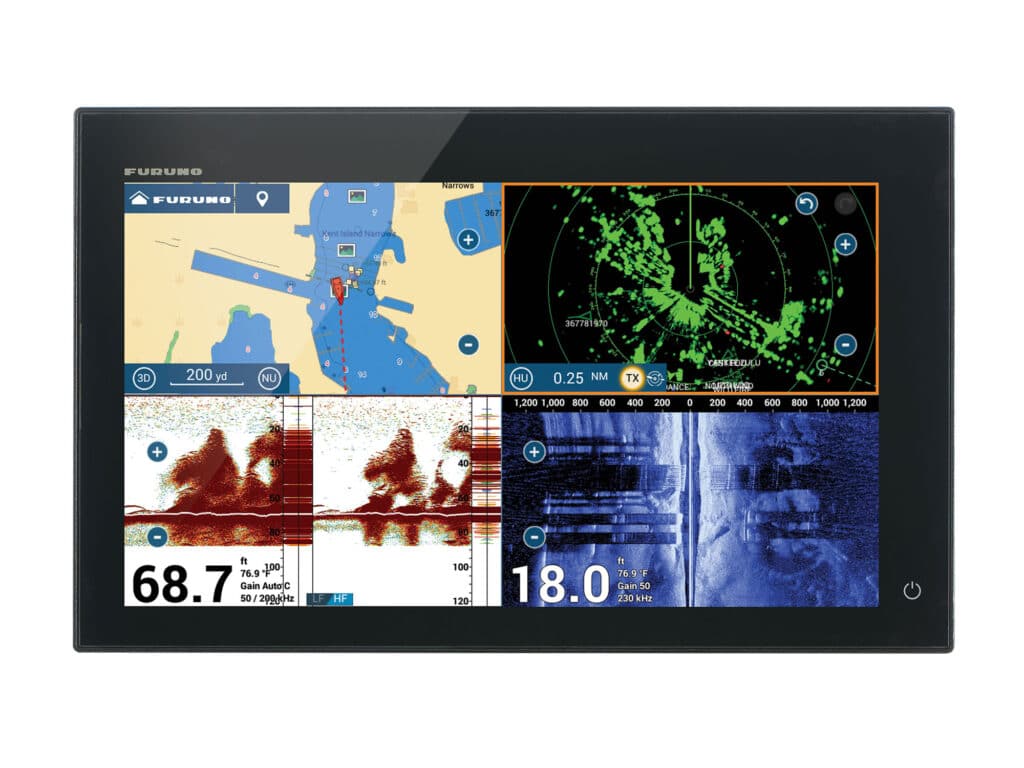 Courtesy Furuno
What the Judges Said: "Low-frequency side-scan sonar opens this more-traditional freshwater and inshore-­saltwater product category to offshore fishermen, enabling them to spot fish hundreds of feet away." —Randy Vance, editor-at-large, Fishing and Marine Group
Side-scan sonar helps anglers see under docks and into submerged trees and weeds, right? Yes, but that's not all it can do, and offshore fishermen have long wanted a piece of the action. With Furuno's latest software update, TZtouch3 users can see structure and fish 750 feet or more off each side of their vessels. Cruisers too can leverage that to find a safe path through coral reefs. To reach that distance, Furuno scans the water at a lower frequency (220 to 240 kHz) than other side-scan sonar brands. While lower-frequency chirps don't deliver the same crisp returns as higher-frequency transmissions, this new technology aids anglers hoping to find new bottom structure, and yachtsman and sailors hoping to avoid hazards. The software update is free; the transducer costs $900.
Best in Sonar: Garmin LiveScope XR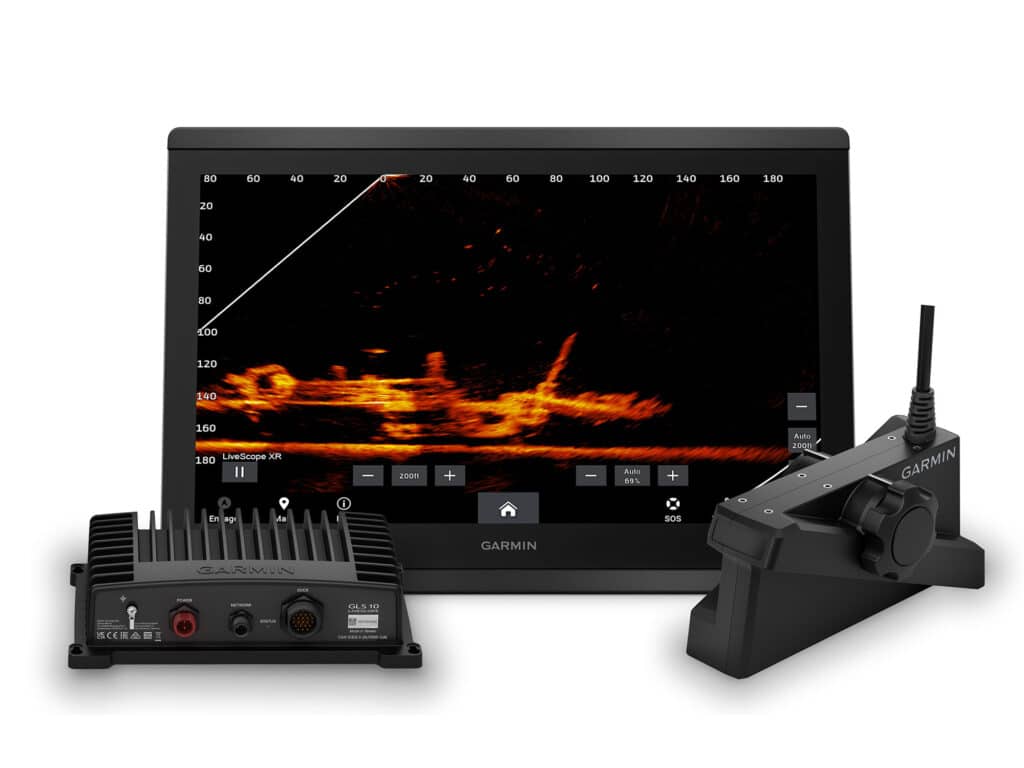 Courtesy Garmin
What the Judges Said: "Everyone likes a product that can address multiple tasks well, and Garmin's LiveScope XR does just that. With a single transducer, the user has the ability to adjust the system to see forward, out to the sides or directly beneath a vessel's hull." —Patrick Sciacca, editor-in-chief, Yachting
Like side-scan sonar, live sonar initially catered to freshwater and inshore boaters and anglers. But with LiveScope XR, Garmin delivers real-time videolike sonar from lakes out to blue water. In fresh water, LiveScope XR can see up to 500 feet in front of or below the boat; in salt water, that range is 350 feet. The system offers image clarity at close and long ranges simultaneously. The LVS62 transducer can be pointed forward or down manually or turned sideways with the included Perspective Mode Mount. The system includes a GLS 10 black box that mounts beneath a console. With a free software update, the transducer (sold separately) can be added to an existing LiveScope black box. The full system costs $2,999.99; the LVS62 alone costs $2,499.99.
Best in Entertainment: Kicker KMXL
Courtesy Kicker
What the Judges Said: "Kicker is truly working hard to deliver great sound in the audio-unfriendly environment that is a boat." —Kevin Falvey, editor-in-chief, Boating
Innovative was the adjective most commonly used by our judges to describe Kicker's latest speakers. The company's tangential center-cone geometry—also dubbed horn-loaded technology—makes waves among wakeboarders who use uber-powerful tower speakers to push sound to the cockpit and to the rider. But the new Kicker KMXL speakers deliver that same technology to every boater. Kicker says the new coaxials—in 6 ½- and 8-inch sizes as well as 6 by 9 inches—deliver increased performance with optimal sensitivity, power handling and sonic accuracy. The speakers cost $649.99 to $869.99 per pair.