Best Marine Electronics
Welcome to the second-annual Best Elex Awards, which honors standout marine electronics products that have been reviewed and approved by the editorial team behind the four leading titles in marine media: Boating, Yachting, Cruising World and Salt Water Sportsman. Over the course of two months, the nominees were evaluated by our team of seven judges, including the editors-in-chief and electronics editors of the aforementioned brands. In the end, six products set themselves apart. And the winners are:
Editors' Choice: Raymarine Cyclone
Leading Edge Technology: Garmin SurroundView
Best Integrated System: Raymarine YachtSense
Most Innovative for Sailing: Balmar Battery Monitoring
Most Innovative for Power: Yamaha Battery Management System
Best in Entertainment: Garmin Apollo
Editors' Choice: Raymarine Cyclone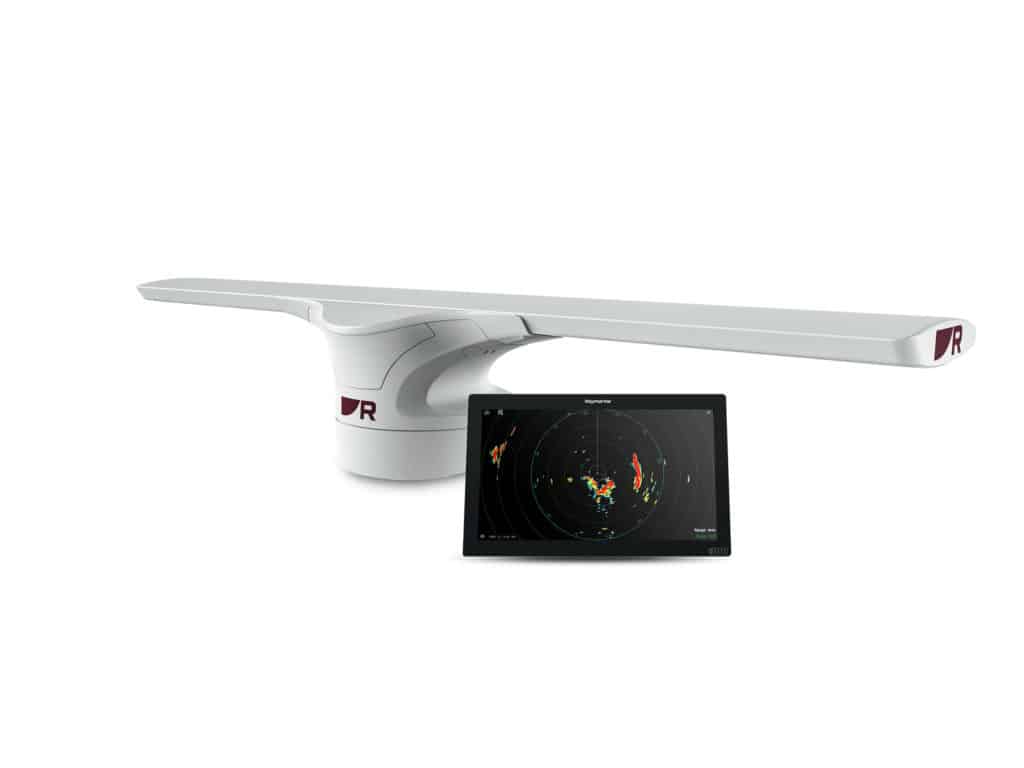 Courtesy Raymarine
What the judges said: "While the open-array grabs your attention first, the Raymarine Cyclone radar backs up its stylish design with a high level of functionality that includes excellent target definition, great power, Doppler target tracking, an advanced dual-range feature, highly effective bird mode, a high-RPM setting and more." 
The next-level design and the ability to weather the toughest conditions stood out to the judges as premier features of Raymarine's Cyclone. This radar series sports a radical look that resembles an aircraft wing, a relatively thin array design made possible by using dielectric radar technology. But there's much more to highlight. Advanced post-processing removes sea and rain clutter and replicates chart-like radar images. Anglers should appreciate the enhanced bird mode, which is surprisingly effective since Cyclone is a chirp-pulse-compression, solid-state radar versus a high-powered magnetron. The Cyclone also fits a wider range of vessels because of its size. The smallest version — a 3-foot open array — measures only 13.2 inches tall and weighs 51 pounds. Because of Cyclone's low-profile, it can perform at wind speeds up to 100 knots, compared with 70 knots for competitors — important for 70 mph offshore boats. Cyclone is also available in 4- or 6-foot arrays and with a 55-watt (equivalent to a 6 kW magnetron) or 110-watt (12 kW-equivalent) pedestal. The array spins at variable speeds from 6 to 60 rpm; at its fastest, the radar gives captains immediate awareness of their surroundings. Cyclones also come with three-color Doppler technology, a 96-mile range, and RangeFusion, which combines short- and long-range pulses into a single image. Prices range from $6,999.99 to $9,749.99. 
Leading Edge Technology: Garmin Surround View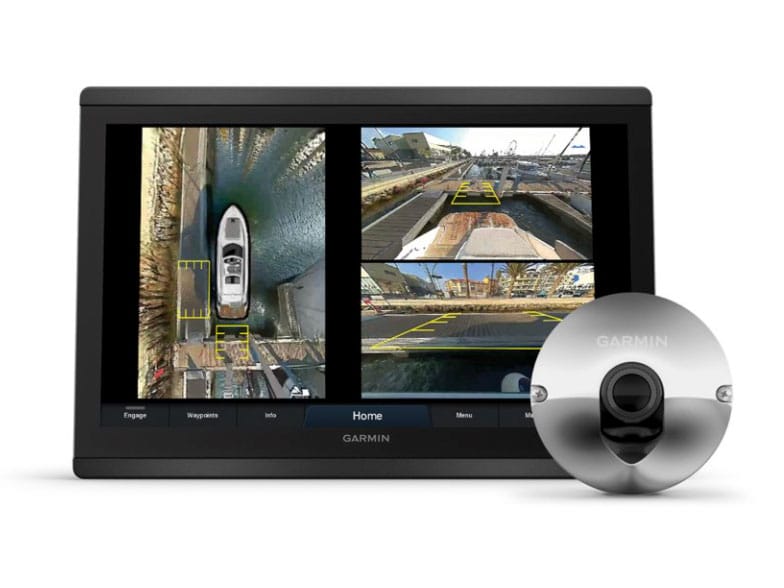 Courtesy Garmin
What the judges said: "Surround View allows the captain more confidence while docking, even if there's no second crew member (and, maybe, even if there is) to eyeball the blind distance between the swim platform and the bulkhead or between the anchor chute and the boat tied up just ahead."
Docking can be a harrowing experience, but Garmin's Surround View Camera System minimizes that anxiety and boosts boater confidence. The judging panel agreed that this product is a game-changer when it comes to giving captains a clear view of their surroundings in crowded marinas and harbors. One look at Surround View's 360-degree bird's-eye imagery shows you the innovation. The judges applauded Garmin for taking docking awareness to a new level. How does it do this? The system uses six flush-mounted 1080p cameras mounted at the bow, aft, and amidships port and starboard. Surround View then creates a full overhead stitched image with 360-degree, real-time video, and feeds it directly to compatible Garmin chart plotters or multifunction displays. Captains can view one or two cameras simultaneously with the bird's-eye image, and even zoom in and pan around with individual camera views. Surround View also provides a number of augmented-reality features, including a visual bumper and distance markers. Available as an OEM option on new boats only.
Best Integrated System: Raymarine YachtSense
Courtesy Raymarine
What the judges said: "Raymarine has come up with a system of electric control Legos, if you will, that allows builders to jump into the digital-switching era using off-the-shelf modules that can be expanded as necessary."
Simple. Easy. Redundancy. Scalable and customizable: All of the judges characterized Raymarine's YachtSense digital-switching system as a remarkably common-sense approach to cleanly managing ship's systems such as lighting, pumps, windlasses, entertainment systems, generators and air conditioning. Each YachtSense system begins with master and power-supply modules; additional multichannel signal modules can be added based on needs — like colored-coded Legos. In addition, YachtSense delivers electrical redundancy. The master module features an integrated keypad for manual override, as well as an LCD screen for system diagnostics. And perhaps best yet: YachtSense offers a scalable and customizable design that's suitable for boats as small as 35 feet. Captains monitor and control YachtSense with a Raymarine Axiom touchscreen multifunction display. Pricing varies depending on the number of integrated systems and scope of the installation.
Most Innovative for Sailing: Balmar SG230/235 Battery Monitor
Courtesy Balmar
What the judges said: "Balmar's SC230/235 battery monitors give boaters significant insight into the real-time health and state of charge of their battery banks from a variety of dedicated or wireless displays."
The fact that captains can access battery information with Balmar's monitors by using an app on a smartphone creates tremendous appeal for sailors who don't always want to run a chart plotter to check their power supply. The judges also liked the products' ability to monitor lithium batteries, which is unique to the market. But don't consider this just a sailboat win; powerboaters also appreciate the SG230 and SG235. With NMEA 2000 networking capability, the monitors can push accurate information on a deep-cycle house bank—such as state of charge and voltage—to any multifunction display. Over time, these smart monitors actually learn from the batteries, allowing the SG230/235 to examine a broader parameter called state of health. Captains can then see how their battery bank ages over time. The SG230 comes with a color display and costs $329; the SG235, without display, costs $239.
Most Innovative for Power: Yamaha Battery Management System
Courtesy Yamaha
What the judges said: "Yamaha's new battery management system simplifies rigging, saves money, reduces weight and facilitates easier service of multi-outboard-powered boats, proving once again that less is more."
Yes, the judges noted a theme throughout this year's new products: a focus on making everyone's life—from the boater to the builder—easier. Yamaha even has a philosophy tied to this trend called CommandBlue, designed to deliver products that are easier to use and create greater satisfaction and confidence on the water. The judges felt that Yamaha's Battery Management System delivered. The most impressive feature they noted was the system's ability to start up to five outboards with just two starter batteries (without the system, each engine would need a starter battery). The BMS constantly monitors and charges all batteries but it prioritizes the starting batteries, ensuring their readiness. Boaters can then add more house batteries to power their ever-growing list of accessories. Captains can also turn on or off the batteries from up to 15 feet away using a key fob or they can use a console-mounted switch. The estimated retail price for the system is $2,200. Note that BMS is only compatible with Yamaha's digital-electronic-control outboards on vessels that employ Yamaha's Helm Master EX.
Read Next: More Marine Electronics
Best in Entertainment: Fusion Apollo Series Amplifiers
Courtesy Fusion Entertainment
What the judges said: "More impressive than a moonshot, Apollo amps ease installation and setup of marine audio amplifiers."
Most amplifiers must be manually tuned, often by a dealer or technician, so that they can produce clear, quality sound. But Fusion's new Apollo Series Amplifiers eliminate all that. The judges felt that tune-free functionality was ground-breaking. Here's how it works: Captains wirelessly connect to their mobile device and open the Fusion-Link app. There, they select the relevant audio profile for their vessel. The amps, enclosed in white, powder-coated-aluminum casings, exclusively pair with Fusion Digital Signal Processing enabled stereos. They feature 150 W RMS per channel and a high-power mode, and come in 1-, 4-, 6- and 8-channel options. Prices range from $179.99 to $949.99.