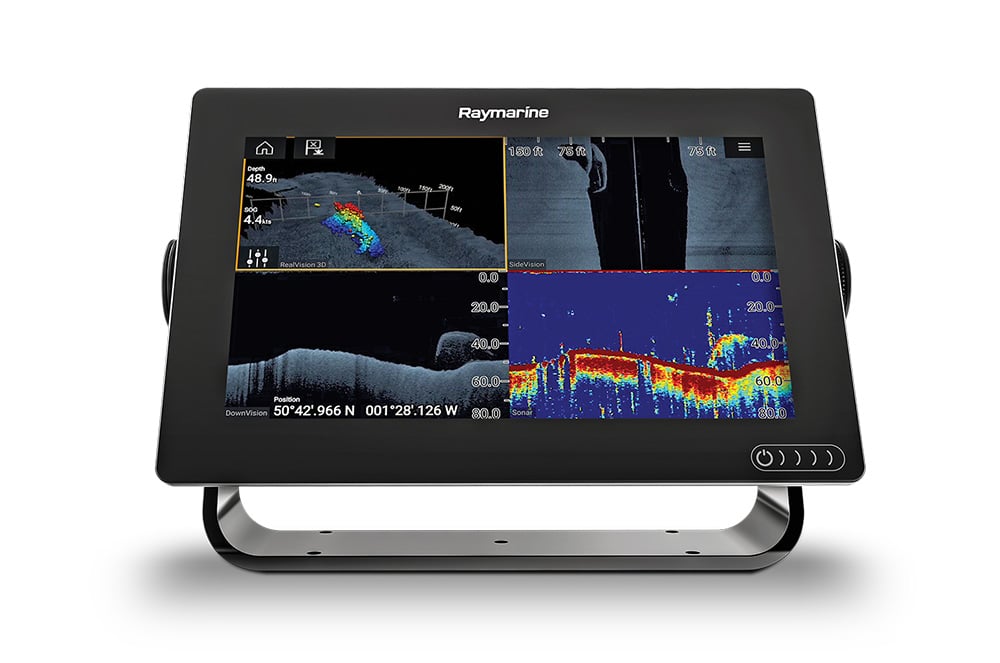 Courtesy Raymarine
Capt. Billy Harbaugh knows a lot of wrecks off the Florida Keys, but this veteran skipper also knows that the rusting hulk comprising the main portion of every wreck is not always the best place to find fish.
Harbaugh proved it to me as we targeted mutton snapper around a wreck in 120 feet of water off Islamorada. He found the wreck using sonar, but instead of fishing directly over it, Harbaugh let the boat drift away, placing our live baits amid the debris field that stretched northward along the bottom for 100 yards.
Drift after drift, we caught big, beautiful mutton snapper, as well as a couple of black grouper, not on the wreck itself, but in the adjacent rubble, or what Harbaugh refers to as "live bottom."
Harbaugh's insight is the result of many years of fishing structure and staring at fish-finder and chart-plotter displays, as well as employing an unusual facet of wreck reconnaissance. He dropped an underwater video camera to scan the bottom around a number of wrecks to confirm what he was reading on sonar. He found extraordinary numbers of mutton snapper hovering around scattered, low-lying, coral-encrusted pieces away from the main wreck.
Most anglers don't have the time, resources or water clarity to reconnoiter structure and bottom areas with an underwater camera. Yet what Harbaugh's research and experience reveal is that you can sometimes catch more muttons by using your sonar to find low-relief structure well away from the main wreck, marking these less-obvious areas on your chart plotter and focusing your angling efforts there.
Courtesy Garmin
Scout It Out
Capt. T. J. Shea, who runs 2 Shea Charters out of Clearwater, Florida, also uses a combination of electronics and underwater observations to scout wrecks, looking for concentrations of fish — not only the ones he wishes to catch but also those he'd like to avoid.
Shea offers both sport-fishing and diving charters. In the dive portion of his business, his underwater observations have led to some universal truths that he applies to his electronics when fishing wrecks in the Gulf of Mexico. On structure spots there, state-protected goliath grouper can become a nuisance when he's trying to target species such as mangrove snapper.
"Wrecks in the Gulf have anywhere from two to 15 goliath grouper," he says. "From years of diving, I know that they almost always hang out on the biggest part of the wreck such as the old wheelhouse. They will eat just about every fish you hook."
Yet you can utilize your electronics to minimize this, Shea says.
The presence of goliaths tends to push schools of smaller, albeit more desirable, species such as mangrove snapper to the far end of a wreck.
With this in mind, Shea uses his Raymarine sonar to recon the various structure areas on a wreck. Using the chirp sonar function on his new Axiom 9 multifunction display, he differentiates the larger marks of goliaths from smaller returns of mangrove snapper. He then marks the zone on his chart plotter, where he sees the smaller marks, and fishes it. This helps Shea avoid the goliath grouper, at least initially.
"Eventually, the goliaths find you and start taking your fish, but not before you catch some tasty mangroves," Shea says. Once the goliaths take over, he moves on to another wreck, using his fish finder to scout for the same fish concentrations.
Gain Perspective
When using conventional down-looking sonar alone, it is sometimes difficult to gain a full perspective on the size, shape or orientation of a wreck. Knowledge of these factors helps you fish a wreck more effectively.
To give me a better of idea of what a wreck looks like, I drop waypoints liberally when the structure appears on sonar. With enough points on a chart plotter, the structure takes on a shape. You can judge the size and the lay of the wreck on the bottom.
New sonar and charting systems make this process easier and faster, and give you a clearer understanding of the height of the wreck and where the fish are relative to the structure, all without diving in or using a camera.
Advanced down- and side-scanning and phased-array sonar systems from companies such as Furuno, Garmin, Humminbird, Simrad and Raymarine allow you to scan a wreck in greater detail than with the old-school method of marking lots of waypoints.
David Dunn, director of sales and marketing for Garmin Marine, uses Garmin's ClearVü when fishing the wrecks off his home state of North Carolina.
"In the DownVü mode, ClearVü paints a near-­photographic image of a wreck," Dunn says. This scanning sonar system works best on wrecks in depths of 100 feet or less, he advises. Dunn uses the perspective he gains about each wreck to target black sea bass, cobia, grouper and king mackerel.
Auto-charting systems from companies such as Navionics and Humminbird also lend more perspective. Navionics' SonarChart Live, for example, lets you create personal bathymetry maps in increments down to 1 foot. This happens in real time on compatible plotters from Lowrance, Raymarine and Simrad, so the intricacies emerge before your eyes, allowing you to immediately visualize the length, height and orientation of the wreck. Outlying areas of debris become clear.
Courtesy Furuno
3D View
Newer 3D sonar systems add even more perspective and give you a better idea of where the fish can be found on wrecks. Furuno's DFF-3D system, for instance, offers the ability to show a wreck in a vivid three-dimensional view.
"You no longer have to guess what's under the boat," says Eric Kunz, senior product manager for Furuno USA. The Furuno DFF-3D system also color-codes according to depth, giving anglers an idea of where to place baits and lures. Using phased-array technology, it reads to depths of 1,000 feet.
Other marine electronics manufacturers that offer 3D sonar capabilities include Garmin with its Panoptix PS-30, Lowrance with StructureScan 3D, Raymarine with RealVision 3D and Simrad with StructureScan 3D.
By taking advantage of new technology and utilizing the expert ­reconnaissance tips provided here, you not only become more wreck savvy, but you also find and catch more fish.
Reading Currents at a Wreck
The direction of the current sweeping over a wreck often dictates how you should fish the spot, especially when it comes to anchoring the boat in the optimal position. For example, some species such as greater amberjack and California yellowtail tend to congregate and feed on the up-current side of a wreck. Yet in open water, it can be difficult to determine the direction of the current.
Electronics can help, says Jim McGowan, marketing manager for Raymarine. Your GPS/chart plotter will give you a heading and speed over ground (SOG). To get a reading on the current, you also need to add a sensor that measures speed through the water such as a paddle-wheel speed sensor, McGowan says.
"With these inputs, a multifunction display such as the Raymarine Axiom can measure the difference between SOG and speed through the water," he explains. "Then it calculates set, drift and current, and displays these visually as vectors on the chart plotter, or you can call them up in a data box."