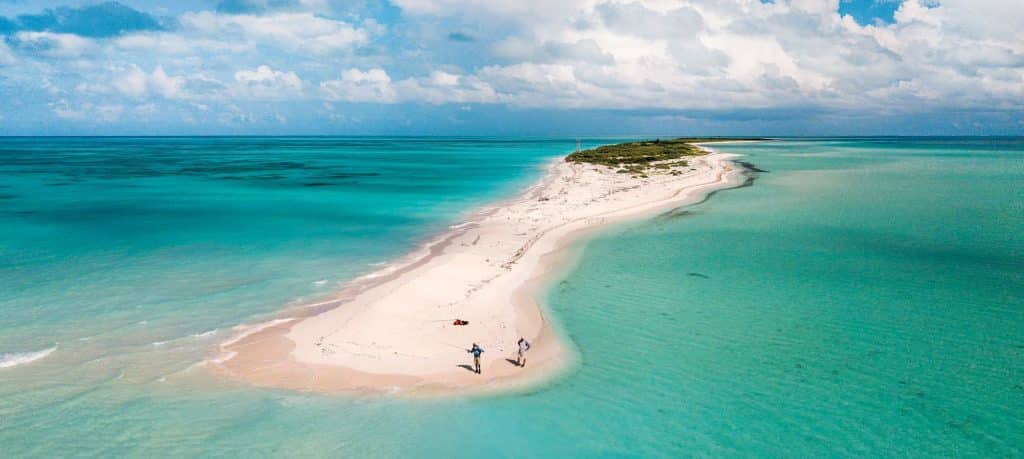 Jim Klug
In 1545, a Spanish ship met its fate on a treacherous and previously uncharted reef 70 miles off the coast of the Yucatan Peninsula. Sailors who survived the shipwreck and made it back to the mainland described the coral-encircled islands as "more dangerous than a scorpion, which once it stings, it kills you slowly and painfully." Thereafter, this remote network of islets, flats and shallow coral reefs became known as Arrecife Alacranes — Scorpion Atoll.
Read Next: Packing for a Fishing Trip
Situated in a major shipping route in the Gulf of Mexico, the reef remained a risk to navigators and sailors for centuries. Just as the reef drew hapless ships to destruction, today the same remote atoll beckons anglers, albeit only about 50 each year, in pursuit of the largest bonefish and permit in the Caribbean.
Jim Klug
At 17 miles long and 13 miles wide, Scorpion, the largest reef in the southern Gulf of Mexico, is now a national park. Of the five islands comprised by the reef, only Isla Perez is inhabited. Its population includes the lighthouse keeper (who also doubles as the mayor), a Mexican naval contingent, and a handful of scientists and fishermen who come and go. The other islands — Isla Pájaros, Isla Desertora, Isla Desterrada and Isla Chica — remain undeveloped.
Read Next: Tarpon Fishing in Mexico
There are no public accommodations on Scorpion Atoll. Visiting requires a self-sufficient liveaboard vessel. The only outfitting option currently permitted to operate here is owned by ­veteran Campeche guide Raul Castañeda, who has explored the atoll for over 10 years. He and his crew know the area intimately, and ­whether guiding anglers on foot, poling turtle-grass flats on the outer reef in search of permit, or cooking dinner and serving drinks, this team delivers.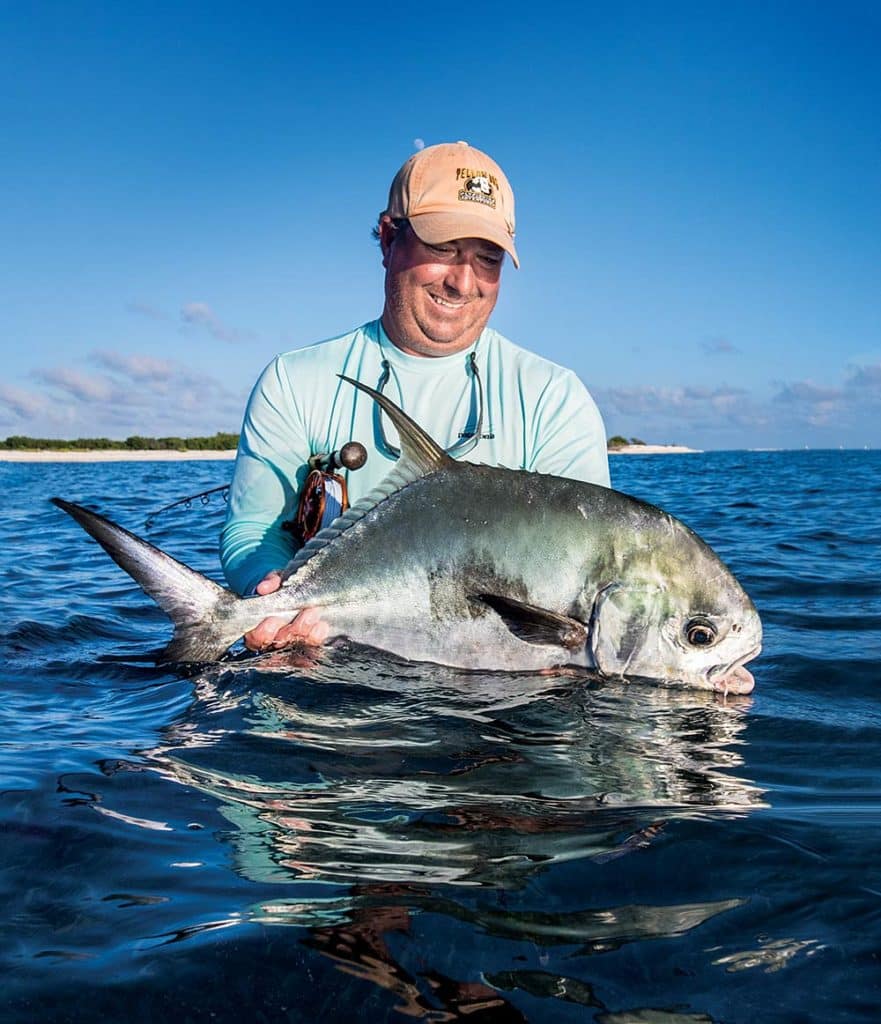 Jim Klug
On Scorpion, each day of fishing starts early with a quick lap around Isla Perez (where the liveaboard is oftentimes moored) to scout for tailing permit at first light.
From there, anglers pair up with their guide for the day and disperse to different areas of the reef. From poling the outer shallows to walking the beaches and wading the flats that ring each island, anglers cover quite a bit of ground on a given day of fishing.
Jim Klug
Aside from the big bonefish, trophy-size permit, and an impressive number of resident bull sharks, the islands are home to an incredible population of birds, including boobies, laughing gulls, terns, and lots of frigate birds. Loggerhead, hawksbill and green sea turtles also nest on these same small islands. Other game fish worthy of pursuit in these waters include massive barracuda, blacktip and sand sharks, amberjacks, yellowtail snapper, triggerfish and blue runners.
Read Next: Travel on the Fly: Hot New Bonefish Flies
Long days on the water, with plenty of wading and walking, and the incredibly remote and isolated setting make the trip to Scorpion Atoll a memorable fish-till-you-drop adventure.
Jim Klug
Scorpion Atoll
Location: Yucatan Peninsula, Mexico
Season: April through May, October through November
Jim Klug
Capacity: Five anglers per week on the liveaboard
Target Species: Primarily permit and bonefish, plus barracuda, jacks, triggerfish, snapper and sharks
Jim Klug
Arrangements: Raul Castañeda operates a 45-foot cabin cruiser that serves as both transfer boat and living platform. While room on board is a bit tight for five anglers, said boat is ultimately the perfect base of operations for an adventure to such a remote destination. Standard packages are six nights with five fishing days. This usually includes two nights in Merida and four nights at the atoll. Spring and fall are peak seasons, and demand for reservations is high, so anglers should book well in advance. Manuel Crescencio Rejon International Airport (MID) in Merida is serviced by a number of airlines with direct service from various U.S. cities.
Yellow Dog Flyfishing Adventures
yellowdogflyfishing.com