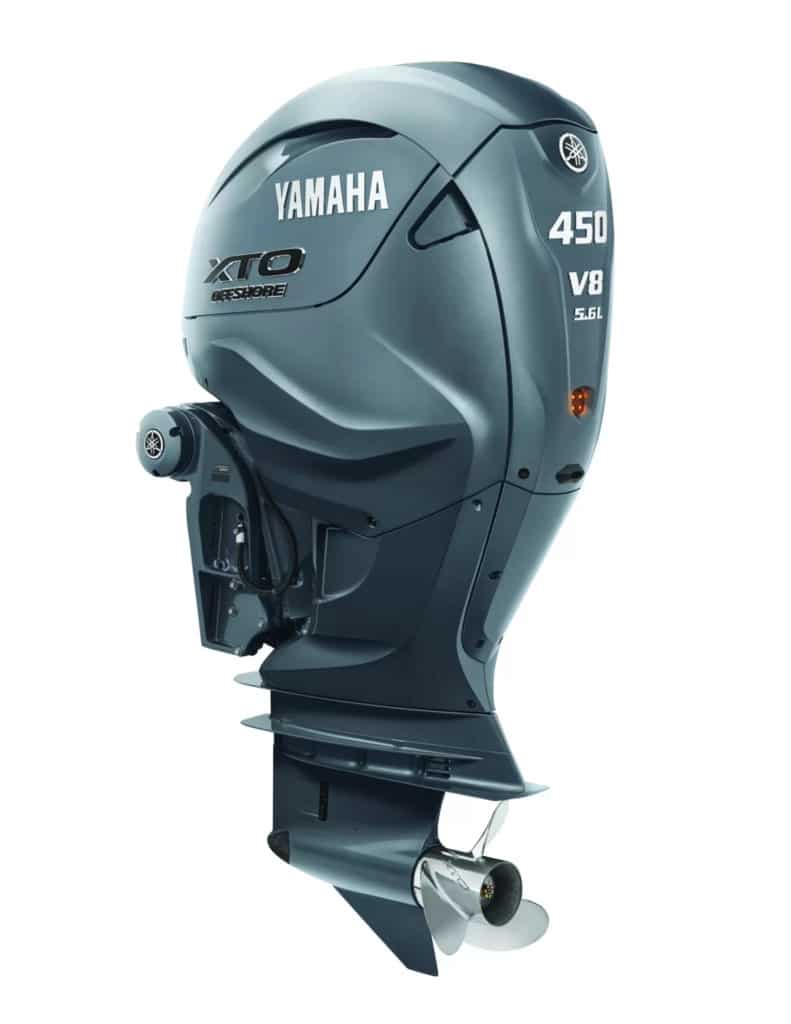 Courtesy Yamaha
Yamaha Marine has debuted an updated XTO Offshore V-8 outboard that delivers 450 hp, as well as enhanced technology and greater conveniences. It features the same 5.6-liter big-block powerhead and mounting bolt pattern as the original XTO 425. The 450 is designed to move big, heavy saltwater fishing boats, and it will eventually replace the 425 in the Yamaha outboard lineup.
"The XTO 450 allows boaters to enjoy the convenience and ease of operation associated with the XTO line—in addition to more torque and power," says Ben Speciale, president, Yamaha U.S. Marine Business Unit.
The extra 25 horses is delivered in part thanks to an increase in intake and exhaust volume. At the same time, Yamaha has toned down the loud operating noise associated with the 425 by incorporating an intake silencer, according the outboard brand.
A Host of New Features
Courtesy Yamaha
In addition to increased horsepower, the Yamaha XTO Offshore 450 boasts more charging power, featuring a three-phase, simultaneous charging system. Using Phase Angle Control (PAC) componentry to create a super-strong magnetic field, XTO Offshore 450 produces up to 96 net amps per engine in neutral to power high-demand devices such as gyro stabilizers, air conditioning and sound systems. The system is so powerful that it can even eliminate the need for an on-board generator, according to Yamaha. The system also prioritizes charging to the starting batteries, keeping them charged and ready for action at all times.
The 450 comes features Yamaha's TotalTilt feature for faster, easier engine tilting. When enabled, it allows complete tilt up from any position with a simple double-push of the "UP" trim/tilt button, or full tilt down (until trim ram contact) by the same double push of the "DOWN" trim/tilt button. A warning horn sounds just before and during these operations. Movement and the horn can be stopped anywhere in between by pressing the tilt button again.
New raised chrome graphics on the sides, a re-styled panel in back, a new flush-mounted manual flush connection up front and hidden external wiring near the bracket add to the premium look of this powerful outboard. There's also an optional built-in propeller light (rather than transom mount) that illuminates when using Helm Master EX SetPoint features.
New Props Too
New XTO EC® propellers are now available for applications where propeller ventilation may be an issue due to the power and torque of XTO Offshore outboards. Yamaha also adds a 27-inch pitch to its XTO OS® line of propellers for lighter weight XTO applications that have the available wide-open throttle rpm to potentially drive more top speed.
The new Yamaha XTO Offshore 450 will become available starting in the spring of 2023 with MSRPs ranging from $49,500 to $54,250. To learn more, visit yamahaoutboards.com.