The Caymas 34 CT is a new-school cat with dual-stepped, semi-asymmetric hulls. These semi-asymmetric sponsons are mirror images of each other, and an important key to this design is that the outside running surface of each is longer than the inside running surface of each. This allows the boat to comfortably lean into turns at high speed like a mono-hull (more on this later). A cat's sponsons also need to give you a smooth ride, and Caymas' Earl Bentz got this down pat when he and his team pulled together their engineers to design the 34 CT, the first multi-hull model from this brand.
Courtesy Caymas
Our test boat planed in around 4 seconds. It punched through to 30 in under 9 seconds, impressive for a boat weighing almost 14,000 pounds with twin Mercury V-10 400 hp outboards. We had 25- to 30-knot winds on test day, so we stayed in the Intracoastal Waterway, which was miles wide in our location. Waves rumpled to ­nearly 3 feet at times, but the 34 handled them like warm butter. Mega-yachts plied those waters, and we slid over their wakes without slowing or shaking the crew. At rest and idle, we turned our beam to the seas and the 34 CT straddled them with the grace of a hurdle jumper in slow motion.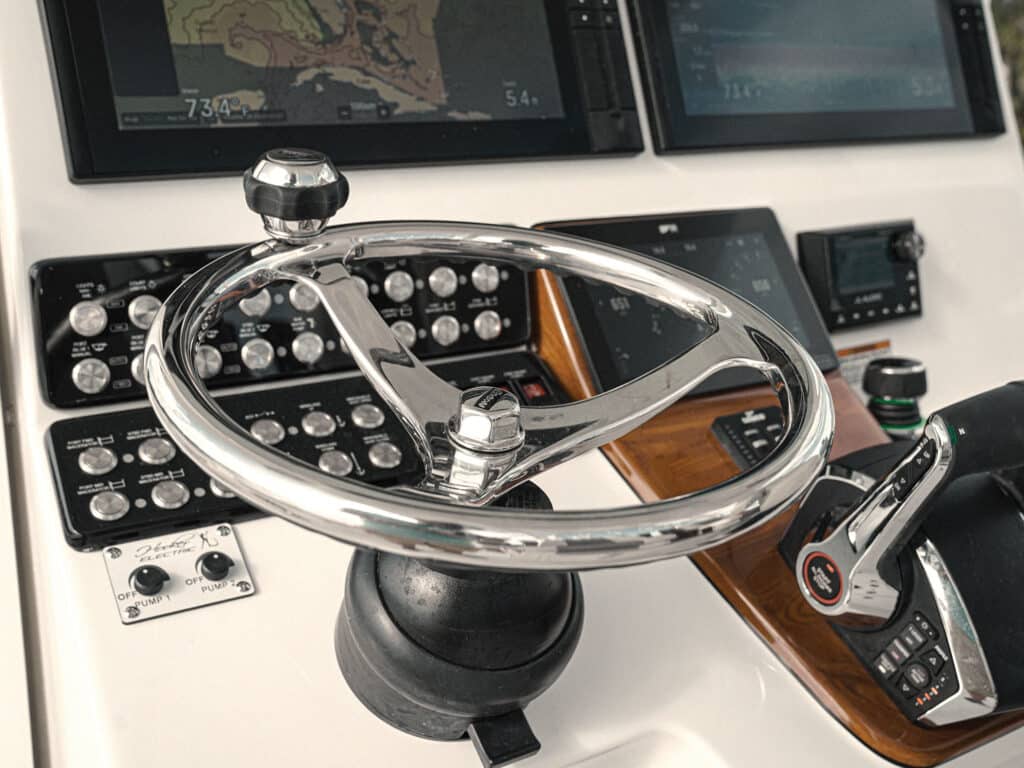 Courtesy Caymas
A quick spin of the helm and a heavy hand on the throttle dissolved any doubt about handling. At ­barely planing speeds, the 34 CT heeled a little outwardly in turns. But at speeds closer to cruise—about 4,000 rpm—the 34 CT tucked its inside shoulder, heeling ­into the turn safely, swiftly and comfortably, thanks to the semi-assymetric design of the sponsons. 
Then there's the combination of Merc's V-10 outboard power and the double-stepped hulls. At 4,000 rpm and 36.7 mph, this cat achieved 1.2 mpg in our test. That efficiency equates to a crusing range of more than 400 miles, even with 10 percent of its 436-gallon fuel capacity left in reserve. 
And when you fish, you do so in comfort. The deck was steady in beam seas, allowing us to traverse its ­nearly 11-foot width and 34-foot length without hanging on for dear life. With our toes tucked in the deck gutters and our thighs pressing the thick gunwale bolsters, we could focus on handling the rod or gaff, not staying on our feet.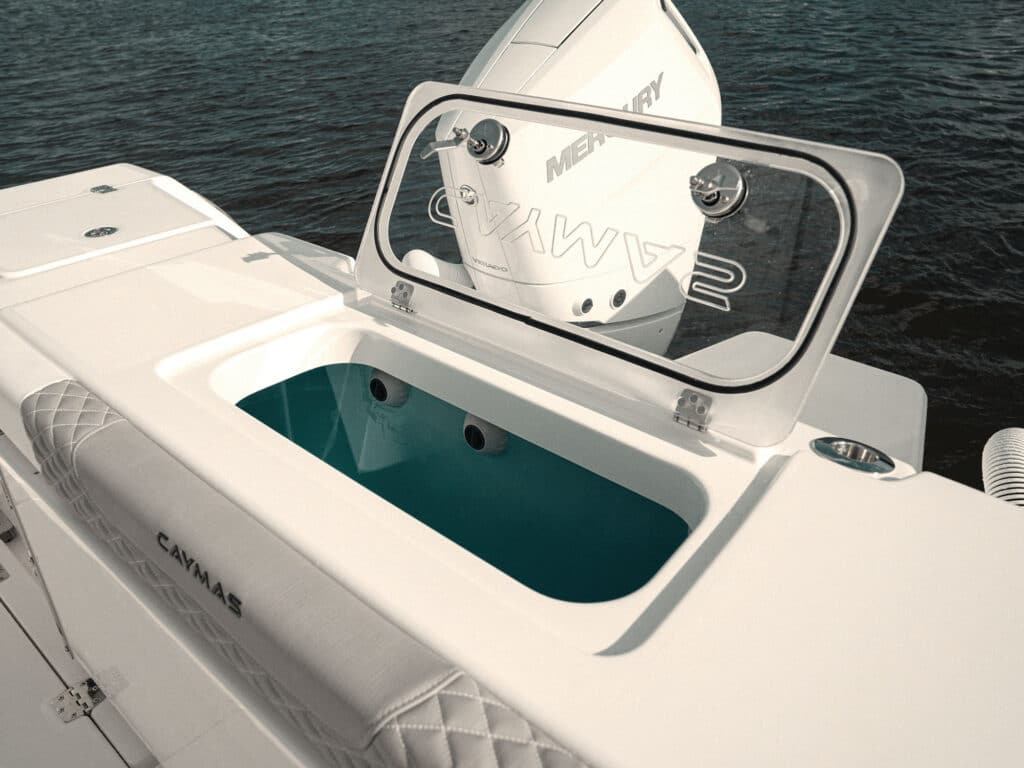 Courtesy Caymas
We had three livewells available: a center 70-gallon livewell flanked by an ­optional pair of 25-gallon wells. All of the wells are fed by heavy-­duty Hooker electric pumps in a Hooker sea chest. For the bait gluttons, there are also optional dual livewells under the deck. Otherwise, there are six fish boxes (three per side) with macerator pumps. 
Rod holders were strung like pearls, six in each gunwale, five shotguns, nine tuna- stick hangers under the gunwales, and nine more shared between the hardtop and leaning post. Tackle drawers in the front and back of the post and leader holders on each side keep all the rigging gear handy, and a cutting board slides out for chopping bait. 
Fishing-wise, it's apparent Caymas put the right people on the design team. But the designers and upholsterers get their kudos on the comfort side as well. A pullout transom seat and dual forward pullout lounges offer comfortable seating to complement the dual chaise-style ­lounges on the console's front side. Under those posh cushions is a ton of storage or another fish box, as you choose. Every deck compartment is insulated for multiuse.
The helm station is wide, as expected on a broad-beamed cat, but it left generous walkways to the foredeck. The ­dual seats are electrically actuated to slide fore and aft. We found the driving position comfortable with a footrest below and well-protected by a tempered glass windshield. To compete for coolness with the driving seats, a pillow-topped Frigid Rigid cooler electrically slides out from the back of the ­leaning post to form a pair of ­mezzanine seats.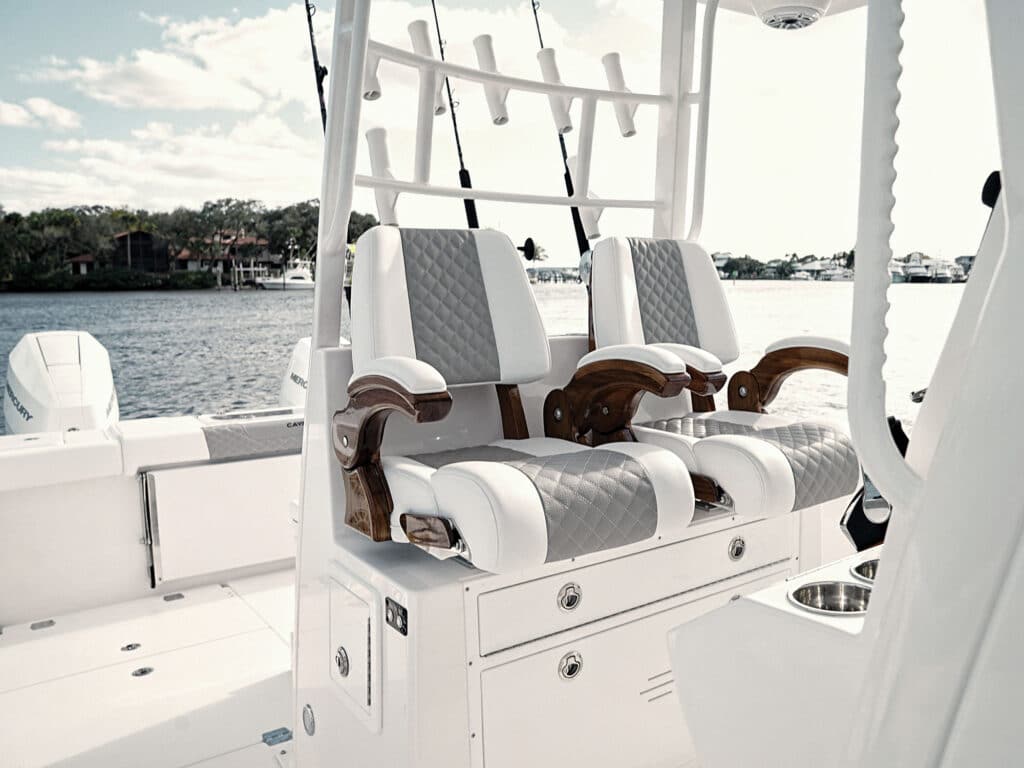 Courtesy Caymas
The electronics panel ­boasted two 16-inch Raymarine multifunction displays, but could likely hold a pair of 20-inch displays. In addition, the entire front of the helm station is hinged like a James Bond library door to lean aft, granting access to the entire wiring scheme of the boat. 
In fact, Caymas engineers did a fine job of making ownership easy with ample access to pumps below, batteries and switches in the leaning post, and ignition keys and circuit breakers in the helm head compartment. We nearly forgot to mention the organized storage drawers in there and the porcelain throne for crew convenience. 
With a windlass and polished stainless-steel anchor at the bow, and raw- and freshwater washdowns to clear a fish-bloodied deck, it's pretty hard to imagine what else an angling family could need. 
| | |
| --- | --- |
| Length: | 34'3″ |
| Beam: | 10'10" |
| Draft: | 26.75″ |
| Weight: | 11,800 lb. (w/o power) |
| Fuel: | 436 gal. |
| Max HP: | 900 |
| MSRP: | Upon request |
Caymas Boats – caymasboats.com