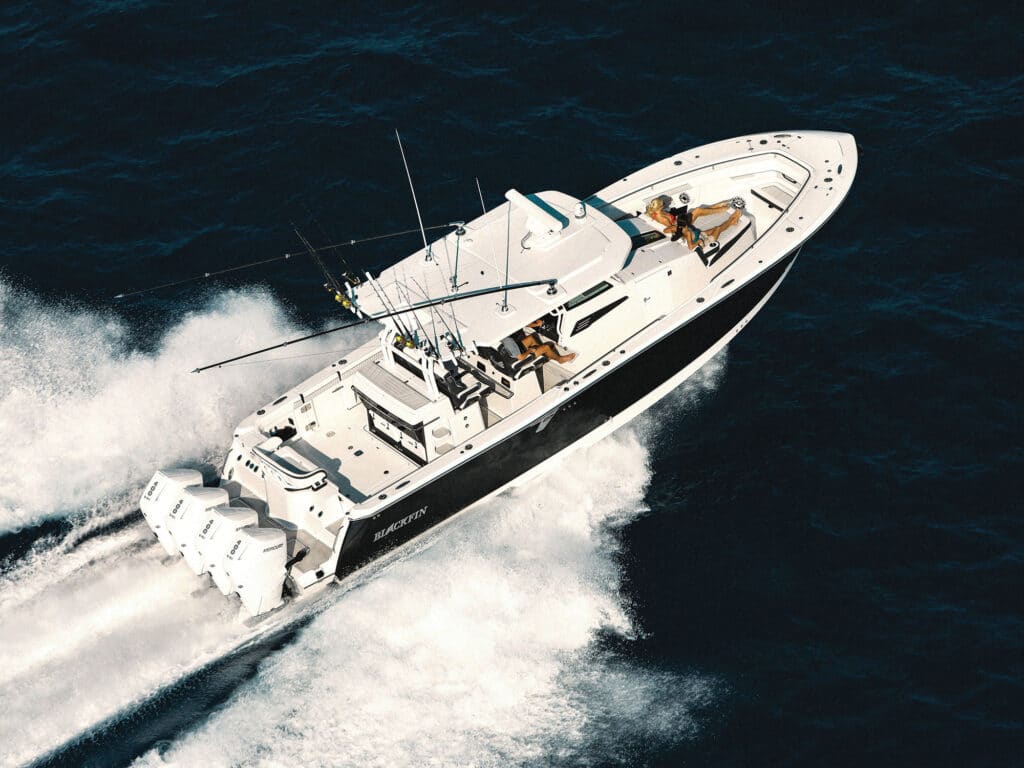 Courtesy Blackfin Boats
The 400CC is Blackfin's biggest center-console to date and a dramatic departure from the early, storied days of the brand in more ways than one. First, Blackfin has ­taken advantage of the new V-10 outboards from Mercury, forgoing the inboard ­power of the brand's yesteryears. Blackfin has also departed gloriously in a second way: Abandoning its early reputation for spartan fishability to build a stylish, luxurious and especially ­lethal offshore center-console. 
The first step in bringing Blackfin's design elements together in the 400CC was to make standard the highest tech propulsion, navigation, air-conditioning and house-power systems. This comprehensive list of standard features includes dual navigation displays, a windlass and a bow thruster, as well as Mercury's Joystick Piloting for Outboards. This lets each boat slip down the assembly line efficiently; every factory crewmember is well-versed in the installation of each component, eliminating quality-­control surprises at the end of the line.
Blackfin's reputation for seaworthiness shows up in this boat's durable composite construction. The stringer grid bonds to the hull and the deck, bringing wave-crushing strength. Weighing in at more than 10 tons, the 400CC is still sprightly, coming onto plane in an average of 8.9 seconds and hitting 30 mph at around 10.9 seconds. Optimal fuel economy is found in a broad window of 4,000 to 5,000 rpm at speeds between 35 and 52 mph, with a cruising range of over 200 miles with the 475-gallon ­fuel capacity. The hull features a double-step design by Michael Peters, and it worked well in seas; we faced a tightly spaced 4-foot chop that couldn't rattle the boat at any speed but was most comfortable to crew in the ­cruising range.
Courtesy Blackfin Boats
The helm boasts a futuristic glass cockpit with standard 24-inch Garmin multifunction displays on the black dash and a 9-inch VesselView display overhead on the black underside of the beefy hardtop. Electric power steering and digital throttle and shift ease handling. The neutral shift position indicator now lives on top of the throttle handle, where you can see it without peeking around. It adds an element of convenience and safety.
The 400CC proved equal to the rattiest inlets America's favorite fishing grounds can dish up. Blackfin chose high bows over the low-slung, stiletto look of some competitors to give confidence to families running in inclement weather. At the helm, a foldout step gives shorter skippers a better view forward.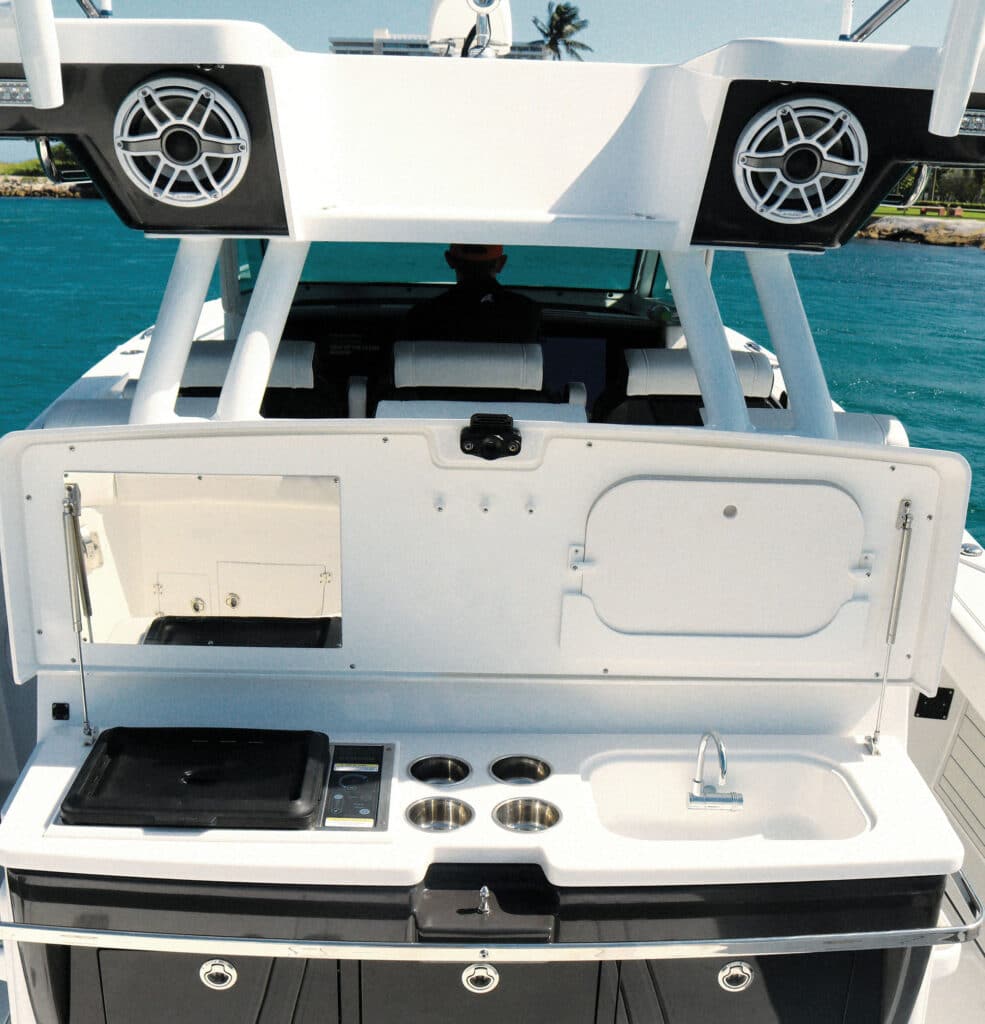 Courtesy Blackfin Boats
The helm and spacious cabin below are air-conditioned, and that system is powered by a high-capacity lithium house battery bank. Twenty-four hours of running the air conditioning dockside resulted in a 50 percent drawdown, but the four powerful 150-amp alternators on the Mercs brought the house battery bank back to full in one hour. You can also add an aftermarket gyrostabilizer—Blackfin has built in the space for it—that will also run on the standard house battery bank. The electrical system frees space otherwise consumed by a genset and diesel fuel supply while eliminating stinky fumes and the annoying rumble of machinery. The use of a lithium house battery bank represents a cutting-edge development that we'll see many more boat brands adopt in the future.
For luxury cruising to and from the fishing grounds, the 400CC offers a dual-row helm with three-wide seating in each row. The captain's chair is adjustable at the touch of a button, and all six seats are heated. The second-­row seating is backed by a dual-­purpose rigging station, with a Kenyon grill and sink beneath the lift-up cover. Tackle storage proves generous, with drawers facing aft and cabinets on the leaning-­post sides. Dual slide-out coolers in the rigging station chill refreshments. 
Add the standard luxury of a berth below with a convertible couch, microgalley and roomy head, and you are ready for overnight fishing adventures. You can also stow rods below and find easy access to circuit breakers, the backside of nav gear in the helm station, and other systems.
Read Next: Blackfin 302 DC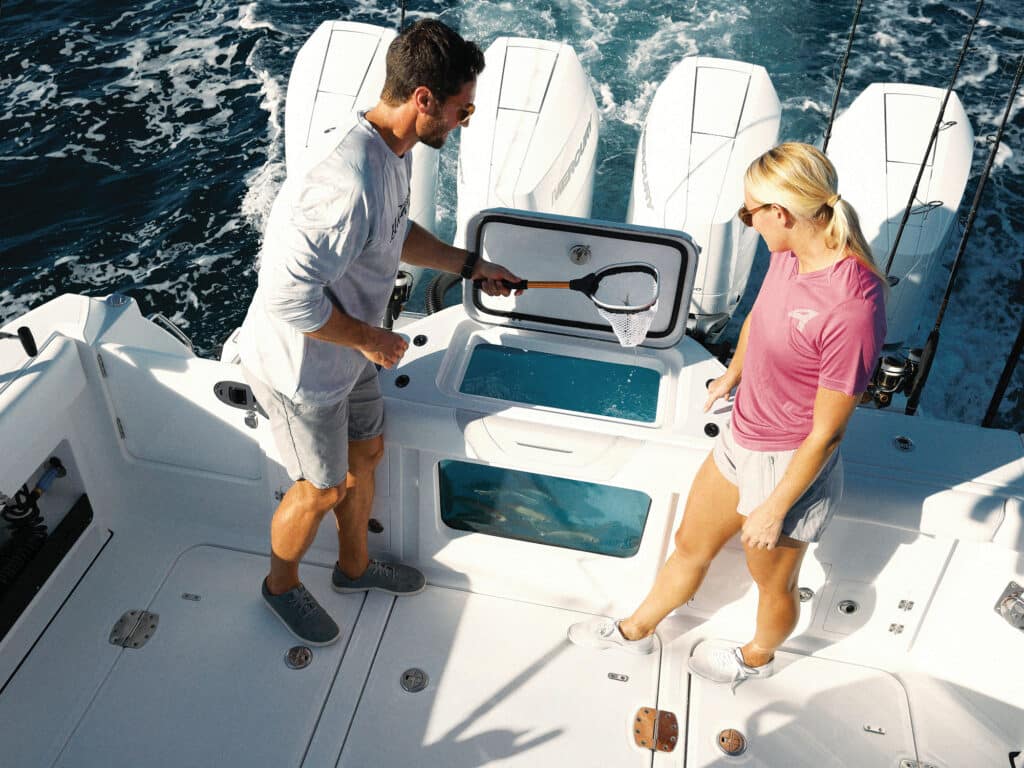 Courtesy Blackfin Boats
Topside rod holders abound, with 14 in the hardtop, six in each gunwale, and six on the transom. There are also three more shotgun holders if a removable center transom lounge is in place. This uniquely positioned and posh seat for two fastens over the transom 70-gallon livewell, with a hatch to access bait through the seat. It is a comfy and novel way to take a load off when heading to and from the offshore grounds or just enjoying a harbor cruise.
Blackfin has also added forward seating lounges to top it all off. It's seriously fishable, pampers everyone in ­luxury, and is missing nothing except bait, fuel and your ­favorite crew. 
Specifications
| | |
| --- | --- |
| Length: | 39'10" |
| Beam: | 12'0″ |
| Draft: | 3'3″ (engines down) |
| Weight: | 20,000 lb. |
| Fuel: | 475 gal. |
| Max HP: | 1,600 |
| MSRP: | $1,106,945 (MSRP as tested) |
Blackfin Boats – Williston, Florida; blackfinboats.com