Courtesy Yellowfin Yachts
While there are no rules about what constitutes a bay boat or a hybrid, certain features tend to lump boats into one camp or the other. Other boats refuse to be pigeonholed, deftly straddling the line. Before you pick one, consider the following factors.
Where You Fish Matters
Before deciding which boat is the right one to buy, prospective owners can narrow the field by envisioning where they will be doing most of their fishing. If the answer is mostly offshore, skewing to a hybrid makes more sense. 
In the right weather, any boat can go offshore. But when the wind kicks up, it becomes a matter of safety and comfort. Boats with more deadrise draw more water but cleave the waves better, resulting in a smoother ride. Hybrids are capable of fishing in most inshore areas but can head offshore. Bay boats are ­usually confined to inshore waters.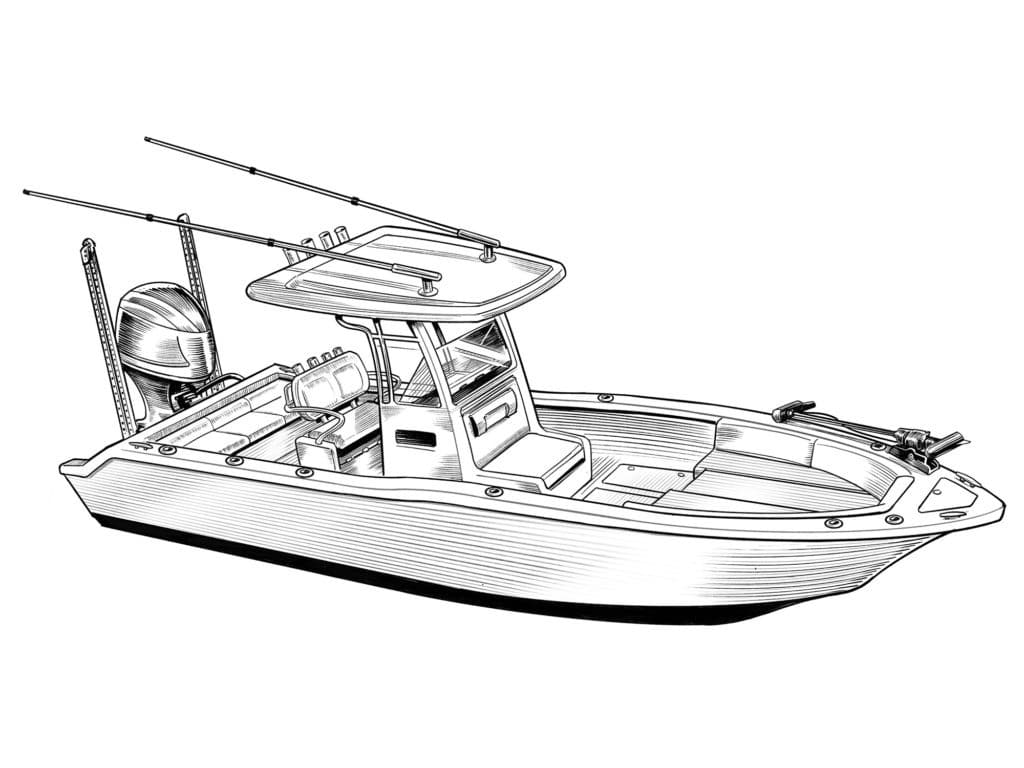 Courtesy Steve Sanford
Look at the Lineup
Typically, boat companies have their DNA baked into each model, so it can be informative to see how their other models stack up.
Companies like Regulator have made their reputation by building center-consoles that do well in rough water thanks to their deep-V hulls and sturdy builds. But Regulator designers dipped their toes in the hybrid waters with the 26XO Crossover. This 26-foot-9-inch boat has a moderate 17-degree deadrise, weighs 6,780 pounds, and floats in 16 inches of water. It also has an oversize 9-foot-3-inch beam. Compare this to Regulator's 23 center-console model, which is 23 feet, 5 inches long and weighs just 60 pounds less than the longer 26XO model. But it has a draft of 21 inches, largely because of its deep-V deadrise of 24 degrees. The 26XO features lower gunwales and a combination U-shaped bow casting deck and bowrider chaise-style lounge seating with flip-up backrests.
Yellowfin Yachts is yet another builder that used its design and engineering expertise in building offshore boats to create hybrid models that perform and fish well on blue-water expeditions as well as on near-shore forays. The popular Yellowfin 26 Hybrid is a prime example. The design offers the best features of the company's larger center center consoles combined with a hull design that can take on big seas to pursue pelagics, or creep into shallow waters for redfish or tarpon thanks to a 16-inch draft. Rated for up to 500 hp, the 26 Hybrid can be powered by either a single or twin outboards.
Grady-White jumped into the hybrid market with its 251 Coastal Explorer. Like Regulator, it comes from a heavily ­offshore-oriented brand. The 251 CE has a ­cockpit height of 20 inches, which is 7 inches less than Grady-White's Fisherman 257 center-console. The deadrise is also 4 degrees flatter at 16 degrees, reducing its draft to 14 inches versus the CC's 20 inches.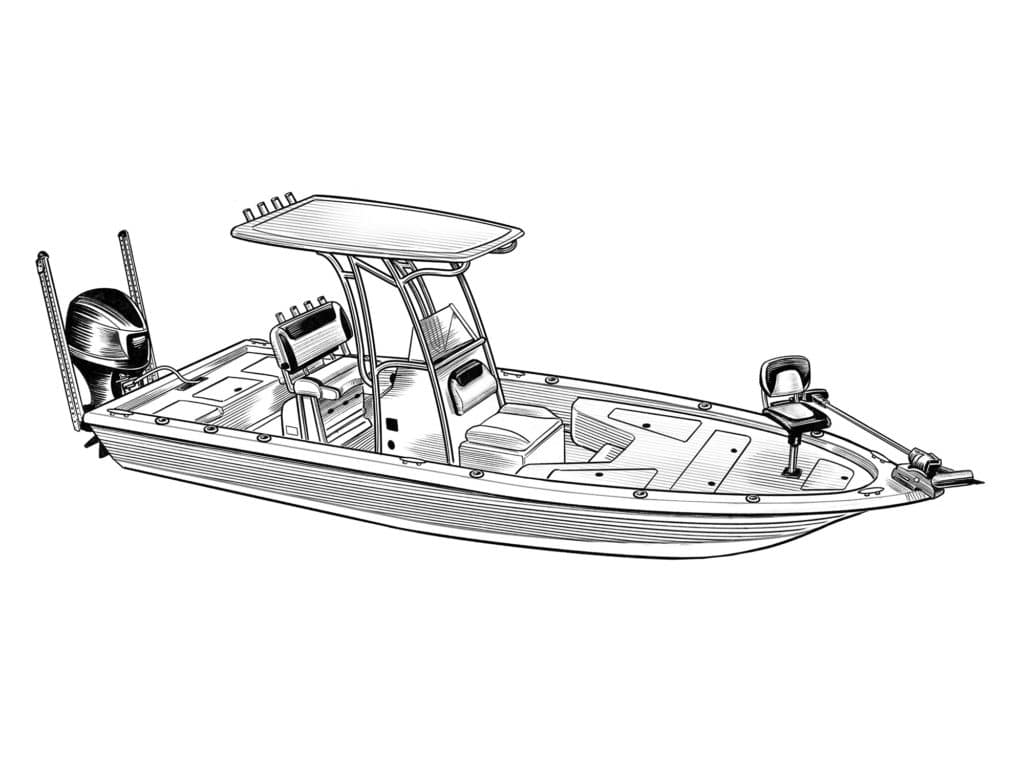 Courtesy Steve Sanford
Pathfinder Boats has been the bay-boat leader for 30 years. Its parent company, Maverick, builds poling skiffs, so its 2500 Hybrid is the vision of a company whose heritage is building skinny-water boats. It markets this model with the mulletesque motto: "Inshore in the front. Offshore in the back." The most prominent inshore trait is the huge, raised foredeck perfect for fly-fishing. But step down into the cockpit and the gunwale height is taller for safer fishing offshore. It's a nearly 25-foot boat that has a draft of only 13 inches, thanks to its moderate 16-degree deadrise.
Some hybrid models, like the Robalo Cayman 266, have many bay-boat features that blur the line between the two genres. It's 26 feet, 6 inches long, with a 9-foot-4-inch beam and a healthy 18 degrees of deadrise that pushes its draft to 17 inches. But it has a flush-to-the-gunwale rear casting deck with a raised foredeck that is high enough for sight-casting. 
Courtesy Robalo Boats
Choosing between a hybrid, bay boat, or the models that fall between means looking at features and deciding which matches up best with your fishing style. Prioritize a list of must-haves to narrow the field and find your perfect boat. 
| | |
| --- | --- |
| Hybrid Boats | Bay Boats |
| 23 feet or longer | 18 to 25 feet long |
| Beams often wider than 8 feet, 6 inches | Beams of 8 feet, 6 inches or less |
| More freeboard | Lower than knee-high freeboard |
| Deadrise of 15 degrees or greater | Deadrise of 15 degrees or less |
| Drafts more than 1 foot | Drafts of 1 foot or less |
| Casting platforms are usually smaller than a bay boat's and may be set lower under the gunwale | Large, raised casting decks fore and aft |
| Larger fishing cockpits | |
| Slightly raised bow for handling larger waves | A straight sheerline where the bow is the same height as the stern |
| Larger anchor lockers | Smaller anchor lockers |