boatwraps.com
Vinyl wraps on fishing boat hulls have grown more popular than ever for one simple reason: They are the fastest way to change the look of a boat. The downside? The cost. Including installation, wraps can range from $100 to $150 or more per linear foot. And if your boat ­occasionally rubs against something abrasive, the wrap can tear. Even under optimal conditions, a wrap will probably last only seven years. If you live in the Sunbelt and your boat sits uncovered, the life span might only be two years. Yet despite these drawbacks, it can still be worth considering a wrap for your fishing boat, and not just for ­cosmetic reasons.
One of a Kind
Most boat companies offer gelcoat or paint schemes with a range of color options. But a one-off custom paint or gelcoat design would run five figures for most boats. Now thanks to computer programs like DALL-E 2 that use artificial intelligence, you can conjure up a one-of-a-kind design that makes your boat unique. You can also get designs from famous marine artists like Guy Harvey, which add to the cost based on the popularity of the artist and the amount of work required.
Advertising Expense
If you own a business such as a fishing guide service, the cost of a wrap can be a tax write-off and could be considered an ordinary and necessary advertising expense. Having a small logo and phone number probably wouldn't fly. However, a fishing guide like Capt. Nick Stanczyk, whose family has owned and operated Bud N' Mary's Sportfishing Marina in Islamorada in the Florida Keys since 1978, clearly uses his wrap to promote his charter business. The wrap design on his 42 Freeman prominently features Stanz Fishing, the name of his charter business, and also sports a 25-foot-long image of a swordfish that lets prospective clients know his specialty. 
Read Next: Anti-Fouling Bottom Paint
stanzfishing.com
Protect the Finish
If you buy a new boat in the South, you have to meticulously maintain it to keep the original gelcoat from fading, especially if it's black, dark blue or yellow. "The longest I've ever kept a wrap is three and a half years," Stanczyk says. "But when I went to sell [the boat], peeling off the wrap revealed a pristine gelcoat underneath, which greatly helped its resale value." 
DIY or Hire a Pro?
The owner of Boatwraps.com, Burl Cole, has been wrapping boat hulls since 2002. He advises those who want to do it on their own, which can save about half the cost, to try a small project first. "The bigger the boat and the more curves there are, the trickier it gets," Cole explains. He advises using a premium product like the 3M line of IJ180 vinyl wraps, which is 2 millimeters thick and easy to work with in the field. Avery Dennison ­also makes a great product, but it's best applied in a controlled environment, like a shop, because the wrap can fail if water gets underneath, according to Cole. He also likes to reinforce areas that will get more abuse and adds a protective laminate to increase longevity.
Stanczyk's last few wraps were done by SignZoo. He suggests checking the reviews and looking at the ­portfolios of prospective wrap companies. "I recommend ­using an established company so you know that the prep work and installation will be ­done properly," Stanczyk says. "Also, if there are any issues, they should stand behind the work." 
Easier Maintenance
Wraps are low maintenance, but that doesn't mean you can ignore them. Cole recommends spreading a product like Turtle Wax Ice spray with a microfiber towel every few months. This will help the wrap shed water. Otherwise, water can trap airborne particles, which can bake into the wrap's surface when the sun dries it.
For general cleaning, use a soft-bristle brush and pH-­neutral boat soap. When using fenders, it's important to cover them with a protective sleeve to prevent chafing. Never use a pressure washer on anything but its most gentle setting. 
The benefits of wrapping a boat make this a near-no-brainer. Most of us can't afford a new boat every few years, but it can look like you bought one whenever you change wraps.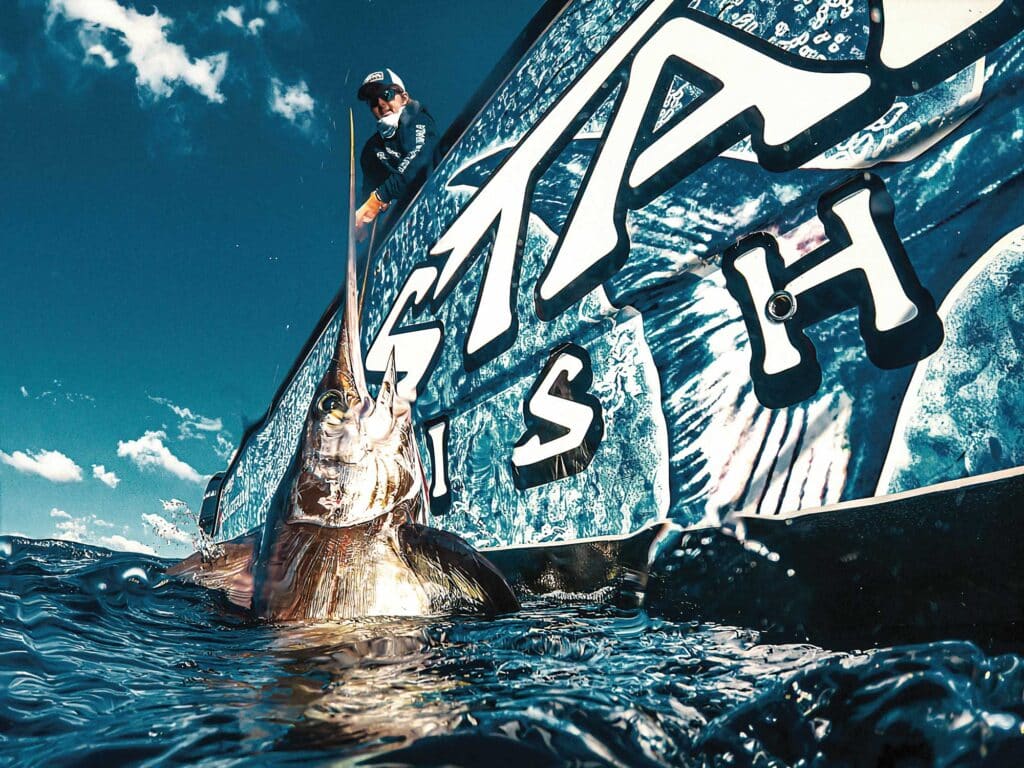 Sean Sullivan
Fixing a Ding
Billfishing and boat wraps are a dangerous combo, according to Capt. Nick Stanczyk, who specializes in Florida swordfishing. "Any billfish can be destructive to a wrap if its bill scratches it," he explains. "A tear allows water to get underneath it, and a section can blow out or peel away. The key is to fix tears quickly. We usually keep some of the excess wrap from when they originally installed it to repair cuts and tears. We'll cut it to size, peel off the adhesive backing and put it over the blemish, then use an edge sealer." Another hazard for trailer boaters is that PVC guide posts can leave long scratches when you launch and load the boat on the trailer. These can be smoothed out by using an orbital buffer set on its lowest speed and a marine cleaner with wax. But watch out—if the speed is too high, it can buff right through the wrap, creating an even bigger blemish. Preemptively fix this problem by using padded sleeves over the PVC guides of your boat trailer. One of the benefits of having a wrap with an intricate design comes when you do get a blemish. "On a solid-color wrap, if you repair it, your eyes will automatically go there," says Burl Cole of Boatwraps.com. "But when fixing a boat wrap with an elaborate design, I can patch it by adding another fish or a drop of water, and you won't notice it."