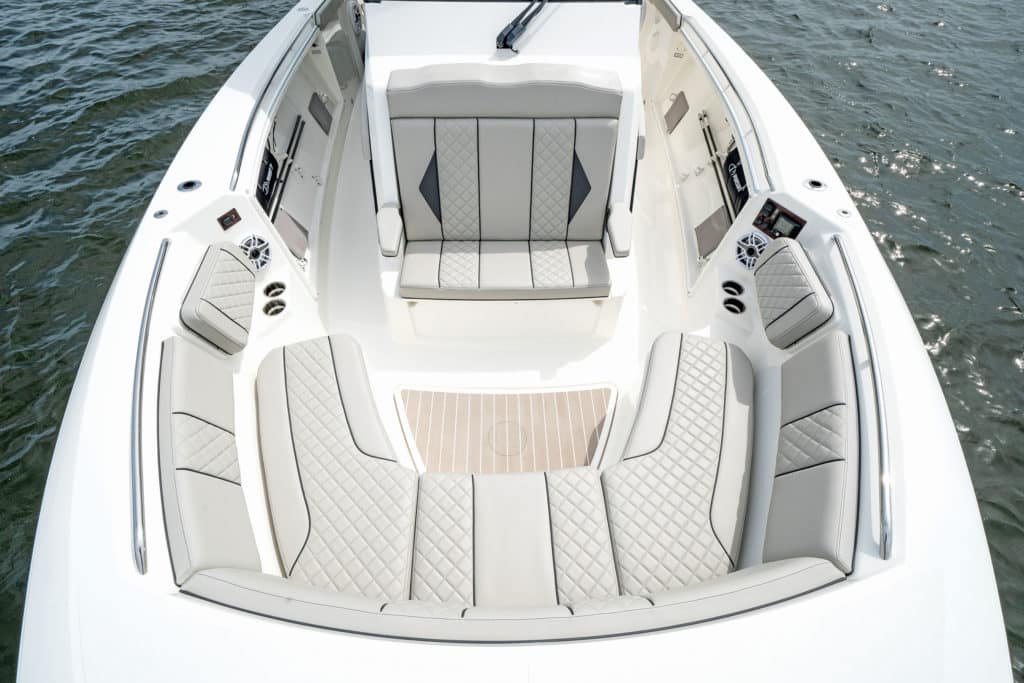 Courtesy Pursuit
In a virtual tsunami of popularity, outboard-powered center-console boats have swept the offshore-fishing market. What's more, boatbuilders are scrambling to satiate the unrelenting demand from buyers for new boats, even as COVID-19-related supply-chain shortages constrain factory production.
There seems to be no end to the number of anglers stepping up with buying dollars, a testament to the versatility of the center-console's full walk-around capabilities for wide range of offshore techniques. They're seriously versatile machines, suitable for everything from kite-fishing to bottomfishing, outrigger trolling to downrigger trolling, and deep-dropping to drift-fishing. Center-consoles can do it all with the added benefit of smooth riding performance to transport anglers swiftly and safely to the offshore grounds and back home again.
Some of the most dramatic developments in recent years have focused on new and improved interior amenities, as designers and builders seek to further refine angling effectiveness and add greater comfort for crewmembers on long offshore runs. In addition, center-console designs are expanding in form and function to serve as luxurious cruising platforms for family and friends on days when fishing is not a priority. Many of these developments have been made possible by the growing size—and power—of offshore center-consoles. Boats in the 40-foot LOA range are not unusual, with some stretching to 65 feet.
Here are some relatively new developments in layouts and interiors that have contributed to the burgeoning popularity of this boat genre.
Second-Row Seating
As center-consoles have grown in size, two rows of helm seating have become the next big thing. Having fished offshore aboard center-consoles with two rows of helm seats, I can tell you that this option is well worth the investment. With room for anglers nestled in comfy seats sporting supportive footrests, it's like flying first class without the seat belts—or masks. One example is the new Contender 44CB, available with a second row of Llebroc bench seating for three to complement the three main Llebroc helm seats. All six seating positions feature fold-down armrests, and all are protected by the console windshield while underway. Other center-console brands offering models with available double-row seating include Invincible, SeaVee, Valhalla, Yellowfin and more. With this kind of seating comfort, you'll leave the beanbags at home.
Editor's Tip: When shopping for a new center-console boat for offshore fishing, take a close look at the deck itself. Make sure the deck is level from the transom to the bow platform. This minimizes any possible tripping hazards as anglers move about the boat to fish. Also, look for an aggressive nonskid sole to ensure traction and safety when the deck is wet. Finally, make sure the deck is self-bailing to quickly shed water in rough seas.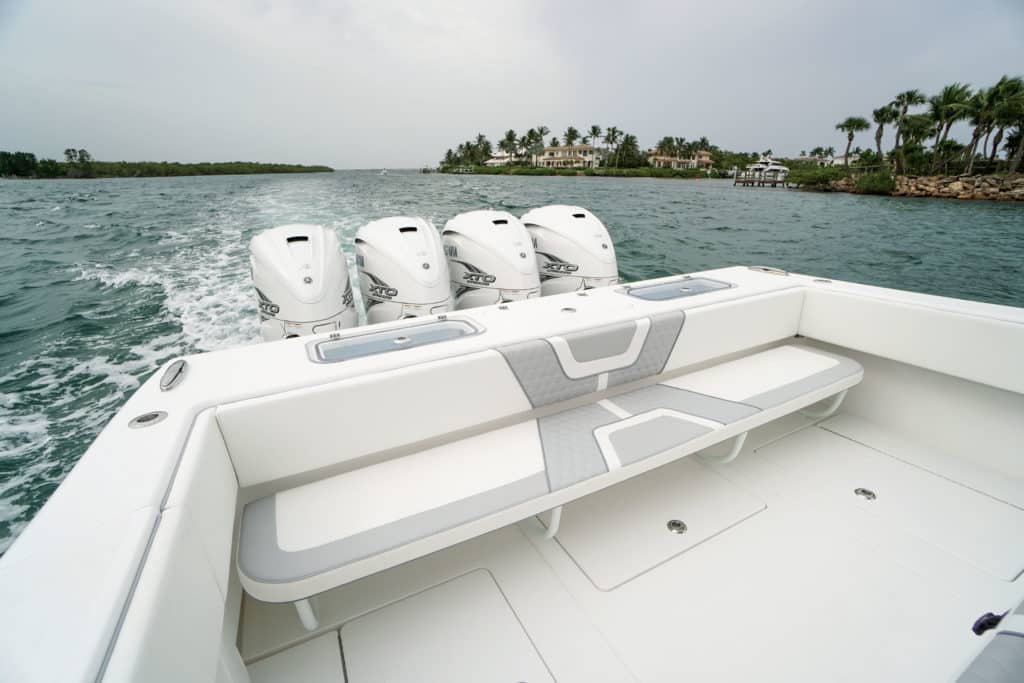 Courtesy Contender Boats
Transom Benches
The helm is not the only area in which seating has expanded and evolved aboard today's offshore center-consoles. Models of all sizes are available with versatile bench seats that integrate into a full transom bulkhead. Take, for instance, the SeaVee 340z with an optional folding transom bench seat that deploys in seconds to comfortably accommodate three crewmembers. It's great for taking a load off while cruising to and from the offshore grounds, or during harbor cruises on more-casual outings. Most important, from an angling point of view, it folds away in an instant to clear the decks for action.  
Forward Lounges
An increasing number of offshore center-consoles now feature lounges that are integral to the forward portion of the console itself and can accommodate two or more people. These have angled backrests, fold-down armrests and rich upholstery that invites crew to stretch out, kick back, relax and enjoy the ride. But beyond comfort, forward console lounges create valuable space. Some offshore center-console models, including the Valhalla 33, use it as dry storage for gear such as jackets, buckets and safety equipment. Valhalla's lounge exterior is also lined with eight vertical rod holders. Invincible offers an optional forward console lounger, but it doubles as a large coffin box, which is insulated to serve as cold storage for ice, provisions, frozen bait and fish you wish to keep; dividers help keep cold goods separated. The space below these lounges can alternatively allow for forward expansion of console cabins, as is the case in the Contender 44CB (more about console cabins later).
Courtesy Boston Whaler
Glass Windshields
There was a time when new offshore center-console boats offered little more than a short plexiglass windscreen, and if you ordered the clear vinyl enclosure, you were riding in luxury. Today, the trend is definitely toward tempered-glass windshields, thanks to advancements in glass molding and adhesive technology, combined with the ingenious and dedicated work of marine designers. Glass windshields are not just strong and durable; they also afford more styling choices and superior visibility than acrylic, polycarbonate or vinyl. Glass is also easier to care for and far less likely to scratch. "These new glass glazings [industry term for glass windshields and windows] first appeared in the marine market on super yachts," says Rob Kaidy, chief designer for SeaVee Boats. Yachts require sweeping high-strength windshields, and as Kaidy points out, today's styling cues often demand complex curves. Center-console boatbuilders soon followed suit with windshields and windows that curve around the console from the front to sides. High-strength yet flexible bonding agents from companies such as Sika secure large glass windshields and can even eliminate the need for frames, using only the console top and hardtop as points of support.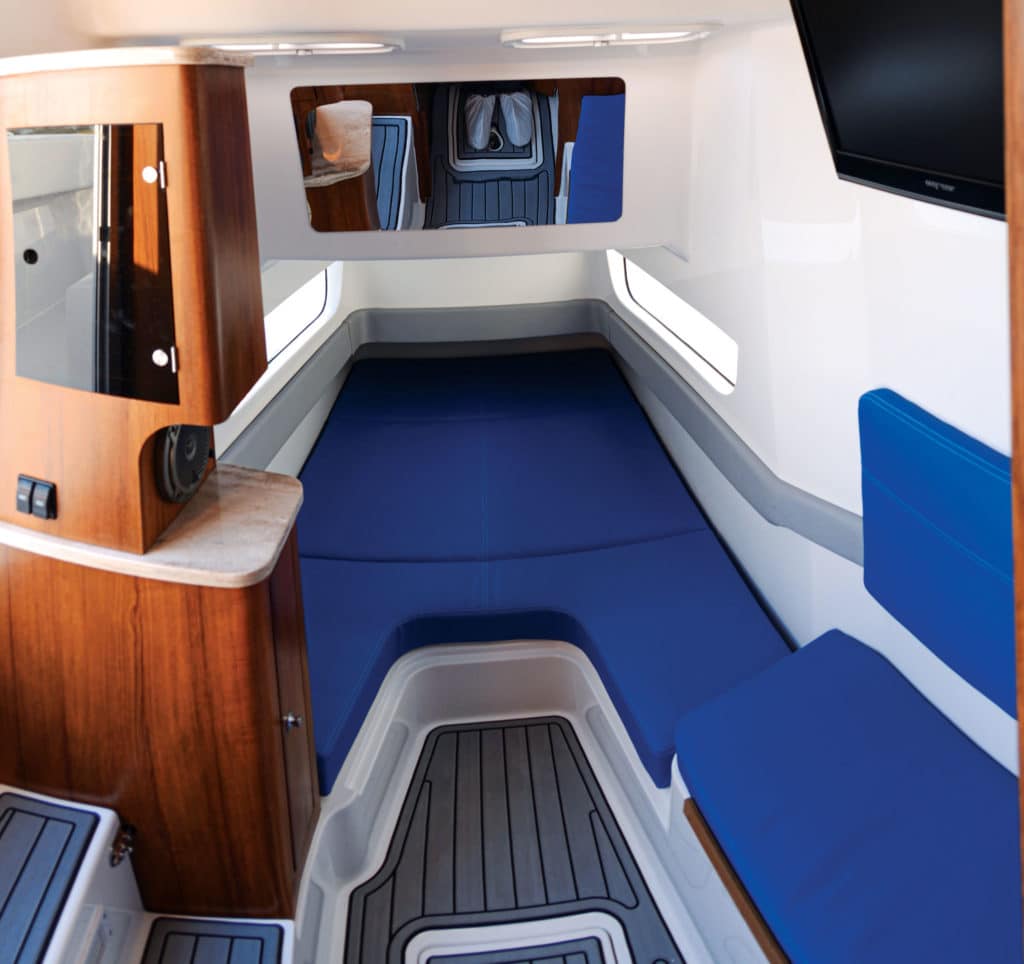 Courtesy Invincible
Cabin Accommodations
Twenty years ago, few anglers could have imagined a center-console with enclosed sleeping accommodations, let alone one with a cabin that includes a gallery and berths—as well as a shower and head. But as center-console boats have grown and layouts expanded, the concept of the console cabin has taken shape. They are not exactly yacht-size cabins, but you can certainly overnight in comfort. Take, for example, the new Yellowfin 54, which features a spacious cabin area with stand-up headroom beneath the console that houses a queen berth, a fully equipped kitchenette, wraparound seating and a head. Accessed from within the cabin, an organized mechanical space also houses the gyrostabilizer, batteries, wiring and electronics. But the Yellowfin 54 is certainly not the only center-console with a cabin. You'll also discover console cabins in offshore center-console models from brands such as Boston Whaler, Grady-White, Pursuit, Regulator, Scout, SeaVee, Valhalla and others.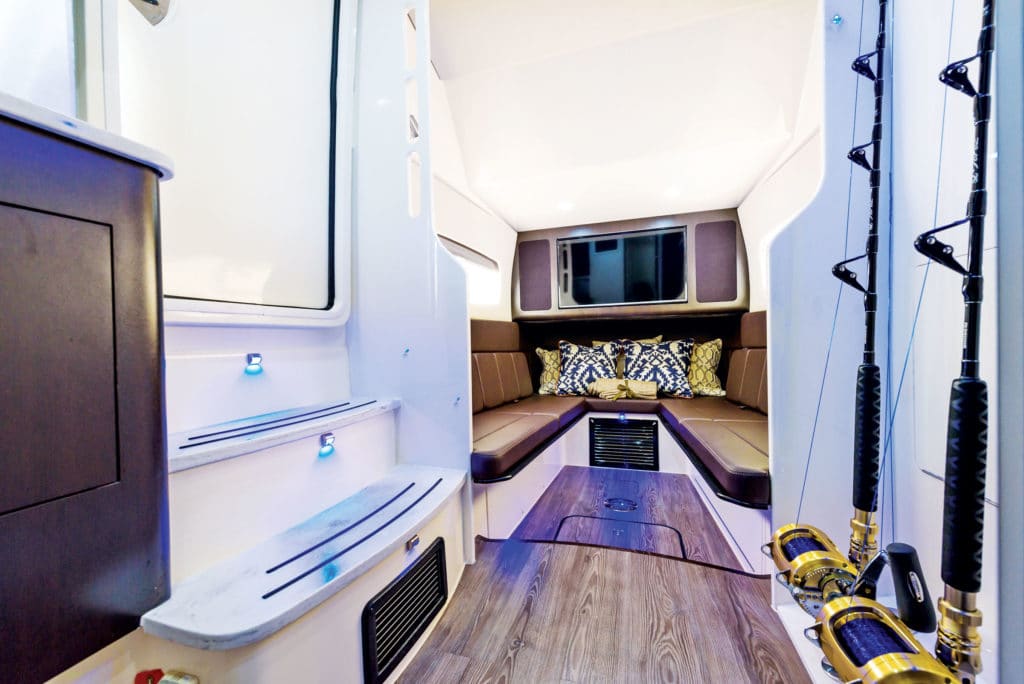 Courtesy Scout
Side Doors
Side doors have become very popular and available on offshore center-consoles as small as 28 feet or less in length. Intrepid Powerboats was one of the first to introduce this feature on offshore center-consoles. It was largely promoted as a dive door, but bluewater anglers saw the advantage of pulling a big tuna or swordfish through a side door versus over the gunwale or through a transom door. More often, however, side doors find use as an easy way to step aboard from a floating dock as opposed to clambering over the gunwale or using the swim step to access the transom door. For this reason, almost all side doors hinge inward to eliminate interference with the dock when swung open. In fact, side doors are so popular that at least two center-console brands—Barker Boatworks and HCB Yachts—have models with two, one on each side of the aft cockpit. This provides the convenience of boarding or landing a big fish from either the port or starboard sides.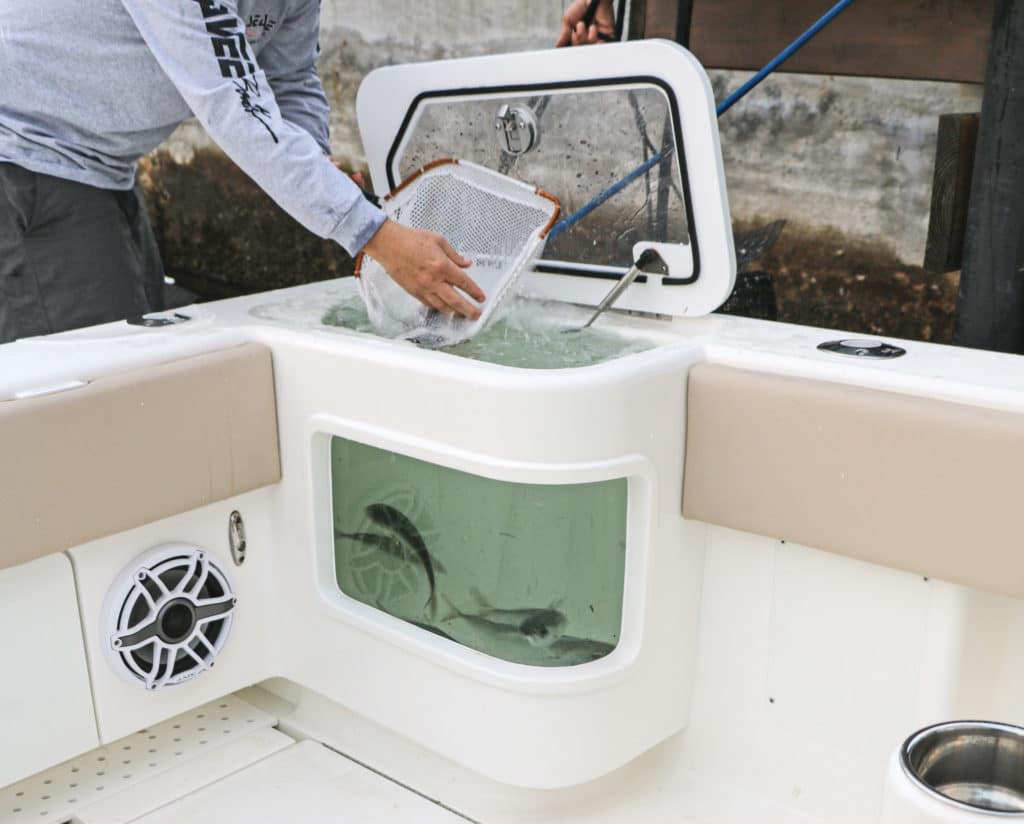 Jim Hendricks
Aquarium Livewells
Aquarium-style windows on livewells might not add any luxury to a center-console, but they will help keep you more comfortable with state of your live-bait supply. You can tell at a glance if the goggle-eyes are great or the pilchards are faring poorly and, in the latter case, take action to fix issues such as poor water flow. For instance, the windows on twin livewells in the transom of the Valhalla 46 allow a crewmember perched on the aft-facing mezzanine seating to easily eyeball the bait population and ascertain its health without getting up and possibly stumbling while underway in rough seas. 
Editor's Tip: Livewell capacity has become an increasingly important factor to successful offshore angling—be it ­
wreck-fishing for grouper, kite-fishing for sails or slow-trolling for kingfish. With this in mind, carefully consider livewell capacity when shopping for a new boat. If the standard livewells don't meet your needs, ask about options such as deck wells that might expand live-bait capacity.
Gyrostabilizers
The impact of gyrostabilizers from brands such as Quick, Seakeeper and Smartgyro exceed the term "evolutionary." They have, in fact, revolutionized offshore center-console fishing boats, rendering them far more stable than most boating anglers imagined possible. Spinning at high speed like a top, gyrostabilizing forces tame roll, essentially eliminating the boat's side-to-side movement in virtually any sea condition. That's why nearly all new offshore center-consoles are now available with gyrostabilizing systems. A new Scout 380 LXF, for instance, features a standard DC-powered Seakeeper 3, which offers plenty of stabilizing capability for this 38.5-foot boat. Yet, a new Scout 425 LXF with 42-foot-2-inch LOA features a more robust AC-powered Seakeeper 5 as standard equipment to control roll.  
Chill Out
Ice lasts only so long before melting when fishing on sultry days offshore. To overcome this issue, some offshore center-consoles are now available with refrigerator/freezer fish boxes. A prime example is the Grady-White Canyon 456 that comes standard with an aft 459-quart insulated refrigerator/freezer fish box with lights, a digitally controlled thermostat and an overboard drain. This 120-volt AC system is powered by the 456's standard 12 kW diesel generator. Some offshore center-consoles also offer DC-powered systems, including the Wellcraft 352 Fisherman. The 128-gallon transom fish locker is available with an optional 12-volt chiller plate to keep your catch cold. Looking ahead to a future in which center-consoles continue to take over the offshore segment, there's little doubt that even more innovation will take place within the layouts and interiors—as well as in the running surfaces and propulsion systems—of these supreme fishing machines. 
Courtesy Scout
Throwing Shade
A growing number of offshore center-console boats now offer sun shades that offer crewmembers more UV protection than a hardtop or soft-top alone can provide. One common option is a sun shade extending from the aft edge of the hardtop. Some are motorized to easily deploy over the aft cockpit when relaxing at the sandbar or in the marina. They just as quickly retract when you are ready to fish and want to minimize overhead obstructions. Many boat brands also offer shade options for the bow area. These often consist of telescoping poles that insert in forward gunwale rod holders to support a custom canvas shade to protect crew in the bow seats.