Courtesy of Scout Boats
Scout has made its reputation by building attractive, durable fishing boats that incorporate innovative design features. The newest model in the company's lineup, the 231 XS Bay, continues that tradition nicely. This sleek, rakish sportster is like an aquatic Ferrari with enough rod storage and livewells to satisfy even the most uncompromising tournament angler.
Sporting an aggressive stepped-hull design with 14 degrees of deadrise, SeaStar hydraulic steering, a 6-inch jack plate and up to 300 ponies on the transom, this new bay scoots. In rainy conditions, with four people on board, we hit 63.2 mph by GPS with a Yamaha F300 four-stroke during our test in Charleston Harbor, South Carolina. The boat tracked like it was on rails despite the chop, and there were no unexpected surprises during high-speed maneuvers. Steering was effortless, and the boat was a pure pleasure to drive. Later factory performance trials indicated a fuel economy of 8.8 gph while making 32.6 mph at 3,500 rpm. With a standard fuel capacity of 60 gallons, that's a lot of potential water to cover. And with this boat's solid durability, that could easily include jaunts to the Gulf Stream, nearshore wrecks or oil rigs when the weather allows.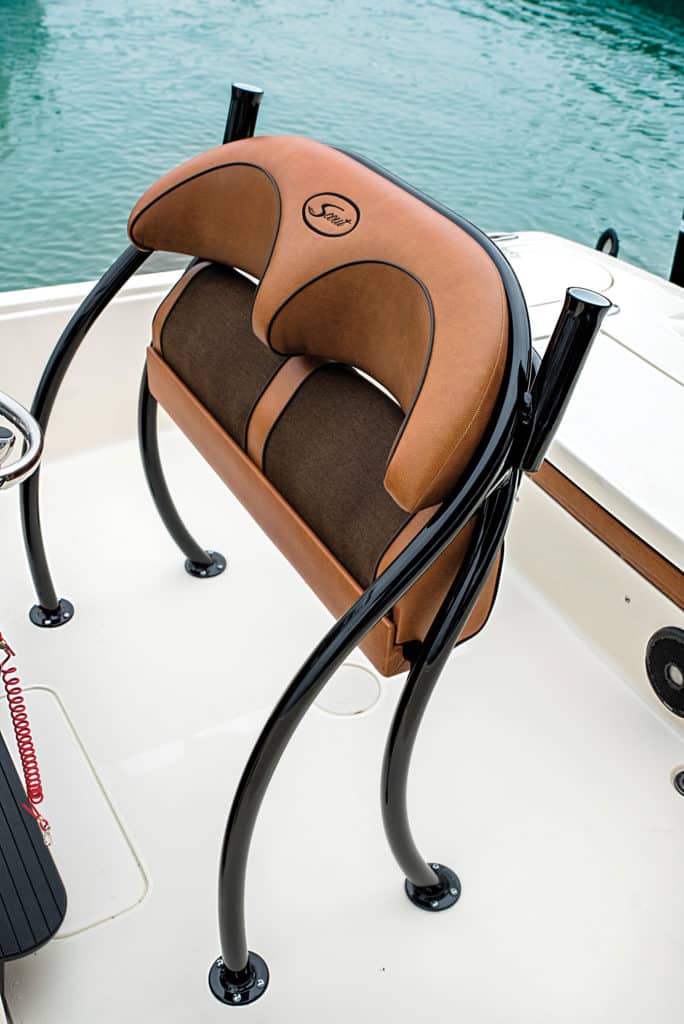 Courtesy of Scout Boats
Our test boat donned the high-performance leaning post with flip-back, snug bolster seats for a reassuring and comfortable fit at top speeds. The large, ­sweeping console is accented with two-tone upholstery and matching rod racks that cradle and protect the tackle at eye-watering speeds. The inset electronics display is easily scannable from the port helm, and all systems switches are within reach. A Fusion stereo with an iPod jack comes standard. The oversize forward console seat opens up to a large compartment with access to wiring and enough room for an optional Porta Potti.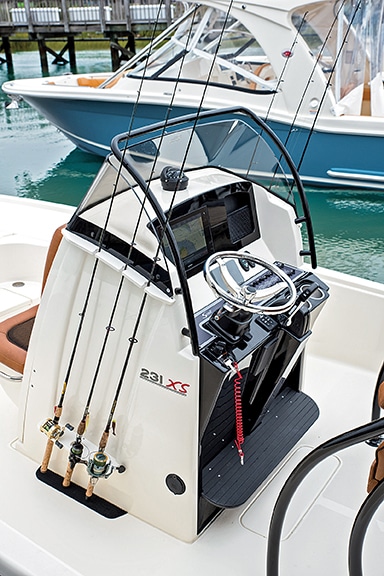 Courtesy of Scout Boats
An 11-gallon baitwell on the centerline foredeck allows quick transition to the spacious bow casting deck. A monster compartment housing a 45-quart Yeti cooler with room to spare for other gear sits between twin rod lockers with enough slots to store an entire tackle shop. The 231 comes pre-wired for a trolling motor, with the plug inside the large anchor locker so it is protected from spray. A three-bank battery charger can be added to top off the juice.
Courtesy of Scout Boats
The aft covering boards come with four stainless combination rod-and-cup holders. An aerated baitwell with high-speed pickup sits in the starboard transom corner, with a 26-gallon release well in the opposite location. In between, a folding bench with a high backrest provides comfortable seating for additional passengers. The bottom of the bench lifts to access the bilge and pumps. As in every Scout model, all systems wiring is orderly and labeled, interior spaces and hatch lids are fully finished with gas shocks, and everything fits nice and snug, which are all signs of quality construction. Each XS is hand-laid with closed-cell foam flotation, and the finish rivals that of yachts three times its size.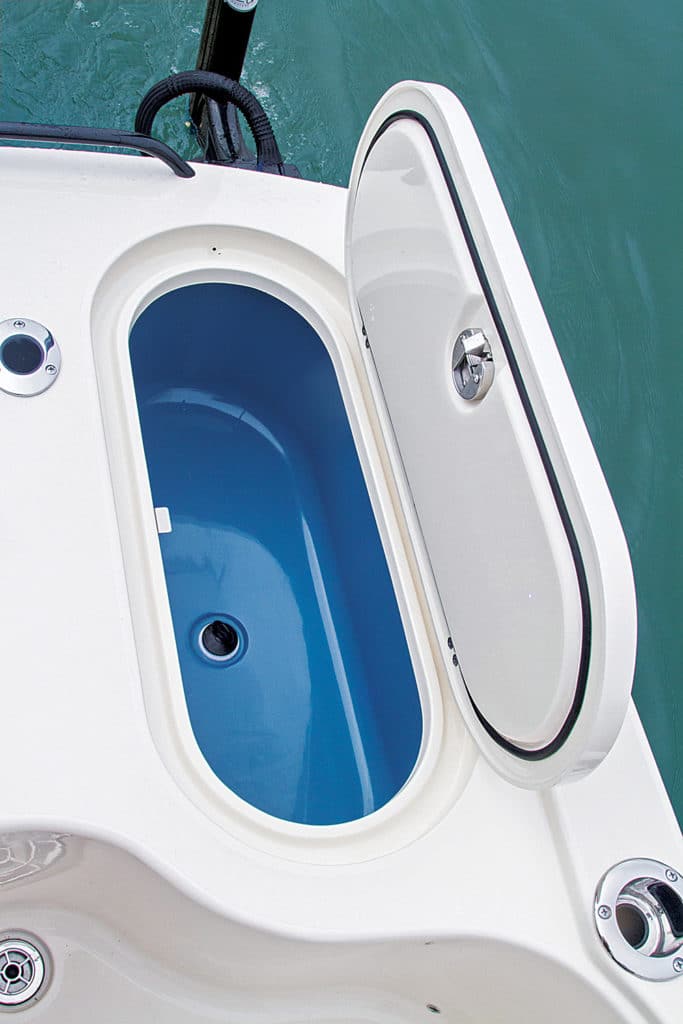 Courtesy of Scout Boats
Besides the trolling motor, notable add-ons include a powder-coated T-top with canvas, upholstery upgrades, raw- and freshwater washdowns with a 6-gallon tank, an Edson steering wheel, LED trim indicator switch and single or dual Power-Pole anchoring system. Other upgrades of special interest to tourney anglers include a leaning post with a backrest and an additional integrated baitwell to separate different species. The booming high-end bay-boat market offers plenty of choices for anglers who desire speed, rough-water performance and fishing necessities without sacrificing style, comfort and family concessions. The new Scout 231 XS belongs in the shortlist of qualifiers.