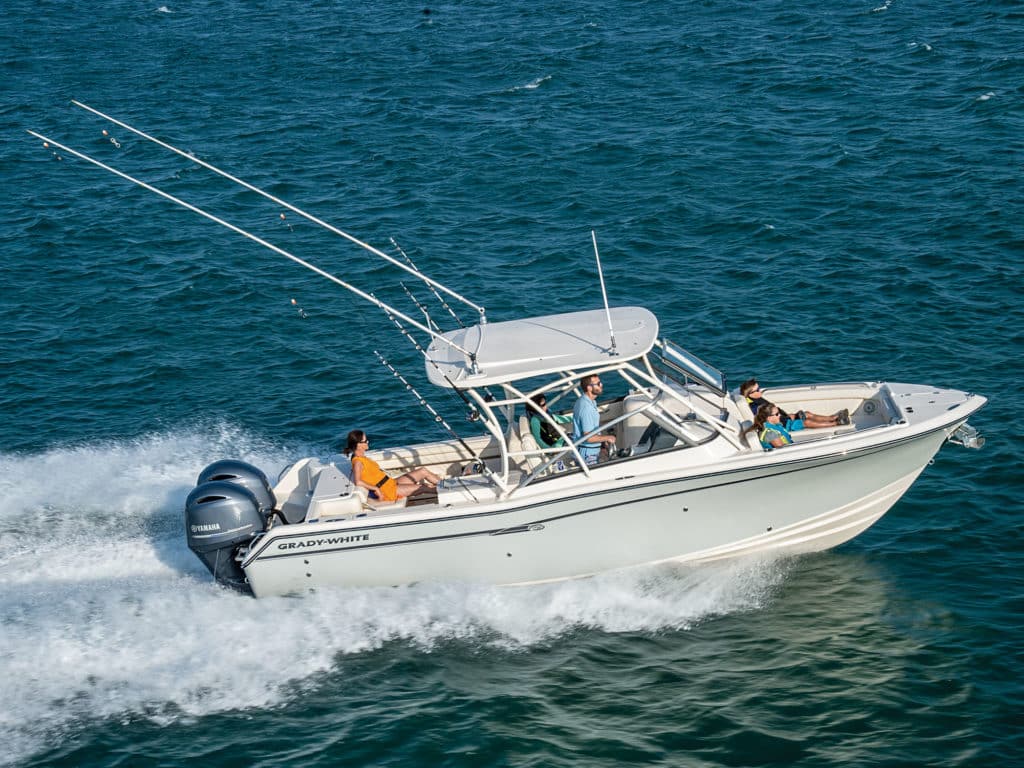 Courtesy of Grady-White
Is it possible to improve upon perfection? A top boatbuilder says "yes." Grady-White, renowned for innovation, workmanship and attention to detail, certainly makes a great case with its release of the retooled ­Freedom 275, a popular dual-console model designed to meet the needs of coastal anglers and their families.
While the functionality and versatility of the original 27-footer continued to wow, Grady-White decided to revamp it, not by giving the boat a meaningless face-lift, but by reconfiguring its layout to expand the helm and increase cockpit and storage space, improving the seating and adding to an already lengthy list of standard and optional features.
The anchor protruding from a through-hull chute at the bow of the Freedom was the first thing to catch my eye upon arriving to the dock. This makes anchor deployment easier and keeps the deck clear and clean because the windlass inside the anchor locker releases and retrieves the rode and chain with neither ever coming over the gunwales.
Once on board, I began my close inspection up front, where I found seating roomy enough for six provided by comfy cushions covering twin elevated boxes to port and starboard. Insulated and boasting a combined capacity of 176 quarts, the pair of compartments is equally suited for stashing sizable gear or keeping food and drinks chilled. All-around bolsters and a removable table that also mounts in the aft cockpit round off the conveniences at the bow.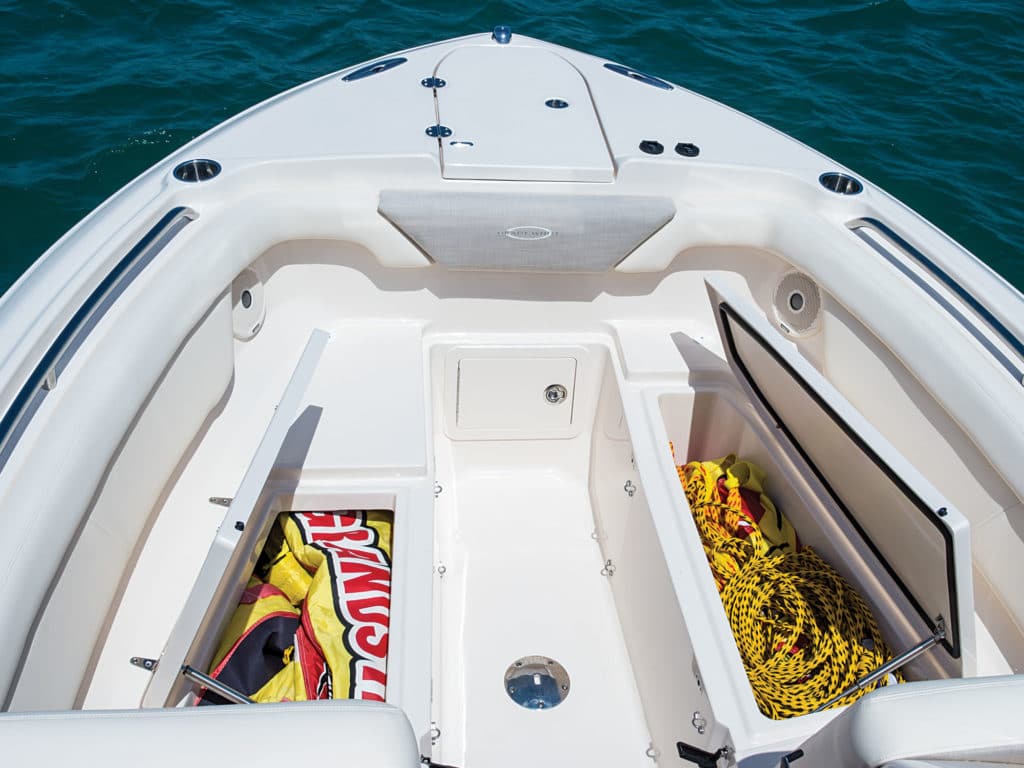 Courtesy of Grady-White
Moving aft, the entry to the lockable portside console is wider than in the original 275 for easier access. Inside, a step-down head compartment comes complete with a mirror and a marine head with a macerator, 10-gallon holding tank and pump out, while horizontal racks now allow storage of longer rods thanks to the bow reconfiguration. A wider helm area now affords more seating space as well. A deluxe adjustable helm seat comes standard, and it can be upgraded to a plush cushioned, contoured seat with a flip-up bolster. Behind it, an optional wet bar faces inboard. It's equipped with a grill and a refrigerator, and includes storage, a Corian countertop, sink, fire-extinguisher holder and trash compartment. On the opposite side, the wider companion seat incorporates a lounger in the back that extends into the cockpit at the touch of a button.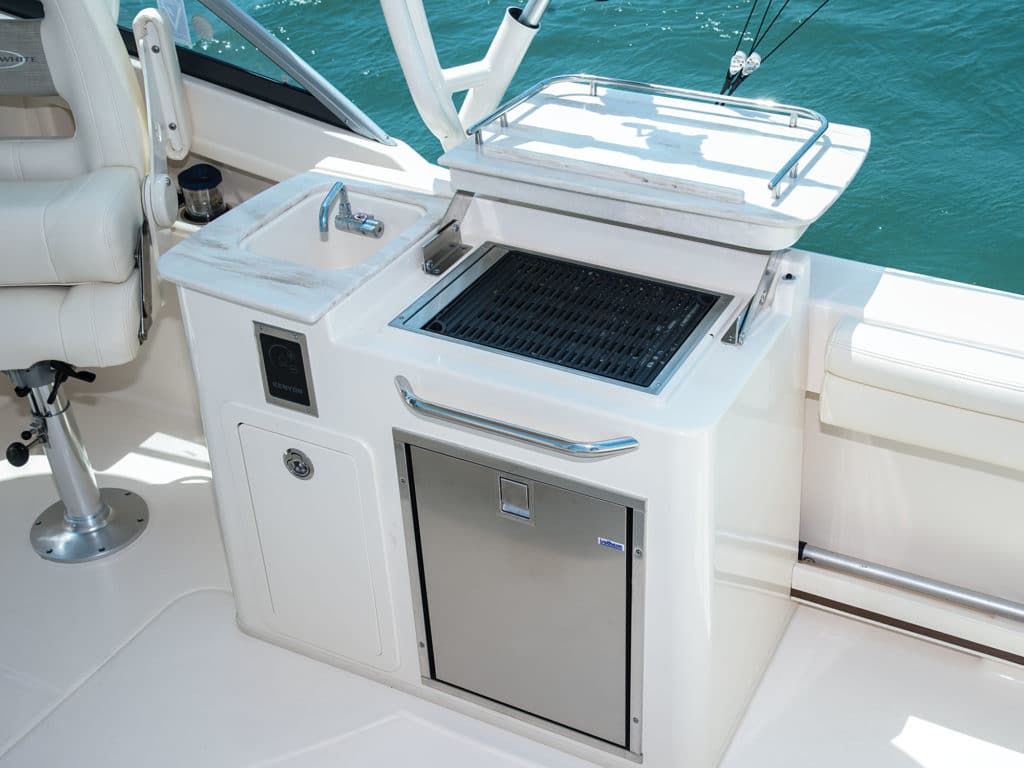 Courtesy of Grady-White
The dash on the starboard-side console accommodates a 16-inch display, digital gauges, a lighted switch panel, trim-tab indicator and stereo system with an MP3 plug, Bluetooth capability and remote control. There's a pocket for tablets and smartphones, a 12-volt accessory outlet and two USB ports to keep mobile devices charged, and room above them for a VHF radio. A glove box below the tilt steering wheel safeguards valuables, and a side hatch provides access to a spacious lighted storage chamber with two tackle trays. Atop the console, a compass offers reliable backup in the event the navigation system malfunctions.
Courtesy of Grady-White
A hardtop with a painted aluminum frame, storage net, speakers, LED lights, radar flat and outrigger plates comes standard. The walk-through tempered-glass windshield, the windbreak door that closes the gap between the consoles, and optional curtains ward off sea spray and excessive wind.
The new enlarged aft cockpit offers more room to fish, entertain or just relax. Grady-White's patented aft bench-style seat supplies additional seating and folds away when the action heats up and extra room is needed. A 165-quart fish box that drains overboard takes up most of the transom, and a lighted 32-gallon livewell finished in calming blue is conveniently located next to it to port. A transom door in the opposite corner, and the integrated swim platform and ladder make it easy for swimmers to hop back on board. As for rod holders, the Freedom 275 includes four on the gunwales, but more, both flush-mount and vertical tubes, can be added.
Courtesy of Grady-White
Blustery conditions ­— 8- to 10-foot seas in the forecast — kept us in Bogue Sound instead of heading to the open ocean for the test ride. With 400 horses in back, the Grady-White reached planing speed swiftly, jumping from zero to 30 in just over five seconds with negligible squatting. During a series of runs with a stiff wind in our faces and then at our backs, the 27-footer proved nimble and responsive, taking on the 2-foot chop and making tight turns at considerable speed with ease while the view from the helm and the companion seat remained unobstructed.
Our fastest run yielded a speed of 50.2 mph at 5,850 rpm while burning 39.6 gph. But 3,800 rpm, which pushed the boat at 30.1 mph, offered maximum efficiency and range. Despite the wind gusting to 30 mph, the ride of the Freedom's SeaV2 hull was never a wet one. At 4,000 rpm, moderate spray started at the beam, but a slight trim of the outboards and revving up to 5,500 rpm moved the spray back a good 3 feet where it never had a chance to blow into the cockpit. Grady-White has long been synonymous with top-notch boats and customer satisfaction, and in the revamped, multiplatform ­Freedom 275 the storied builder has another winner bound to continue that trend.
www.gradywhite.com